Film and Television Summer Institute – Writing for TV: Big Ideas for the Small Screen
Develop an original TV series concept that showcases your unique voice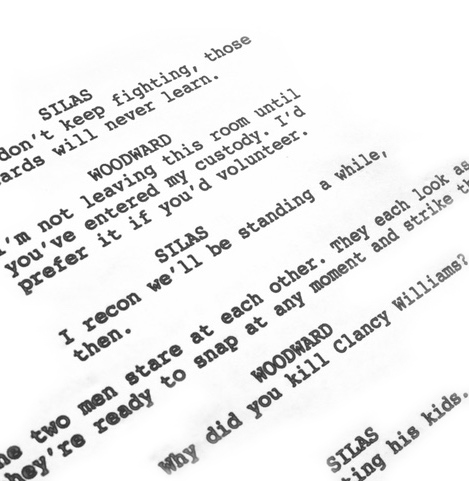 Navigate the contemporary entertainment marketplace under the guidance of a TV industry professional
The Film and Television Summer Institute – Writing for TV: Big Ideas for the Small Screen introduces motivated high school students enrolled in 9th – 12th grade in Spring 2023 to writing for television in Hollywood. This track mirrors the practice of professional writers in the world of episodic television and digital media by teaching students how to develop original series concepts and how to navigate the contemporary marketplace. In the process, students learn how to identify and capture the tone, characters, dialogue, and themes that make their story unique while collaborating in a workshop environment with their peers.
Students will write a beat sheet and outline for the first act of their original pilot episode, a series treatment, and the teaser of the pilot script over the course of the class, while getting the feedback and tools they will need to further write their pilot episodes and develop future TV show ideas after the program. The program culminates in a table reading of a section of their script by professional actors. Previous experience in screenwriting is not required, just a passion for storytelling!
Students meet three times a week in a small workshop environment to discuss ideas, break stories, and give feedback and notes on each other's work. This program carries four units of UCLA credit. Please note that this is an intensive course and students are expected to spend a minimum of 25 hours-per-week writing outside of class meetings.
Film and Television Summer Institute – Writing for TV: Big Ideas for the Small Screen
Intensive introduction to television pilot form, covering style and content, as well as covering how to analyze TV shows and the industry process of TV development. Students develop a beat sheet and outline for the first act of their original pilot episode, write the teaser of the original pilot episode, and create a series treatment.
HOLLYWOOD AND THE INDUSTRY
Professional Development
Students will explore the career of the screenwriter in the professional development workshop Writer as Entrepreneur. This workshop prepares students for a future in the industry by bringing in working screenwriters/TV writers to talk about their career paths and the experiences of being a writer in Hollywood.
Table Reading
Both on campus and online offerings of the Writing for Television finish with a table reading of a section of each student's script by professional actors, a closing ceremony, and a networking mixer for students of our program. Friends and family are welcome!
On-campus students will also tour a major Hollywood Studio and have opportunities to connect with other Summer Institute precollege students.
To participate in the Film and Television Summer Institute – Writing for TV: Big Ideas for the Small Screen, students must apply and receive acceptance into the program.
Eligible applicants who successfully submit all requirements will be reviewed and notified via email of an admission decision within 3 weeks. See Application Requirements below for more details. Early application is strongly encouraged.
As part of the application process, you will be asked to complete the following:
Responses to the following essay prompts:

Three log lines for three original story ideas.
Personal Statement: Why would you like to participate in the program, and what do you expect to gain from the experience? (150-200 words)
What prior experience, if any, do you have in screenwriting? Include both academic coursework and extracurricular activities. Previous experience in screenwriting is not a requirement. (150-200 words)
Submit a creative writing piece written in English that features a character from a TV show that you admire. Please specify the show name and character name at the top. (150-200 words)
In a writing workshop, you are expected to give and receive feedback on your work and the work of your peers. What qualities do you possess that would make you a good collaborator in a writing workshop? (150-200 words)
As a program that carries UC college credit, students are expected to exhibit maturity inside and outside of the classroom and to abide by the UCLA Student Conduct Code. Bullying, academic dishonesty, and disorderly behavior, among other violations, will not be tolerated. If you were to witness bullying or disrespectful behavior among your classmates, how would you respond? (150-200 words)
Is it better to be perfect and late, or good and on time? (100 words or less)

An unofficial transcript from grade 9 to present reflecting a cumulative GPA of 3.5 or higher.
UCLA Summer Sessions Summer Scholars Support
Qualified students attending grades 8th – 11th in Spring 2023 in the state of California may be eligible for Summer Scholars Support, a need- and merit-based scholarship offered by the UCLA Summer Sessions Office. A limited number of full and partial scholarships are available to support enrollment in SCIP/eSCIP, one Summer Course, or a Precollege Summer Institute.
Summer 2023 deadline to apply: March 15.
Due to the intense nature of the Film and Television Summer Institute – Writing for TV: Big Ideas for the Small Screen (In-person) and the time commitment involved, living in on-campus housing is mandatory.
For more information on UCLA housing precollege programs, please see the Housing for Minors page.
Many of our precollege programs with mandatory housing (only) also feature non-curricular evening and weekend activities, the availability of which is at the sole discretion of the academic department offering the program, and are not operated by UCLA Summer Sessions. To learn more about whether (and when) your selected program will host such activities, please consult the schedules for each program or contact the department in question directly: summer2@tft.ucla.edu
As of 6/15/2023, the Film and Television Summer Institute – Writing for TV: Big Ideas for the Small Screen enrollment is closed.
Session A:
June 25, 2023 – July 15, 2023
Admission based / In-person
Session B:
July 16, 2023 – August 5, 2023
Admission based / In-person
Program Eligibility: 9th-12th grade in Spring 2023
UCLA Coursework: FILM TV 37; 4 units
Application deadline: June 1, 2023
Enrollment deadline: June 15, 2023
The schedule and syllabus are subject to change.
The program fee includes the unit fees for the UCLA coursework offered as part of the program and thus varies by UC student status. In addition to the program fee, students are assessed other campus and administrative fees during the summer. This is a summary of fees that commonly apply to the selected student type.
Actual tuition and fees are subject to change by the University of California. Visit the fees, payment, and financial aid section for important disclaimer, as well as more details on fees, payment instructions, and information on delinquency, refunds, and financial aid.
Document Fee (for first-time Summer Sessions students)
$50.00
Total Estimated Fees:
$4,901.00
* Fees only apply for certain student types
Meet your instructors
Instructors for the UCLA Film and Television Summer Institutes are UCLA Department of Film, Television and Digital Media faculty.
Daniel Christopher "D.C." Rogers
Daniel Christopher "D.C." Rogers was most recently a story editor on the Netflix series PARTNER TRACK. He was previously a staff writer on the CW drama IN THE DARK. His development slate includes a series with Will Graham's Field Trip Productions and an adaptation of KNEE DEEP with John Strauss and Josephson Entertainment. A classically trained baritone, SAG Award-winning actor, and reformed pre-law student, Mr. Rogers is currently on the teaching faculty at UCLA and LMU.
Ryan Jennifer Jones
Ryan is a writer/director born and raised outside of Washington, DC. Ryan has worked on features for Gidden Media, Red Om, CBS Films, and Appian Way, and has directed projects for 20th Digital. On the TV side, Ryan wrote on the first two seasons of the hit HBO Max series, THE FLIGHT ATTENDANT. She is currently developing a thriller series for Hulu with EP Elizabeth Meriwether, and she has a half-hour comedy series in development with Alcon TV. During her time in UCLA's MFA in Screenwriting program, Ryan's thesis feature ON appeared on the 2017 Blacklist for the best unproduced screenplays.
Joey Siara
Joey Siara is a New York based screenwriter. He spent his twenties performing in an indie rock band and has seen nearly every state in the country through the cracked window of a Ford Econoline. The band played over five-hundred shows including sets at Lollapalooza and Coachella. His music has been featured in several TV series – from SONS OF ANARCHY to PARENTHOOD to GOSSIP GIRL. Post-band, he received a Master's from Harvard, an MFA from UCLA, and worked on shows for CNN, PBS, and DISCOVERY before focusing on scripted work. In the last few years, he's been staffed on EMERGENCE for ABC, wrote a comedy feature for Limelight Pictures, and published a short-story — The Last of the Goggled Barskys for Slate. He is currently developing a comedy thriller with Littleton Road (DR. DEATH) and a new sci-fi comedy series with his brother Andy (screenwriter of PALM SPRINGS) and Drew Goddard (THE MARTIAN) for Hulu. And at this moment, he is staffed on THE RESORT, produced by Sam Esmail (MR. ROBOT) for Peacock. When not writing, you can probably find Joey teaching at UCLA, playing guitar, or searching for the best bagel in New York City.
Film and Television Summer Institute – Writing for TV: Big Ideas for the Small Screen FAQ
Students may bring their own laptop or use UCLA campus computers to complete their writing assignments and access the course website.
Students are required to use screenwriting software such as Final Draft (recommended) or a free web-based program such as Celtx to complete their assignments in proper screenplay format.
If opting to use campus resources, the student is responsible for making their own arrangements to access these resources. Students should be mindful of summer hours for campus libraries and computer labs and allow ample time for any laptop lending requests. Students must also obtain a UCLA ID in order to access campus resources. For additional information on campus resources, please use the links below:
Still have questions? Check out the general Summer Institutes FAQ.