Writing Summer Institute – Introduction to College Writing
Strengthen your writing and discussion skills in preparation for university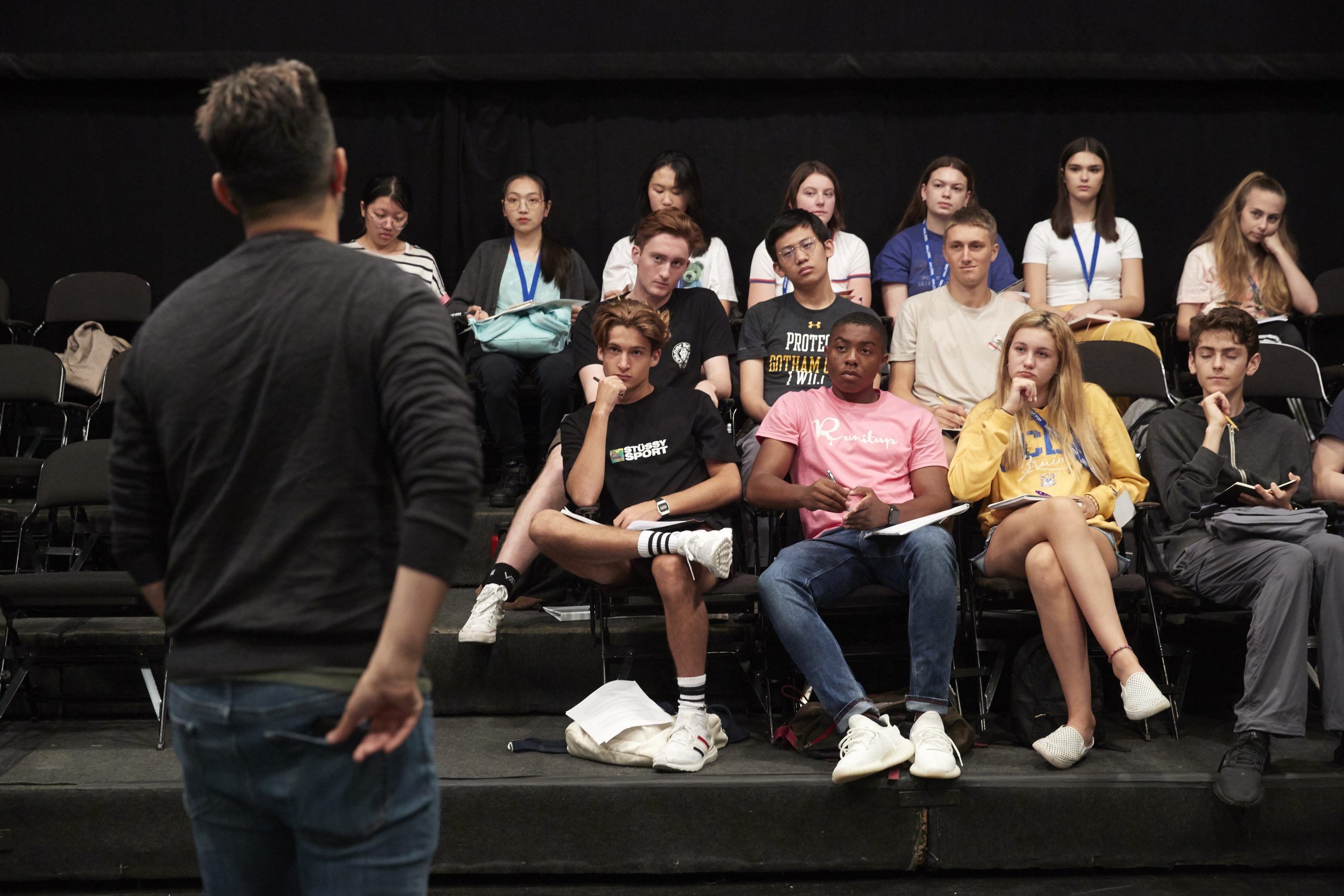 Demystify the differences between college and high school writing.
The Writing Summer Institute is designed for ambitious high school students who seek to strengthen their writing and discussion skills to get a step ahead in preparing for university. For over twenty years, UCLA Writing Programs has helped undergraduates successfully meet the challenges of a university education. Through this three-week program, UCLA's highly regarded writing specialists will help college-bound students prepare for academic challenges at the college level. All activities will demystify the unstated differences between college and high school writing. Students will learn how to successfully approach the college application process, including the application essay.
Writing Summer Institute – Introduction to College Writing Program Overview
Students may enroll in one of two versions of the Writing Summer Institute – Introduction to College Writing:
In Person: Students will participate in person at UCLA, experiencing all that our campus has to offer during their summer program
Virtual: Students will participate online in an entirely virtual format, with the flexibility to attend from anywhere with internet access
NOTE: All course meeting times are in Pacific Daylight Time (PDT). If completing the program virtually in a different time zone, please make sure to account for the time difference. The program schedule is subject to change. 
For participants in the Writing Summer Institute – Introduction to College Writing in-person version, living in on-campus housing is optional. Students who wish to live in UCLA residence halls alongside other program participants may sign up for housing at the time of registration. Check-in will be on 7/4 in the afternoon, and check-out on will be on 7/27 in the morning. The total cost for housing, which includes room, board (two meals per day), student supervision, and evening and weekend activities, is an additional $2,691.
For more information on UCLA housing precollege programs, please see the Housing for Minors page.
The Writing Summer Institute awards credit for the following UCLA coursework:
English Composition 50 – Writing Workshop (2 units)
The Writing Summer Institute: Introduction to College Writing serves as a basic introduction to critical reading and academic writing. More broadly still, the Writing Summer Institute will help orient you to all matters of language and communication at a university.
In addition to class-related communication, students will gain greater written skills in exams and formal essay assignments. By the end of the program, you should find that the Writing Summer Institute: Introduction to College Writing has prepared you to speak, write, and learn more effectively in all of your college courses.
To participate in the Writing Summer Institute, students must meet the following requirements:
Enrolled in grades 10 – 12 during Spring 2022
Students who do not meet the eligibility requirements will not be considered and are encouraged to explore other opportunities.
Registration for the Writing Summer Institute – Introduction to College Writing can be done conveniently online with the following steps:
Access the Summer Institute Online Registration Form starting February 15 at 8am Pacific Standard Time (PST). Read all terms and conditions, then scroll to the bottom and select "Yes, Continue to Registration."
Provide responses to all required questions on both pages of the registration form and then "Submit".
Once your form is submitted, you will be redirected to the retrieve registration page, where you can select "Pay Now" to proceed with payment of the $350 non-refundable registration fee*. Continue with the payment instructions to reserve your space in the program.
A space in the program is not reserved until a valid payment of the $350 non-refundable registration fee* is made. If you are not prepared to pay after submitting the registration form, you may retrieve your registration at another time to make payment; however, this risks losing a space in the program if it reaches capacity prior to payment being submitted. An email with instructions to retrieve registration with your five-digit registration number will be sent within an hour after submitting your registration.
*The registration fee is required for each program and is not refundable under any circumstances including, but not limited to, drop for non-payment and withdrawal, even if you withdraw from the program before it begins.
If the program is full, you will not be prompted to make payment. If the program offers a waitlist and your application is accepted from the waitlist, you will be notified by email with instructions for how to submit payment. Please note if the payment is not submitted within 24 hours of receiving the email, you will be moved to the end of the waitlist.
If registering after May 1, full payment of the program fee and non-refundable registration fee will be required to reserve your space in the program. Additional fees, such as the document fee and IEI fees, will be assessed after enrollment.
For questions and assistance, please contact us at info@summer.ucla.edu.
Each year, Writing Programs offers scholarships to high school students, which cover all tuition fees for the Writing Summer Institute. We offer scholarships to students based on a scholarship application essay. The essay should demonstrate interest in improving academic writing skills for college, desire to attend college, and life circumstances that make attendance at the institute difficult without financial assistance.
Please note that the Writing Program scholarships do not cover the cost of housing.
SCHOLARSHIP APPLICATIONS OPEN IN APRIL 2022. To apply for a scholarship, please click here.
Program Dates:
July 5, 2022 – July 26, 2022
The schedule and syllabus are subject to change. Enrolled students will be given updated materials closer to the program start date.
The program fee includes the unit fees for the UCLA coursework offered as part of the program and thus varies by UC student status. In addition to the program fee, students are assessed other campus and administrative fees during the summer. This is a summary of fees that commonly apply to the selected student type.
Actual tuition and fees are subject to change by the University of California. Visit the fees, payment, and financial aid section for important disclaimer, as well as more details on fees, payment instructions, and information on delinquency, refunds, and financial aid.
**OPTIONAL HOUSING FEE** = $2,691
Students living in on-campus housing will be charged an additional housing fee.
| | |
| --- | --- |
| Program Fee | $795 |
| Registration Fee | $350 |
| IEI Fee | $61 |
| Document Fee (for first-time Summer Sessions students) | $50 |
Meet your instructors
Andrew Martinez, a scholar and artist, received his PhD in Culture and Performance from UCLA and his BS in journalism from San José State University. He teaches humanities-based writing courses in both the Writing Programs department and the Academic Advancement Program at UCLA. This is his second year teaching the Writing Summer Institute.
Darien Battle Johnson
Lecturer
Darien Battle Johnson received his MFA from Brown University and joined UCLA Writing Programs in 2018. He has worked over the years as a professional journalist, actor, sales manager, small-business owner, Government account coordinator, bartender, and a master soft-serve ice cream cone maker. His teaching work focuses on media, performance, politics, public policy, world affairs, popular culture, as well as business and entrepreneurship. His main goal for student learning is to help empower them to find their own agency and develop a powerful, authentic voice through writing.
Writing Summer Institute – Introduction to College Writing FAQ
No, this Summer Institute does not replace AP English courses. Students will receive 2.0 units of UC credit upon completion of and receipt of a passing grade, which is transferrable to any UC campus.
Instruction in this course may help students with the essay portion of the SAT exams, however, this program should not be considered an SAT preparatory course.
No specific background is required to succeed in this course, but consistent attendance and a strong commitment to academic effort are essential to succeed in this course.
Writing help is available through the UCLA Undergraduate Writing Center (UWC). Students can schedule online appointments, or attend virtual drop-in hours. For more information on their hours and services, please visit the UWC website.
Yes. The program will be online this summer, therefore, students must have access to a laptop or desktop computer in order to participate. If you need assistance accessing technology, please contact
Students will receive a letter grade upon completion. However, if you would like to change your grade type to Pass/No Pass (P/NP), please contact your instructor. To receive a "Pass" notation, students must earn a letter grade of C or better. See University Credit, Grades and Transcripts for more information about academic credit. 
Still have questions? Check out the general Summer Institutes FAQ.