Stage Management Summer Institute
Learn what it takes to create magic for the stage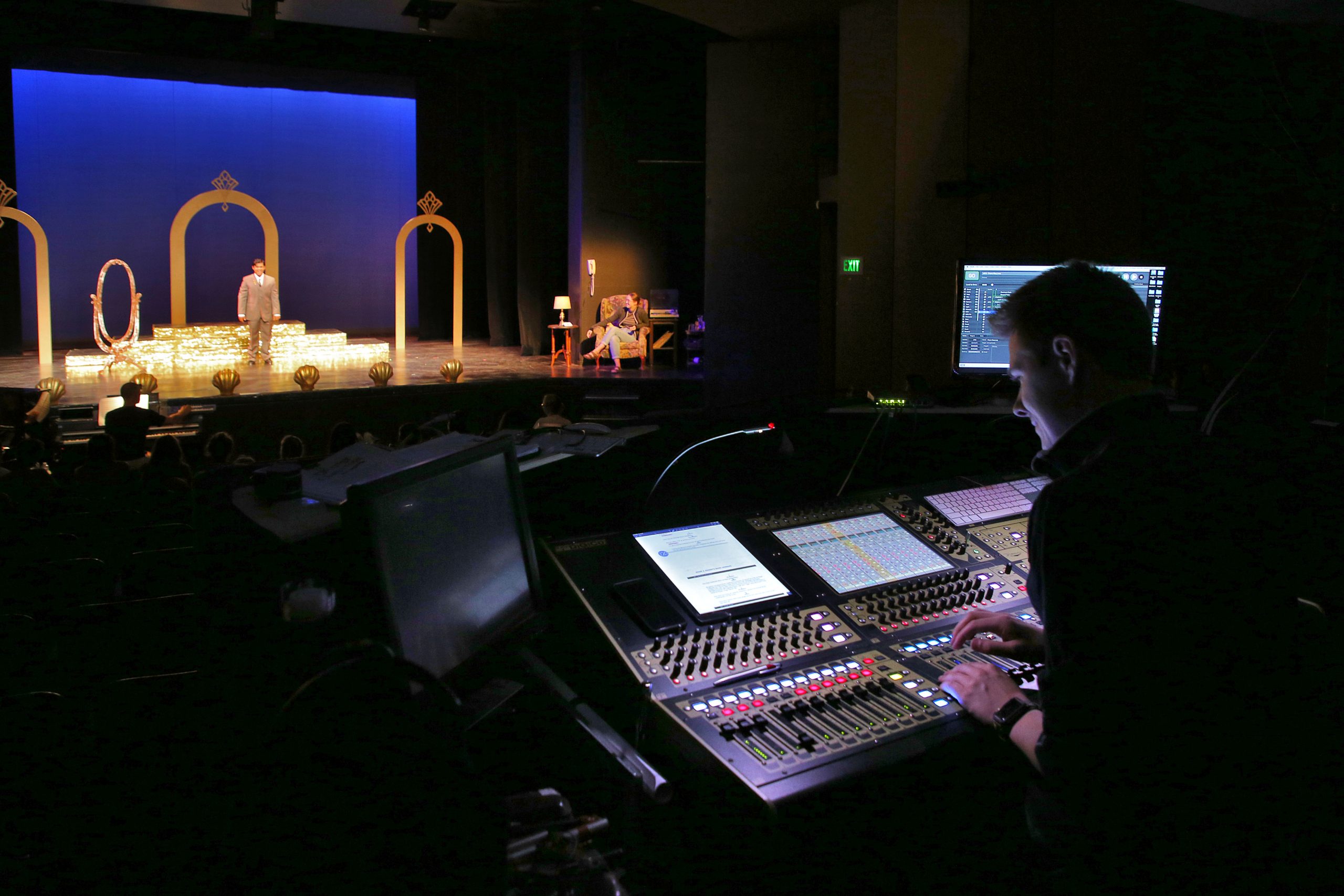 Develop key production management skills for a career in theater
The UCLA Stage Management Summer Institute is a three-week intensive conservatory-style program for both high school and college-level theater students encompassing the study and application of stage management, theater history, leadership, teamwork, and problem solving. Students will also be introduced to current industry practices through workshops and hands on activities as it is an essential component to the learning process. Students will culminate the program by working on a final production from pre-production thru performance. The program is designed for college and high school students who have a serious interest in stage management and who seek the discipline and training required for participation in a university theater program or a career in the performing arts.
Stage Management Summer Institute Program Overview
Students will participate in person at UCLA, experiencing all that our campus has to offer during their summer program.
For precollege participants in the Stage Management Summer Institute, living in on-campus housing is optional. Precollege students who wish to live in UCLA residence halls alongside other program participants may sign up for housing at the time of registration. The total cost for housing, which includes room, board (two meals per day), student supervision, and evening and weekend activities, is an additional $1,404.
**Please note that UCLA housing is only available for precollege participants.**
For more information on UCLA housing precollege programs, please see the Housing for Minors page.
Participants of the Stage Management Summer Institute will receive UCLA credit for the following coursework:
Theater 50 – Theater Production (2 units)
Theater 72 – Theater Production and Practice (2 units)
Students will spend the morning sessions breaking down stage management at each step of the theatrical process. We will look at not just how to get something done but why it's done that way, how it was done in the past, who it effects, and how it makes the process better. We will then put our lessons to practice with hands on experience as we step into the rehearsal room with the MTSI program. The students will all work as a stage management team alongside the professional director, designer, musical director, and stage manager for the MTSI rehearsals and performances. While each student will be assigned a stage management role, we will come together each day to discuss our experiences in rehearsal so the students receive a complete picture of what it takes to become a successful stage manager in a real life scenario.
Eligibility
To participate in the Stage Management Summer Institute, you must meet the following qualifications:
15-22 years of age as of June 20, 2022
Students who do not meet the eligibility requirements will not be considered and are encouraged to explore other summer opportunities.
Admission
The program has application requirements for admission. Applicants who successfully submit all requirements will be reviewed and notified via email of an admission decision within ~3 weeks. See Application Requirements below for more details. Early application is strongly encouraged.
Applicants are required to provide the following during the online registration process:
How do you describe your passion for theater? 400 words or fewer.

How can you use your talents to facilitate someone else's vision? 400 words or fewer.
Why are you interested in stage management, and what do you hope to gain from the program experience? 400 words or fewer.
A current resume.
The essays will be prompted on the registration form; we recommend having your essays pre-written to copy/paste. The resume can be uploaded (.pdf) during the application process.
Note: All responses and links will not be accessible to edit in any form after submission of the application.
Applying for the Stage Management Summer Institute can be done conveniently online with the following steps:
Prepare all "Application Requirements" prior to starting the registration process.
Access the Summer Institute Online Registration Form starting February 15 at 8am Pacific Standard Time (PST). Read all terms and conditions, then scroll to the bottom and select "Yes, Continue to Registration."
Provide responses to all required questions on both pages of the registration form and then "Submit".
Once your form is submitted, you will be directed to the Retrieve Registration page. Select "File Uploads" to upload application materials (see Application Requirements above for more information).
Allow up to two weeks for the program instructor(s) to review your application after submission. An email will be sent to you with the official decision.
If accepted to the program, follow the steps in your acceptance email to make payment of the non-refundable registration fee* ($150 for UCLA and UC Students, $350 for Non-UC Students) to reserve your space in the program.
A space in the program is not reserved until a valid payment of the non-refundable registration fee* is made. If you are not prepared to pay after submitting the registration form, you may retrieve your registration at another time to make payment; however, this risks losing a space in the program if it reaches capacity prior to payment being submitted. An email with instructions to retrieve registration with your five-digit registration number will be sent within an hour after submitting your registration.
*The registration fee is required for each program and is not refundable under any circumstances including, but not limited to, drop for non-payment and withdrawal, even if you withdraw from the program before it begins.
If the program is full, you will not be prompted to make payment. If the program offers a waitlist and your application is accepted from the waitlist, you will be notified by email with instructions for how to submit payment. Please note if the payment is not submitted within 24 hours of receiving the email, you will be moved to the end of the waitlist.
If registering after May 1, full payment of the program fee and non-refundable registration fee will be required to reserve your space in the program. Additional fees, such as the document fee and IEI fees, will be assessed after enrollment.
For questions and assistance, please contact us at info@summer.ucla.edu.
UCLA Summer Sessions Summer Scholars Support
Qualified students attending grades 8th – 11th in Spring 2022 in the state of California may be eligible for Summer Scholars Support, a need- and merit-based scholarship offered by the UCLA Summer Sessions Office. A limited number of full and partial scholarships are available to support enrollment in SCIP/eSCIP, one Summer Course, or a Precollege Summer Institute.
Summer 2022 deadline to apply: April 1.
The Nicholas Endowment Scholarship
The Nicholas Endowment TFT Summer Institute Scholarship is a need- and merit-based scholarship opportunity for underserved/underrepresented high school students enrolled in grades 9-12 who have been impacted by the outbreak of COVID-19 and would benefit significantly from a Summer Institute experience. Both partial and full scholarships are available for high school students enrolled in UCLA Theater Summer Institutes including Acting and Performance, Camera Acting and Musical Theater.
Eligibility:
To apply for the Nicholas Endowment TFT Summer Institute Scholarship, you must meet the following minimum eligibility criteria:
You will be a high school student in Fall 2022 (seniors graduating in 2022 are eligible)
You have not received any UCLA Summer Sessions support or scholarship in the past
You have a family annual adjusted gross income of $100,000 or less
You have been impacted by the COVID-19 outbreak
You are a high school student enrolled in one of the following UCLA Theater Summer Institutes: Acting and Performance, Camera Acting, Musical Theater, Voice-over and Camera Acting, Stage Management, Design Summer Institute-Costume, Live Performance and Media
The Nicholas Endowment Award will be awarded based on academic ability and financial need for those who have been impacted by the outbreak of COVID-19 and would benefit significantly from a Summer Institute experience.
Awards vary but will not exceed the total amount for a single Summer Institute. Awards are not intended to cover travel costs and may not cover accommodations or textbooks and other course materials.
This year, $25,000 is available to support selected high school students. Both partial and full scholarships will be awarded. The award amount will reflect the fees of the Summer Institute in which the applicant is enrolled.
If selected, scholarship recipients will create a short thank you video and contribute to a book of images and messages documenting their experience in the program for our generous donors.
Application Requirements:
All requirements below should be acquired and prepared prior to starting the online Nicholas Endowment TFT Summer Institute Scholarship form.
Unofficial transcript showing all grades from 9th to present and a cumulative GPA
Student resume
Personal statement (see below for specifications)
W-2 tax form (if eligible for one)
1040 tax form
Questions? Please email dadams@tft.ucla.edu.
Personal Statement:
Applicants must answer three essay prompts. Please answer the question below (Section 1) and then select two out of the six questions in Section 2 to answer. Each answer should be between 250–300 words.
Section 1 (must be answered):
How have you and/or your family been impacted by the COVID-19 outbreak?
Section 2 (Please choose two from the following questions):
Submit a creative writing piece set during the COVID-19 outbreak that focuses on a fictional character and includes an act of kindness or heroism. Feel free to use your imagination.
Explain your passion for the program you have applied to.
How do you hope to incorporate theater/musical theater/camera acting/voice-over/design/stage management/live performance and media into your academic or career goals after the program?
Describe how a specific play, musical, film or TV show has influenced you as a storyteller?
Tell us about a time you were challenged to do something out of your comfort zone. How did you face this challenge and what lesson(s) did you take away from the experience?
Personal Statements should be prepared ahead of application and saved in one singular Word or PDF document to upload into the online form.
How To Apply:
Register for a Pre-College Summer Institute starting Feb. 15, 2022. Payment of the nonrefundable deposit is required (with the exception of those applying for Deferred Deposit. For information Deferred Deposit, see "Deferred Deposit" below)
Prepare the Application Requirement paperwork and Personal Statement
Complete the Nicholas Endowment TFT Summer Institute Scholarship online application, which is available from April 2 through May 5 at 5:00 p.m. (Link will appear below when application is active).
Important Dates:
February 15: Registration for UCLA Theater Summer Institutes available
May 5: Nicholas Endowment Scholarship Application due by 5:00 p.m.
May 12: Award announcements are emailed at 5:00 p.m.
May 19: Students who have been awarded support must confirm acceptance by replying to the award announcement email.
Program Dates:
July 10, 2022 – July 30, 2022
The schedule and syllabus are subject to change. Enrolled students will be given updated materials closer to the program start date.
The program fee includes the unit fees for the UCLA coursework offered as part of the program and thus varies by UC student status. In addition to the program fee, students are assessed other campus and administrative fees during the summer. This is a summary of fees that commonly apply to the selected student type.
Actual tuition and fees are subject to change by the University of California. Visit the fees, payment, and financial aid section for important disclaimer, as well as more details on fees, payment instructions, and information on delinquency, refunds, and financial aid.
**OPTIONAL HOUSING FEE** = $1,404
Students living in on-campus housing will be charged an additional housing fee. Please note that UCLA housing is only available for precollege participants.
| | |
| --- | --- |
| Program Fee | $2,540 |
| Registration Fee | $350 |
| IEI Fee | $61 |
| Document Fee (for first-time Summer Sessions students) | $50 |
Meet Your Instructors
Jessie Vacchiano
Instructor
Jessie Vacchiano is an L.A.-based stage manager. Jessie graduated with B.F.A in Production with an emphasis in stage management from Mason Gross School of the Arts in 2009. In 2010 Jessie joined AEA as a professional stage manager. Jessie has worked as a freelance stage manager on productions large and small, musicals, dramas, environmental pieces, corporate events, outdoor drive-in events, musical concerts, and (thanks to 2020) even virtual productions. Favorite credits include: Three Pianos(A.R.T./New York Theatre Workshop/Ontological Theatre), Our Planet(Japan Society), Breakup Notebook(ReVision Theatre), Soul on Fire(Kennedy Center), Beth Malone…So Far(Tour), Body Awareness(Gulfshore Playhouse), Pal Joey(Arkansas Rep), I Am My Own Wife (Laguna Playhouse), My Life with Men…and Other Animals (U.S. Premier, Peter Schneider Productions), A Room with a View (L.A. TheatreWorks), Measure for Measure (Ensemble Theatre Company), and Sweet Charity (Reprise 2.0), Sing Out! (Austin Arts Project). For many years Jessie found herself recurring her role as PSM at Rubicon Theater.
Favorite credits include: Noises Off, Conviction (co-production with Bay Street Theatre), Heisenberg (Laguna Playhouse),The Last Five Years, Other Desert Cities, Charles Dickens' A Christmas Carol, See Rock City, and Gulf View Drive, Return to the Forbidden Planet, Moonlight and Magnolias, Taking Sides, and Sylvia, Incognito, The Baby Dance: Mixed, , Plaid Tidings, Never Not Once, and Gin Game.  Virtually Jessie has worked on a number of shows. 2020/2021 Virtual credits include: A Song (Rubicon Theatre), Grateful(Channel Islands Chamber Orchestra), Measure for Measure, Richard II and Twelfth Night (Shakespeare by the Sea), A Christmas Carol(Ensemble Theatre Company), The Gin Game and Suppressed Desires (Laguna Playhouse), and The Last Five Years(International City Theatre). Jessie is also a lecturer for the UCLA School of Theatre Film and Television.
Stage Management Summer Institute FAQ
We welcome students of all backgrounds. However, it is necessary that participants have a sincere interest and commitment to learning within the theater.
Yes, parents are encouraged to attend the final presentation.
Each student will be provided with a syllabus that includes a breakdown of the grading process and the impact of tardiness and absences on the first day of class.
Still have questions? Check out the general Summer Institutes FAQ.
If you have questions about the program schedule or syllabus, please contact Dolann Adams, Director of Special Programs with the UCLA Department of Theater.