Stage Management Summer Institute
Learn what it takes to create magic for the stage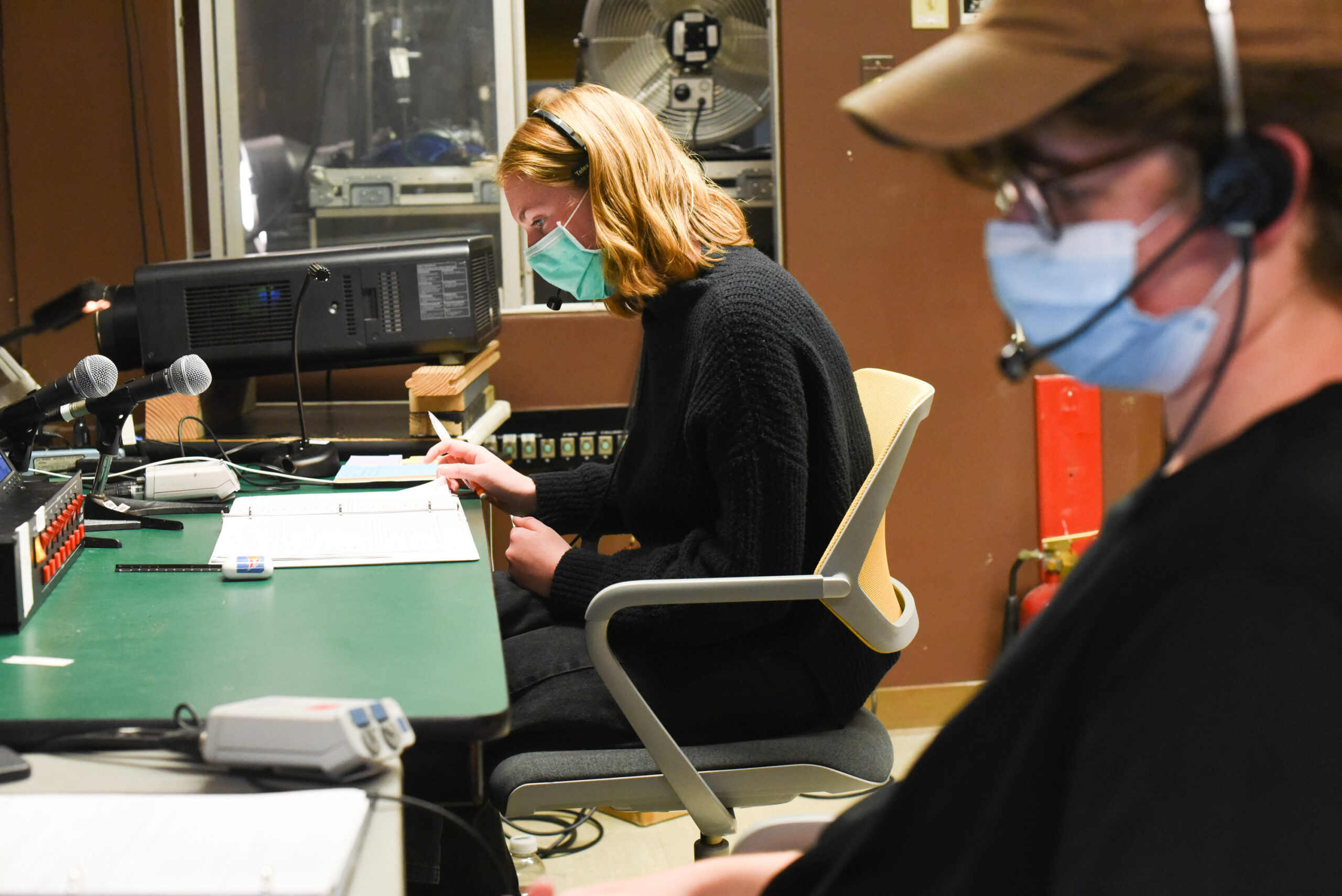 Develop key production management skills for a career in theater
The UCLA Stage Management Summer Institute is a three-week intensive conservatory-style program for college and high school theater students encompassing the study and application of stage management, theater history, leadership, teamwork, and problem solving. Students will also be introduced to current industry practices through workshops and hands-on activities as it is an essential component to the learning process. Students will spend the morning sessions breaking down stage management at each step of the theatrical process. We will look at not just how to get something done but why it's done that way, how it was done in the past, who it effects, and how it makes the process better.
Students who participate in Session A will culminate the program by working with an ensemble on a devised theatrical piece and those who enroll in Session B will work on a musical. Both sessions will require student to be an active contributor from preproduction thru performance.
The program is designed for high school students who have a serious interest in stage management and who seek the discipline and training required for participation in a university theater program or a career in the performing arts.
Stage Management Summer Institute Program Overview
Session A: June 25– July 15, 2023
Application based/ In-person
Session B: July 16-August 5, 2023
Application based/ In-person
Program Eligibility: 9th-12th grade in Spring 2023 & Ages 15-17
UCLA Coursework: Theater 50; 2 units, Theater 72; 2 units
Application deadline: June 1, 2023
Enrollment deadline: June 15, 2023
The schedule and syllabus are subject to change. Enrolled students will be given updated materials closer to the program start date.
The program fee includes the unit fees for the UCLA coursework offered as part of the program and thus varies by UC student status. In addition to the program fee, students are assessed other campus and administrative fees during the summer. This is a summary of fees that commonly apply to the selected student type.
Actual tuition and fees are subject to change by the University of California. Visit the fees, payment, and financial aid section for important disclaimer, as well as more details on fees, payment instructions, and information on delinquency, refunds, and financial aid.
| | |
| --- | --- |
| Program Fee | $4,110 |
| Registration Fee | $350 |
| IEI Fee | $61 |
| Document Fee (for first-time Summer Sessions students) | $50 |
Meet Your Instructors
Jessie Vacchiano
Instructor
Jessie Vacchiano is an L.A.-based stage manager. Jessie graduated with B.F.A in Production with an emphasis in stage management from Mason Gross School of the Arts in 2009. In 2010 Jessie joined AEA as a professional stage manager. Jessie has worked as a freelance stage manager on productions large and small, musicals, dramas, environmental pieces, corporate events, outdoor drive-in events, musical concerts, and (thanks to 2020) even virtual productions. Favorite credits include: Three Pianos(A.R.T./New York Theatre Workshop/Ontological Theatre), Our Planet(Japan Society), Breakup Notebook(ReVision Theatre), Soul on Fire(Kennedy Center), Beth Malone…So Far(Tour), Body Awareness(Gulfshore Playhouse), Pal Joey(Arkansas Rep), I Am My Own Wife (Laguna Playhouse), My Life with Men…and Other Animals (U.S. Premier, Peter Schneider Productions), A Room with a View (L.A. TheatreWorks), Measure for Measure (Ensemble Theatre Company), and Sweet Charity (Reprise 2.0), Sing Out! (Austin Arts Project). For many years Jessie found herself recurring her role as PSM at Rubicon Theater.
Favorite credits include: Noises Off, Conviction (co-production with Bay Street Theatre), Heisenberg (Laguna Playhouse),The Last Five Years, Other Desert Cities, Charles Dickens' A Christmas Carol, See Rock City, and Gulf View Drive, Return to the Forbidden Planet, Moonlight and Magnolias, Taking Sides, and Sylvia, Incognito, The Baby Dance: Mixed, , Plaid Tidings, Never Not Once, and Gin Game.  Virtually Jessie has worked on a number of shows. 2020/2021 Virtual credits include: A Song (Rubicon Theatre), Grateful(Channel Islands Chamber Orchestra), Measure for Measure, Richard II and Twelfth Night (Shakespeare by the Sea), A Christmas Carol(Ensemble Theatre Company), The Gin Game and Suppressed Desires (Laguna Playhouse), and The Last Five Years(International City Theatre). Jessie is also a lecturer for the UCLA School of Theatre Film and Television.
Stage Management Summer Institute FAQ
We welcome students of all backgrounds. However, it is necessary that participants have a sincere interest and commitment to learning within the theater.
Yes, parents are encouraged to attend the final presentation.
Each student will be provided with a syllabus that includes a breakdown of the grading process and the impact of tardiness and absences on the first day of class.
Still have questions? Check out the general Summer Institutes FAQ.
If you have questions about the program schedule or syllabus, please contact Dolann Adams, Director of Special Programs with the UCLA Department of Theater.