Student Services
Campus Services and Resources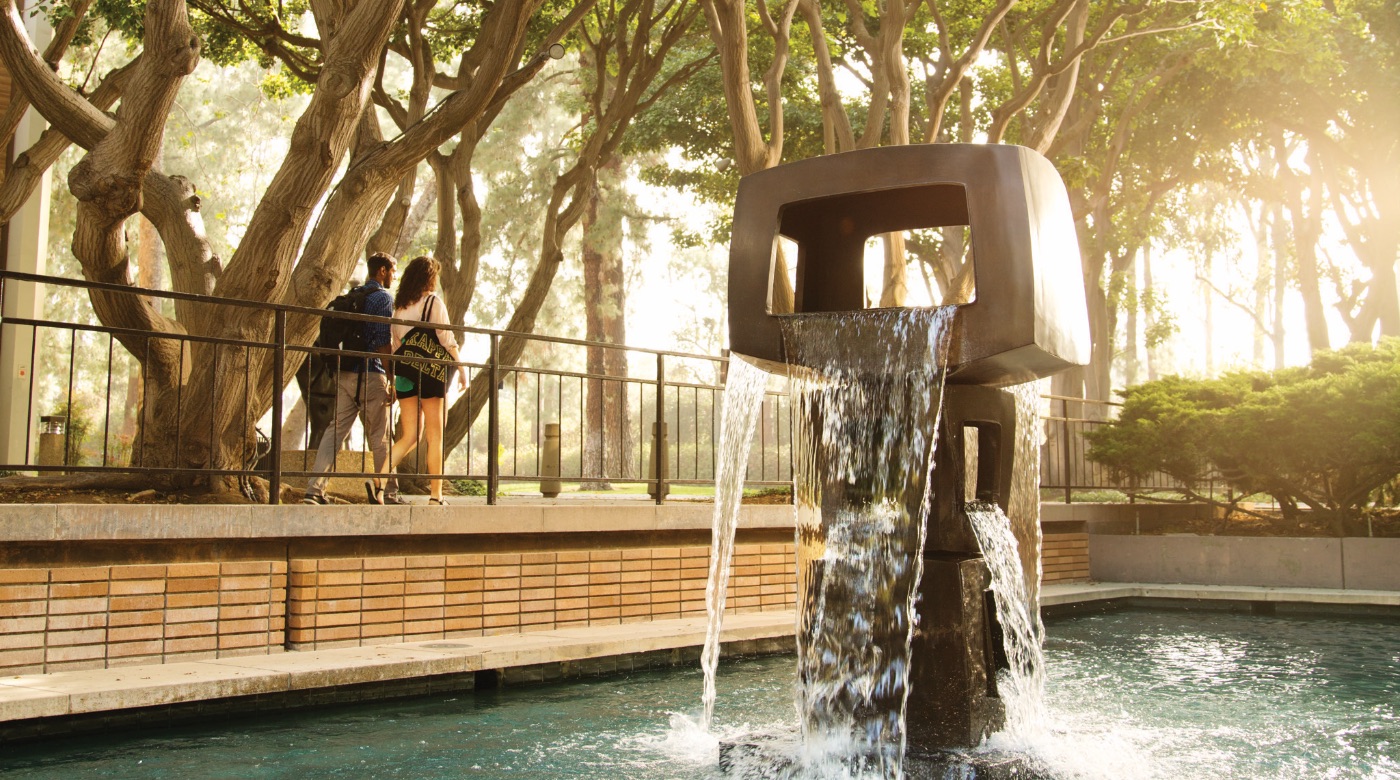 Housing
& Dining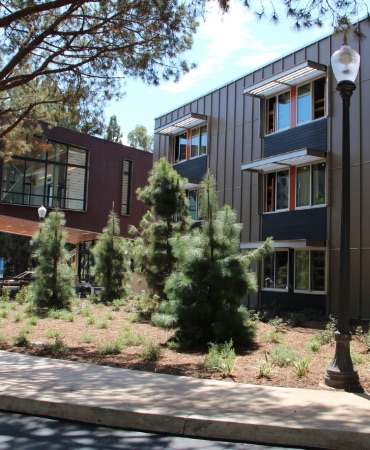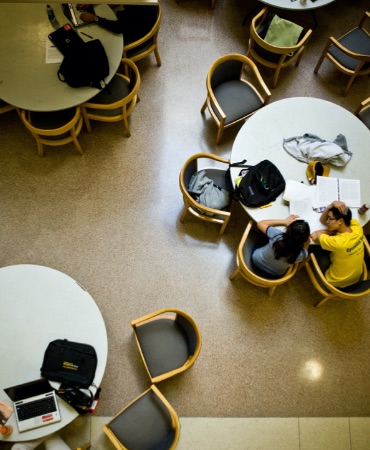 The university offers fully furnished residence halls and suites within easy walking distance of classrooms, libraries, and recreational facilities for summer high school students enrolled in the Summer College Immersion Program (SCIP and SCIP+) and Precollege Summer Institutes with mandatory housing. To learn more about campus living, take the virtual tour of the residential halls and watch our UCLA housing. videos. Please see below for housing details depending on program type:
If you are enrolled in a Precollege Summer Institute with mandatory housing, you will automatically be included in housing arrangements and do not need to add it manually. Housing fees should be available to pay on BruinBill and are due by the payment deadline of May 1. We do NOT offer UCLA housing for students in commuter only programs; if you wish to live on campus, please apply to a mandatory housing program.
Students enrolled in the Summer College Immersion Program (SCIP or SCIP+) are strongly encouraged to participate in on campus housing for the full college experience. If you prefer to commute, you can indicate that as a preference on the registration form until May 22.
If you are enrolled in a Summer Course and are 17 years of age or older at the time of residence, you may apply for housing through the UCLA Housing application which opens in mid-May. UCLA Housing will NOT be offering housing to students who are 15 or 16 years old at the time of residence. If you would like to live on campus, we recommend applying for a mandatory housing program, such as our Precollege Summer Institutes.
Many students find living on campus to be a convenient and enjoyable option during Summer Sessions. Housing is available for periods of 3, 6, 8, 9, 10, and 12 weeks. To learn more about campus living, take the virtual tour of the residential halls and watch our UCLA housing videos.
For students who prefer the independence of living off-campus, UCLA also offers furnished University Apartments near campus. To be eligible for University Apartments, students must be 18 years of age or older by June 26, 2023. For more information on summer housing opportunities, please visit UCLA Housing Services.
All students that purchase the residential plan will reside in a residence hall with following amenities:
Triple occupancy rooms that are furnished, air-conditioned, and have internet access
24-hour front desk service and a secure facility entrance
Access to world class recreation facilities
Laundry facilities and a lounge located in each building
Internet access
Gender-specific shared bathrooms on each side of the hall; gender inclusive bathrooms on every other floor
Access to laundry facilities
One wardrobe, closet, or dresser drawer per student
One desk per student
Essential bedding: flat sheet, fitted sheet, pillow, and blanket
Meals
Breakfast and dinner (two meals) are provided each day in the UCLA dining halls, nationally recognized for their excellent cuisine. Lunch, however, may be purchased by the student each day at any of the campus eating establishments on campus
If you have questions about dietary restrictions or food allergies, please contact the UCLA Dining Services Registered Dietitian (RD) at AsktheRD@ha.ucla.edu or 310-206-3193 (Office) / 424-535-4286 (Mobile). The dietician can assist only with residential dining hall inquiries.
Residential check-in and check-out depends on whether your program has mandatory or optional housing.
For mandatory housing programs, please reach out to the program contact from the department of your specific program.
For students in the residential plan for the Summer College Immersion Program, housing check-in will be the Sunday before the first day of the program on Monday, 6/25 from 4-6pm and check out will be on Saturday, 8/5 at 11am.
For students in Summer Courses or College/Professional Summer Institutes, please reach out to UCLA Housing for check-in and check-out information.
We do not allow for early arrivals for residential check-in, therefore we recommend exploring the campus or Westwood until the official check-in time. If you need to leave earlier before check-out time, you may do so as long as all mandatory programming and final requirements have been completed.
Summer Institute attendance for academic programming, co-curricular events, and team-building extracurricular activities, unless otherwise specified, is mandatory. You must participate in and be punctual to all required activities, including, but not limited to, orientations, classes, group meetings, and excursions. No make-up activities will be provided.
Program faculty and administrators reserve the right to dismiss a participant for repeated tardiness to and/or unauthorized absences from required activities for reasons other than unforeseen emergencies; program fees will not be refundable in the event of dismissal. Parents/guardians should consult the program administrators concerning any foreseeable absence as soon as possible.
Please visit your program page and note sample schedules are subject to change. The evening and weekend activities offered by residential staff are optional and will not be listed on the program schedule. Information about these optional activities will be provided during the program.
You will be assigned roommates based on age and gender and will be notified of the roommate assignment during check-in. In order to better foster a learning community that exposes students to a broader network of peers, we do not accommodate any specific roommate assignment request.
Summer Institute students will be grouped by their specific programs in the residence hall.
Suggested items to bring:
Bathrobe, towel, washcloth, and toiletries
A plastic caddy or bag for carrying shower items
Swimsuit and a beach towel
Sunscreen
Hangers (if desired)
Laundry detergent and dryer sheets
Sandals and comfortable shoes
Notebook, pens/pencils
Water Bottle
Extra pillows or blankets (Twin XL sheets, blanket, and pillow are provided)
Sweater, sweatshirt, or light jacket
Any necessary medication
Before packing, please refer to your specific program page as some programs require or suggest clothing or other items for program activities.
If you choose to bring an electronic device(s), we strongly recommend documenting the serial number to prove ownership in the event of a lost and recovered device. Your sole responsibility is to keep track of all your belongings; we are not responsible for lost items. We do not recommend bringing expensive jewelry or irreplaceable items.
Our residential staff will be planning interactive, optional weekend activities for SCIP and SCIP+ students in housing. These may include ice-breakers, scavenger hunts, campus tours, movie nights, game nights, arts and crafts, and more!
These activities are designed to help students make the most of their academic programming at UCLA and connect with their cohort. Some of the areas that may be covered in workshops also include time management, stress relief, and study tips.
Outside of the academic program schedule, participants may plan their time and travel on- or off-campus independently or choose to participate in evening or weekend programming activities offered by the residential supervision team so long as they abide by the terms of the Participant Agreement and are back by curfew checks at 11pm.
UCLA Precollege Summer Institutes, Summer College Immersion Program, and Summer Courses are NOT youth summer camps. Rather, UCLA Precollege Summer programming is intended for highly motivated, mature high school students who are ready for college-level experiences and capable of making their own decisions, as well as accepting the consequences for those decisions. Participants are expected to manage themselves with a high level of independence and self-sufficiency comparable to matriculated UCLA students.
Outside of the program schedule, participants may plan their time and travel on- or off-campus independently or choose to participate in evening or weekend programming activities offered by the residential supervision team so long as they abide by the terms of the Participant Agreement.
Residential Supervision:
A skilled team of UCLA undergraduate students and fulltime staff will be assigned to residential participants and will reside locally in the residence halls. All staff have undergone an extensive background check and training. Their duties include:
Enforcing evening curfews and performing morning roll calls
Coordinating and facilitating optional evening and weekend activities (see Residential Activities section)
Responding to incidents and emergencies in a timely manner
In accordance with the Program Participant Agreement, participants must abide by the evening curfew of 11:00 PM, which is to ensure sufficient rest for successful participation in the program's activities, and must sleep in the assigned room each evening. Curfew violations without prior approval may result in disciplinary actions.
A parent/guardian may use an online form to request an exception to the evening curfew. Approval will not be granted if forms are incomplete or submitted by someone other than the student's parent/guardian. After receiving the request, the residential staff will contact the parent/guardian for verification purposes.
Please submit a Curfew Request as soon as you know you will not be in the residential hall for the 11pm curfew check.
Students may be absent from the program's required activities due to medical reasons, emergencies, or personal reasons. However, absences may affect successful performance, and full participation in program activities is essential to your success in the program. Any foreseeable absence from a mandatory activity must receive prior approval from the program instructor.
Please submit a Leave Request as soon as you know you will not be able to attend mandatory academic programming.
Visiting
UCLA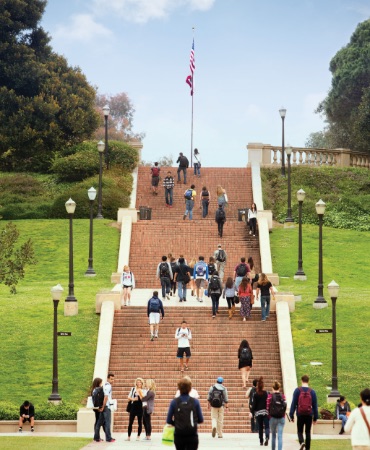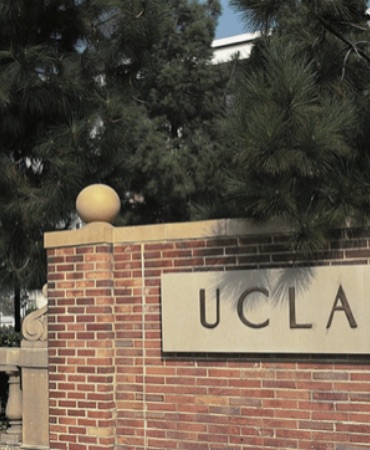 UCLA's campus is full of optimism, inspiration, and opportunity for students from a variety of backgrounds during the summer. With over 1,000 clubs and organizations, numerous libraries and research labs, and classrooms with inspirational discoveries and learning, you are sure to have a remarkable experience as a Summer Bruin.
Explore UCLA's historic campus, a university with a tradition of academic excellence, a vibrant and diverse student body, and a vast array of resources and opportunities. You can easily reserve a tour online!
UCLA's big and beautiful campus has many buildings to explore and navigate through. This Interactive Map is a useful tool to help you familiarize yourself with campus. If you prefer to learn on the go, carry a copy with you by printing this handy PDF Version.
UCLA's main campus is bounded by Sunset Boulevard on the north and Le Conte Avenue on the south; the east border is Hilgard Avenue and the west border is Gayley Avenue. You can locate UCLA by Zip code (90095) or by street address (405 Hilgard Avenue). For recorded directions, please call 310-825-4321.
Summer Sessions parking permits will be available beginning May 30 on a first-come, first-served basis. Students have the option to purchase a summer term permit or a daily permit. Generally, summer-term permits are more cost-efficient for long-term courses or programs, while a daily permit may be better suited for students in short-term courses or programs.
Please review the Transportation and Parking Services web page and read the "Summer Quarter Parking (All Students)" section for more information on all permit types, including cost. Note: Motorcycles, mopeds, and motor scooters do not require parking permits, but may only park in designated areas.
If arriving to UCLA by plane, you will need to arrange your own transportation to campus. LAX is the closest airport to UCLA, approximately 13 miles away. For a list of ground transportation options to/from LAX and campus, visit the LAX Ground Transportation webpage. Other nearby airports include Bob Hope Airport in Burbank (21 miles away) and Long Beach/Daugherty Field Airport (32 miles away).
UCLA Facilities
& Resources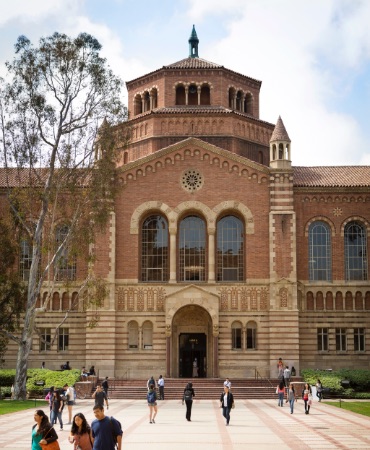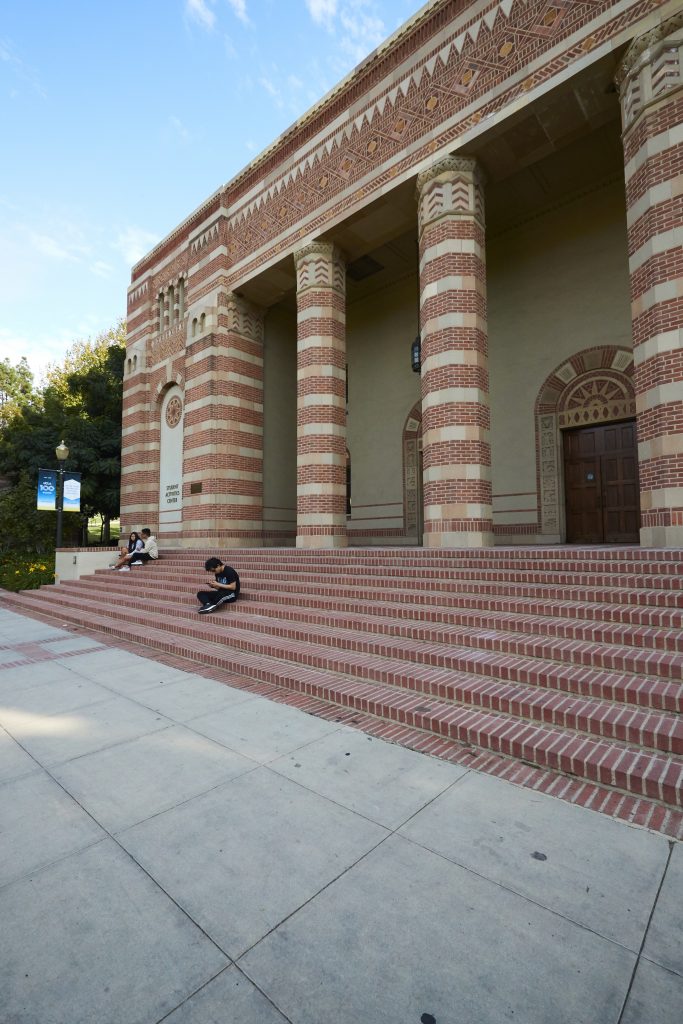 UCLA has allocated several resources for your academic success while you are studying with us over the summer. Plan your research and study sessions in our specialized libraries and computer labs. The Undergraduate Writing Center and Career Center offers individualized support for summer students hoping to improve their written and professional skills. No matter your academic goals, our experienced staff members are here to help!
UCLA Recreation
& Creativity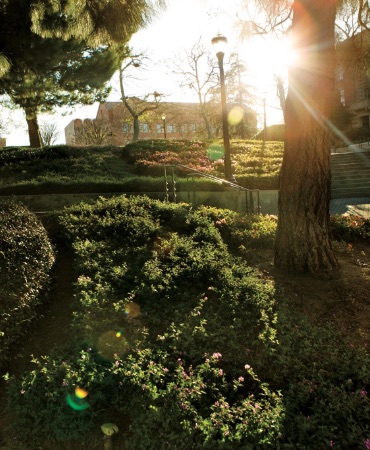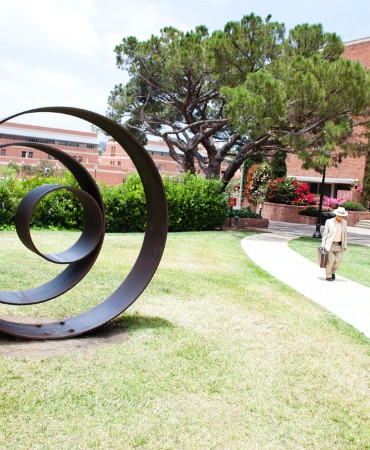 UCLA is not only known for its top-ranked academics, but also its state-of-the-art campus resources including a variety of sports and recreation areas. Stay active with our numerous gyms and fitness classes! Spark your curiosity and creativity by visiting our art museums, galleries, and gardens surrounding the beautiful UCLA campus. With hundreds of painted, sculpted, and naturally created works, you are sure to be inspired.
BruinCard
Your Passport to
Life at UCLA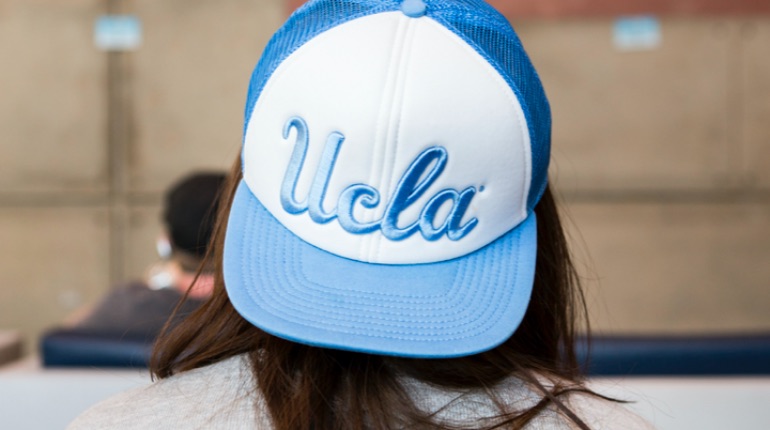 The BruinCard is your passport to life at UCLA. It is the primary student identification used at the library, gym, dining halls, campus events, and many more. Starting June 1, you can pick up your BruinCard at the BruinCard Center in 123 Kerckhoff Hall. The BruinCard Center is open weekdays from 9:00 AM to 4:00 PM. Note: If this is your first time applying for a BruinCard, you may submit a photo of your choice online. If you lose or need a replacement BruinCard, you must request for it in person and pay a replacement fee.