Design Innovation Summer Institute – Costume
Bring stories to life through design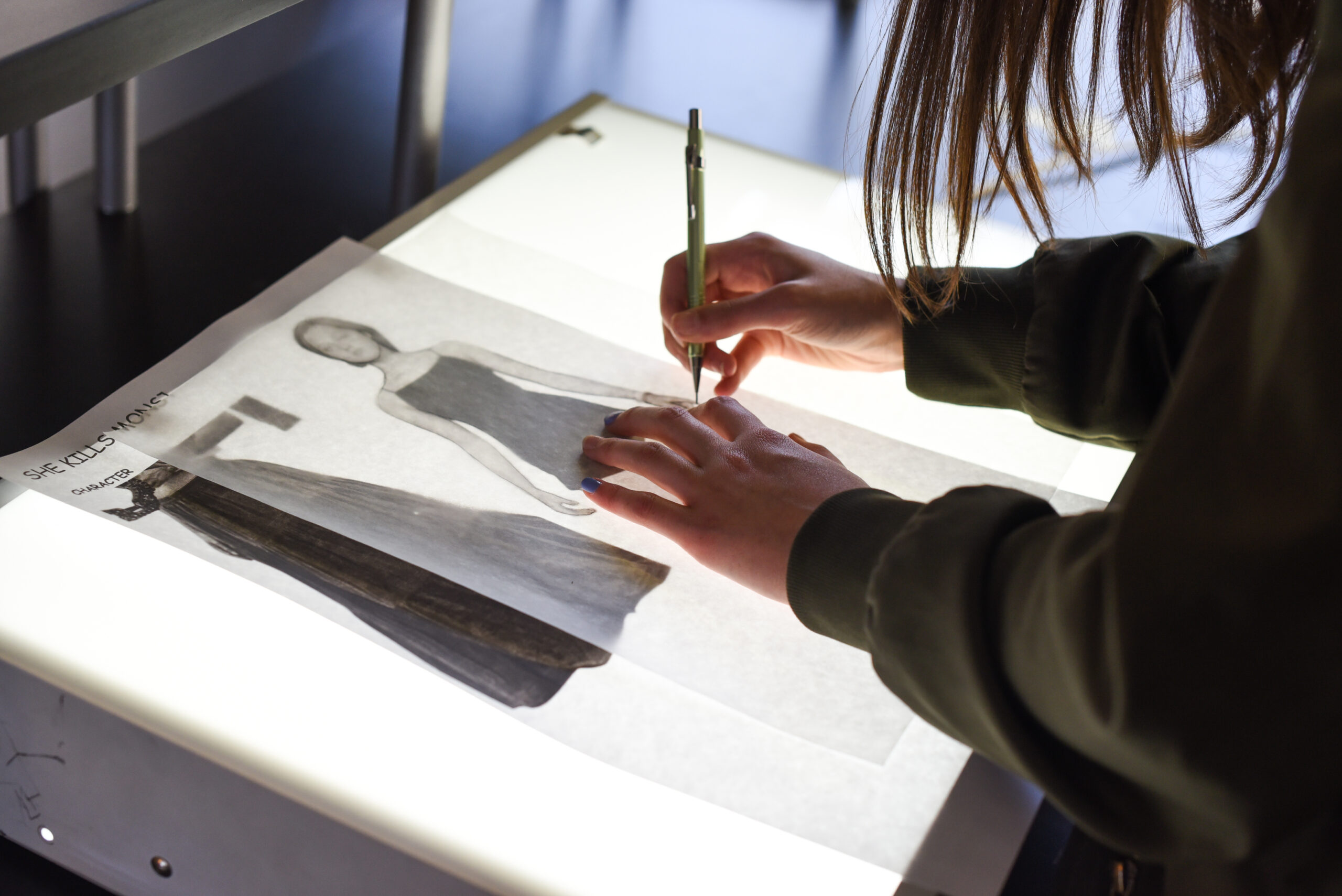 A rare opportunity to examine the process of costume design from script to performance.
The Design Summer Institute in Costume Design is a two-week, UC credit-bearing intensive for students interested in costume design for theater, film, and television. This program provides opportunities to work with our distinguished faculty in classes such as Costume 101, Introduction to Costume Sketching, Silhouette, Sculpture and Costume Design for Theater, Film and Television. The combination of these courses will allow students to use the training to bring stories to life through their designs. Students will learn the technical components of breaking down a script and the art of collaboration with directors while gaining hands-on experience in research, sketching costumes, and creating mood boards and color palettes. Beyond the classroom, students will take field trips to costume houses and museums along with having several master classes with industry professionals that will cover everything from career preparation to portfolio creation.
The program is designed for artists and students who seek additional discipline and training required for participation in a university theater program or a career in the entertainment industry.
Design Innovation Summer Institute – Costume Program Overview
Session A: June 25, 2023 – July 8, 2023
Application based/ In-person
Session B: July 9 – July 22, 2023
Application based/ In-person
Program Eligibility: 9th-12th grade in Spring 2023 & Ages 15-18
UCLA Coursework: Theater Production and Practice 72; 3 units
Application deadline: June 1, 2023
Enrollment deadline: June 15, 2023
The schedule and syllabus are subject to change. Enrolled students will be given updated materials closer to the program start date.
The program fee includes the unit fees for the UCLA coursework offered as part of the program and thus varies by UC student status. In addition to the program fee, students are assessed other campus and administrative fees during the summer. This is a summary of fees that commonly apply to the selected student type.
Actual tuition and fees are subject to change by the University of California. Visit the fees, payment, and financial aid section for important disclaimer, as well as more details on fees, payment instructions, and information on delinquency, refunds, and financial aid.
Document Fee (for first-time Summer Sessions students)
$50.00
Total Estimated Fees:
$4,385.00
* Fees only apply for certain student types
Meet your instructors
Chrisi Karvonides-Dushenko
Instructor
Chrisi Karvonides-Dushenko has more than 25 years of experience as a professional costume designer in theater, film and television.
In 2003, she received an Emmy for her costume design work on NBC's American Dreams. She was also Emmy-nominated for FX's American Horror Story, and HBO's Carnivàle and From the Earth to the Moon (produced by Tom Hanks). She was nominated for four Costume Designers Guild Awards during five seasons of HBO's Big Love. In addition, Carnivàle, From the Earth to the Moon and the pilot for ABC's Pan Am were also nominated for CDG awards. Her other TV credits include Alan Ball's HBO series Here and Now, starring Tim Robbins and Holly Hunter; and the Starz TV series Blunt Talk, starring Patrick Stewart. Karvonides-Dushenko's feature films include The Loss of a Teardrop Diamond (2008), The Glass House (2001) and Beautiful (2000).
Her theatrical designs have been featured in productions at the Old Globe Theater, Geffen Playhouse, South Coast Repertory, Seattle Repertory, Guthrie Theater and the Kennedy Center. On Broadway, she designed the costumes of August Wilson's production Two Trains Running.
Karvonides-Dushenko's designs for opera include Alcina in Karlsruhe, Germany; Proving Up for Opera Omaha; The Human Voice and Breaking the Waves (based on the 1996 Lars Von Tier film) for Opera Philadelphia; and Iphigenia in Tauris for Teatro National San Carlo in Lisbon, Portugal.
She has given guest lectures on the art of costume design around the world including in Prague, Czech Republic; Cardiff, Wales; and New York City. In Summer 2018, she conducted a week-long seminar in Lecce, Italy.
Karvonides-Dushenko received her M.F.A. in theater design from Yale School of Drama and her B.F.A. from Emerson College.
Shoshana Rubin has been working on film and television productions in the costume department for over twenty years.  For the last ten years, she has spent more of her time working to educate young folks who are interested in the art and craft of costume design.  Meanwhile, she earned a Masters of Arts in Education at Loyola University a few years ago while raising her young family.  Her adventures began as a young child fascinated with the idea of creating characters through the use of costumes, thus helping to facilitate the telling of their stories.  After finishing a Bachelors in Fine Arts at the University of Michigan she dove right into work on feature films in the costume department and has not turned back.  Not only has she worked on feature films, but also television, and commercials as a shopper, set costumer, costume supervisor, and a costume designer.  Most recently, she has spent her time teaching summer programs for High School students at UCLA and costume design classes for college students at Fashion Institute of Design and Merchandising in Los Angeles.  In addition to her love of costumes, she enjoys crafting, baking, yoga, and spending time with her family and two dogs.
Alex Jaeger is a costume designer, fashion designer and celebrity stylist working across the U.S. He received a B.F.A in fashion design from Massachusetts College of Art and an M.F.A in costume design from U.C.L.A. He is also an educator having taught design, illustration, drawing and costume history at F.I.D.M, University of Nevada and currently at U.C.L.A. Alex is also a former NEA/TCG designer fellow. His costume designs have been seen in major theaters across the country. His fashion designs have been sold in major department stores and have been showcased in popular fashion magazines such as Vogue, G.Q., WWD, Details and Rolling Stone. To see a full resume and production photos, please visit www.alexjaegerdesign.com
Design Innovation Summer Institute – Costume Design FAQ
We welcome students of all levels; however, students should have a strong interest and a desire to learn costume design.
Laptop
Journal
Sketchbook
Colored pencils
Still have questions? Check out the general Summer Institutes FAQ.