Design Innovation Summer Institute – Costume
Bring stories to life through design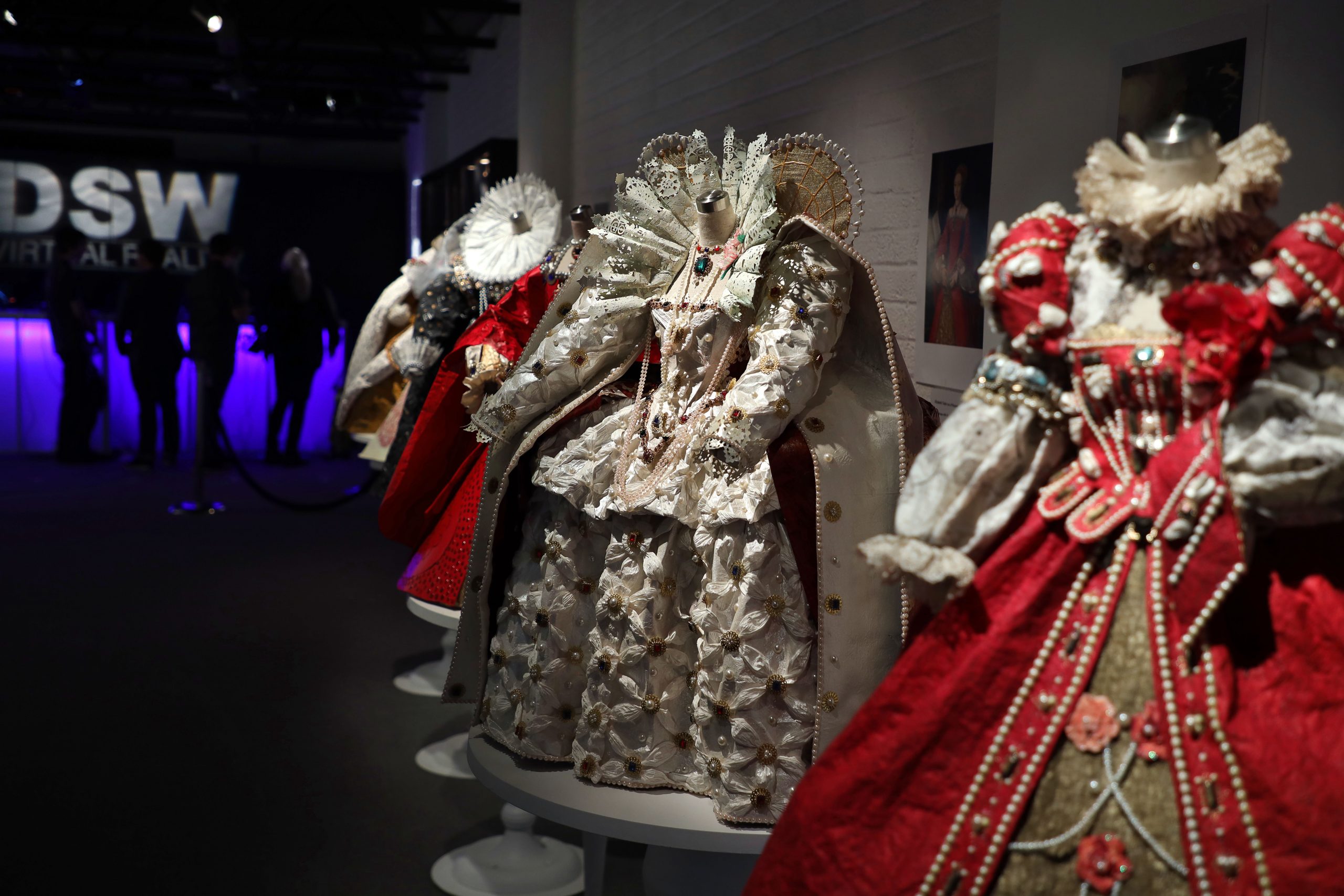 A rare opportunity to examine the process of costume design from script to performance.
The Design Summer Institute in Costume Design is a two-week, UC credit-bearing intensive for students interested in costume design for theater, film, and television. This program provides opportunities to work with our distinguished faculty in classes such as Costume 101, Introduction to Costume Sketching, Silhouette, Sculpture and Costume Design for Theater, Film and Television. The combination of these courses will allow students to use the training to bring stories to life through their designs. Students will learn the technical components of breaking down a script and the art of collaboration with directors while gaining hands-on experience in research, sketching costumes, and creating mood boards and color palettes. Beyond the classroom, students will take field trips to costume houses and museums along with having several master classes with industry professionals that will cover everything from career preparation to portfolio creation.
The program is designed for artists and students who seek additional discipline and training required for participation in a university theater program or a career in the entertainment industry.
Design Innovation Summer Institute – Costume Program Overview
Students will participate in person at UCLA, experiencing all that our campus has to offer during their summer program.
For participants in the Design Innovation Summer Institute – Costume Design, living in on-campus housing is optional. Students who wish to live in UCLA residence halls alongside other program participants may sign up for housing at the time of registration. The total cost for housing, which includes room, board (two meals per day), student supervision, and evening and weekend activities, is an additional $1,521.
For more information on UCLA housing precollege programs, please see the Housing for Minors page.
The Design Summer Institute in Costume Design awards credit for the following UCLA coursework:
Theater 72 – Theater Production and Practice (3 units)
Eligibility
To apply for the Design Summer Institute in Costume Design, students must meet the following qualifications:
14 -20 years of age as of June 20, 2022
Students who do not meet the eligibility requirements will not be considered and are encouraged to explore other summer opportunities.
Admission
Admission to the program is by digital audition and instructor consent. As part of the application process, we encourage each applicant to submit a resume. The resume can be uploaded during the application process.
Applicants who successfully submit all requirements will be reviewed and notified via email of an admission decision within 3 weeks. See Application Requirements below for more details. Please note that all levels are encouraged to apply. Early application is strongly encouraged.
Applicants are required to provide the following during the online registration process:
In 400 words, how do you describe your passion for costume design?
A resume (if you do not have a resume, submit a brief description of your theatrical and/or artistic experience).
The resume can be uploaded as a word or pdf file during the application process.
Applying for the Design Innovation Summer Institute – Costume Design can be done conveniently online with the following steps:
Prepare all "Application Requirements" prior to starting the registration process.
Access the Summer Institute Online Registration Form starting February 15 at 8am Pacific Standard Time (PST). Read all terms and conditions, then scroll to the bottom and select "Yes, Continue to Registration."
Provide responses to all required questions on both pages of the registration form and then "Submit".
Once your form is submitted, you will be directed to the Retrieve Registration page. Select "File Uploads" to upload application materials (see Application Requirements above for more information).
Allow up to two weeks for the program instructor(s) to review your application after submission. An email will be sent to you with the official decision.
If accepted to the program, follow the steps in your acceptance email to make payment of the $350 non-refundable registration fee* to reserve your space in the program.
A space in the program is not reserved until a valid payment of the $350 non-refundable registration fee* is made. If you are not prepared to pay after submitting the registration form, you may retrieve your registration at another time to make payment; however, this risks losing a space in the program if it reaches capacity prior to payment being submitted. An email with instructions to retrieve registration with your five-digit registration number will be sent within an hour after submitting your registration.
*The registration fee is required for each program and is not refundable under any circumstances including, but not limited to, drop for non-payment and withdrawal, even if you withdraw from the program before it begins.
If the program is full, you will not be prompted to make payment. If the program offers a waitlist and your application is accepted from the waitlist, you will be notified by email with instructions for how to submit payment. Please note if the payment is not submitted within 24 hours of receiving the email, you will be moved to the end of the waitlist.
If registering after May 1, full payment of the program fee and non-refundable registration fee will be required to reserve your space in the program. Additional fees, such as the document fee and IEI fees, will be assessed after enrollment.
For questions and assistance, please contact us at info@summer.ucla.edu.
UCLA Summer Sessions Summer Scholars Support
Qualified students attending grades 8th – 11th in Spring 2022 in the state of California may be eligible for Summer Scholars Support, a need- and merit-based scholarship offered by the UCLA Summer Sessions Office. A limited number of full and partial scholarships are available to support enrollment in SCIP/eSCIP, one Summer Course, or a Precollege Summer Institute. Summer 2022 deadline to apply: April 1.
Nicholas Endowment TFT Summer Institute Scholarship
The Nicholas Endowment TFT Summer Institute Scholarship is a need- and merit-based scholarship opportunity for underserved/underrepresented high school students enrolled in grades 9-12 who have been impacted by the outbreak of COVID-19 and would benefit significantly from a Summer Institute experience. Both partial and full scholarships are available for high school students enrolled in UCLA Theater Summer Institutes including Acting and Performance, Camera Acting and Musical Theater.
Eligibility
To apply for the Nicholas Endowment TFT Summer Institute Scholarship, you must meet the following
minimum eligibility criteria:
You will be a high school student in Fall 2022 (seniors graduating in 2022 are eligible);
You have not received any UCLA Summer Sessions Support or Scholarship in the past;
You have a family annual adjusted gross income of $100,000 or less;
You have been impacted by the COVID-19 outbreak;
You are a high school student enrolled in one of the following UCLA Theater Summer Institutes: Acting and
Performance, Camera Acting, Musical Theater, Voice-Over & Camera Acting, Stage Management, Design
Summer Institute-Costume, Live Performance and Media
All requirements below should be acquired and prepared prior to starting the Nicholas Endowment TFT Summer Institute Scholarship Online Form.
Unofficial transcript showing all grades from 9th to present and a cumulative GPA; • Student Resume; • Personal Statement (see below for specifications);
W-2 Tax Form (if eligible for one);
1040 Tax Form;
For questions, please contact us at dadams@tft.ucla.edu
Personal Statement
Applicants must answer three essay prompts. Please answer the question below (section 1) and then select 2 out of the 6 questions in section 2 to answer. Each answer should be between 250 – 300 words.
Section 1 (Must Be Answered):
How have you and/or your family been impacted by the COVID-19 outbreak?
Section 2 (Please Choose 2 from the Following Questions):
Submit a creative writing piece set during the COVID-19 outbreak that focuses on a fictional character and includes an act of kindness or heroism. Feel free to use your imagination.
Explain your passion for the program you have applied to.
How do you hope to incorporate theater/musical theater/camera acting/voice-over/design/stage management/ live performance and media into your academic or career goals after the program?
Describe how a specific play, musical, film or TV show has influenced you as a storyteller?
Tell us about a time you were challenged to do something out of your comfort zone. How did you face this challenge and what lesson(s) did you take away from the experience?
Program Dates:
July 3, 2022 – July 16, 2022
The schedule and syllabus are subject to change. Enrolled students will be given updated materials closer to the program start date.
The program fee includes the unit fees for the UCLA coursework offered as part of the program and thus varies by UC student status. In addition to the program fee, students are assessed other campus and administrative fees during the summer. This is a summary of fees that commonly apply to the selected student type.
Actual tuition and fees are subject to change by the University of California. Visit the fees, payment, and financial aid section for important disclaimer, as well as more details on fees, payment instructions, and information on delinquency, refunds, and financial aid.
**OPTIONAL HOUSING FEE** = $1,521
Students living in on-campus housing will be charged an additional housing fee.
| | |
| --- | --- |
| Program Fee | $2,950 |
| Registration Fee | $350 |
| IEI Fee | $61 |
| Document Fee (for first-time Summer Sessions students) | $50 |
Meet your instructors
Chrisi Karvonides-Dushenko
Instructor
Chrisi Karvonides-Dushenko has more than 25 years of experience as a professional costume designer in theater, film and television.
In 2003, she received an Emmy for her costume design work on NBC's American Dreams. She was also Emmy-nominated for FX's American Horror Story, and HBO's Carnivàle and From the Earth to the Moon (produced by Tom Hanks). She was nominated for four Costume Designers Guild Awards during five seasons of HBO's Big Love. In addition, Carnivàle, From the Earth to the Moon and the pilot for ABC's Pan Am were also nominated for CDG awards. Her other TV credits include Alan Ball's HBO series Here and Now, starring Tim Robbins and Holly Hunter; and the Starz TV series Blunt Talk, starring Patrick Stewart. Karvonides-Dushenko's feature films include The Loss of a Teardrop Diamond (2008), The Glass House (2001) and Beautiful (2000).
Her theatrical designs have been featured in productions at the Old Globe Theater, Geffen Playhouse, South Coast Repertory, Seattle Repertory, Guthrie Theater and the Kennedy Center. On Broadway, she designed the costumes of August Wilson's production Two Trains Running.
Karvonides-Dushenko's designs for opera include Alcina in Karlsruhe, Germany; Proving Up for Opera Omaha; The Human Voice and Breaking the Waves (based on the 1996 Lars Von Tier film) for Opera Philadelphia; and Iphigenia in Tauris for Teatro National San Carlo in Lisbon, Portugal.
She has given guest lectures on the art of costume design around the world including in Prague, Czech Republic; Cardiff, Wales; and New York City. In Summer 2018, she conducted a week-long seminar in Lecce, Italy.
Karvonides-Dushenko received her M.F.A. in theater design from Yale School of Drama and her B.F.A. from Emerson College.
Keilani Gleave
Instructor
Keilani Gleave is a Los Angeles based Costume Designer and Cutter/Fitter. She received her MFA in Costume Design from UCLA and her BFA in Technical Theater from Southern Utah University. When she's not sewing or drawing, she can be found eating pasta with her adorable husband and snuggly dogs.
Shoshana Rubin has been working on film and television productions in the costume department for over twenty years.  For the last ten years, she has spent more of her time working to educate young folks who are interested in the art and craft of costume design.  Meanwhile, she earned a Masters of Arts in Education at Loyola University a few years ago while raising her young family.  Her adventures began as a young child fascinated with the idea of creating characters through the use of costumes, thus helping to facilitate the telling of their stories.  After finishing a Bachelors in Fine Arts at the University of Michigan she dove right into work on feature films in the costume department and has not turned back.  Not only has she worked on feature films, but also television, and commercials as a shopper, set costumer, costume supervisor, and a costume designer.  Most recently, she has spent her time teaching summer programs for High School students at UCLA and costume design classes for college students at Fashion Institute of Design and Merchandising in Los Angeles.  In addition to her love of costumes, she enjoys crafting, baking, yoga, and spending time with her family and two dogs.
Design Innovation Summer Institute – Costume Design FAQ
We welcome students of all levels; however, students should have a strong interest and a desire to learn costume design.
Laptop
Journal
Sketchbook
Colored pencils
Still have questions? Check out the general Summer Institutes FAQ.