Art Summer Institute
Express yourself through art in an intensive college art studio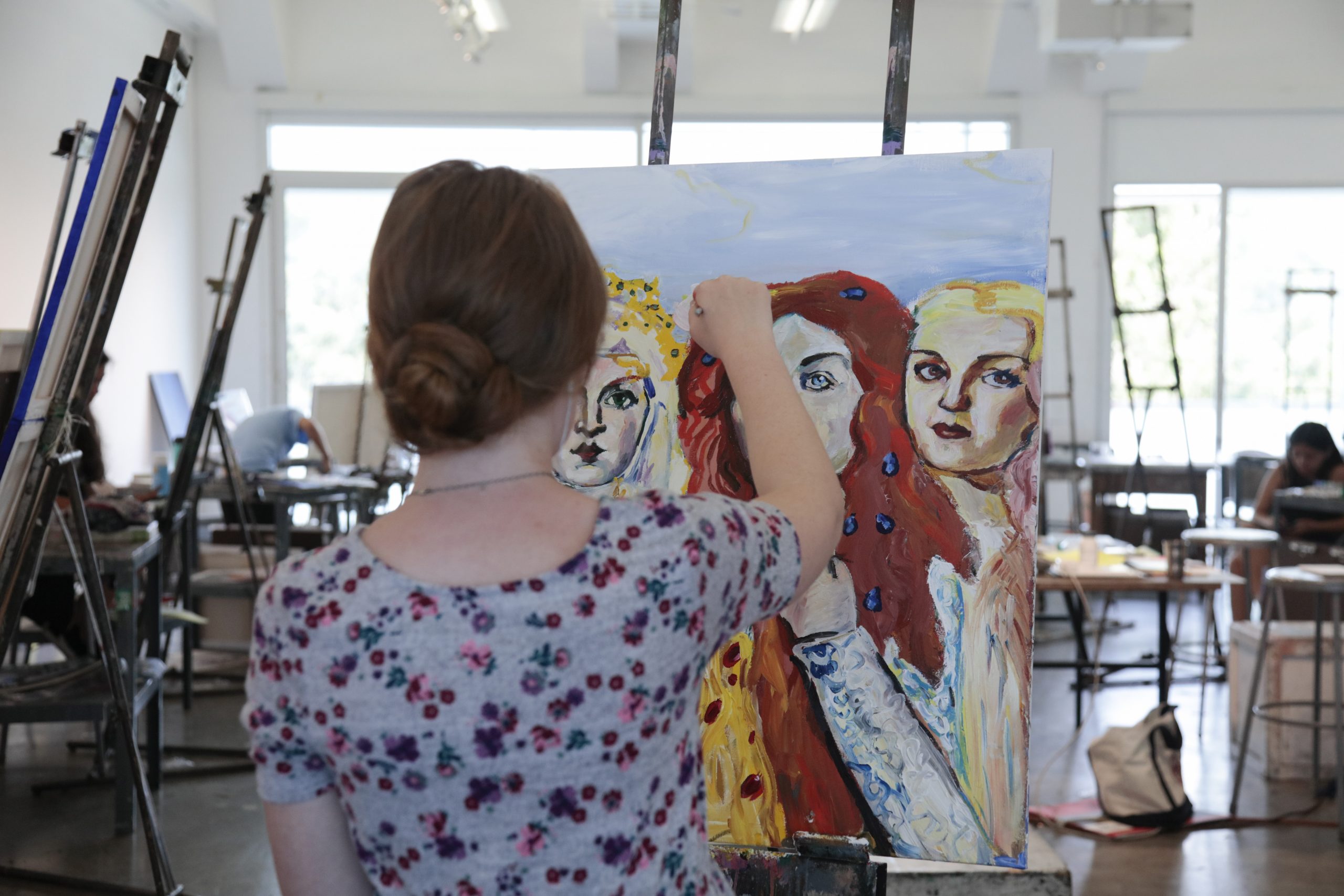 Hone your skills in your preferred artistic medium
Study at the world-renowned UCLA Department of Art this summer! The Summer Art Institute is designed for talented and highly motivated high school students. The program offers two sessions, one in-person and one virtual, with various specializations to choose from and is structured around a combination of daily, focused studio work, artist lectures, group critiques, and one-on-one meetings with faculty. Students may enroll in one or both sessions. Students should expect an intensive two weeks of immersive studio instruction and be prepared to work hard.
Specialized Tracks include:
Drawing – Sessions A & B
Painting – Sessions A & B
Photography – Sessions A & B
Sculpture – Session A only (in-person)
Video Art & Experimental Animation – Session B only (virtual)
About the Art Department
Headed by a faculty of internationally recognized artists, the Department of Art is committed to artistic development and study within the context of a major research university. As working artists, the faculty represents many approaches to making and interpreting artworks. Students are provided the curriculum to experiment and are challenged to express themselves in ways that are meaningful in the social context in which they live. For information about the UCLA Department of Art, please visit the department website or contact summerart@arts.ucla.edu.
Art Summer Institute Program Overview
Students may enroll in one of two versions of the Art Summer Institute:
Session A: Students will participate in person at UCLA, experiencing all that our campus has to offer during their summer program.
Session B: Students will participate online in an entirely virtual format, with the flexibility to attend from anywhere with internet access.
NOTE: All course meeting times are in Pacific Daylight Time (PDT). If completing the program virtually in a different time zone, please make sure to account for the time difference. The program schedule is subject to change.
For participants in the Art Summer Institute (Session A only), living in on-campus housing is optional. Students who wish to live in UCLA residence halls alongside other program participants may sign up for housing at the time of registration. The total cost for housing, which includes room, board (two meals per day), student supervision, and evening and weekend activities, is an additional $1,404.
For more information on UCLA housing precollege programs, please see the Housing for Minors page.
The Art Summer Institute awards UCLA credit for the following coursework:
Art 70 – Summer Art Institute: Special Topics in Studio (3 units)
Guest Artists
Daily studio work is enhanced by special programming. Participants are exposed to a range of media and contemporary art practices with presentations by both UCLA Department of Art faculty and visiting artists.
Student Gallery
Please visit the Art Summer Institute Student Gallery for sample projects.
Eligibility
To apply for the Art Summer Institute, students must be:
14 years of age or older as of June 20, 2022 and 18 years of age or younger at the time of participation
Enrolled in grades 8– 12 during Spring 2022
Students who do not meet the eligibility requirements will not be considered and are encouraged to explore other opportunities.
Admission
The program has application requirements for admission. Eligible applicants who successfully submit all requirements will be reviewed and notified via email of an admission decision within 3 weeks. See Application Requirements below for details. Early application is strongly encouraged.
Applicants are required to provide the following during the online registration process:
Upload four examples of your original and recent artwork in JPEG format (width greater than 500 pixels, length lesser than 1024 pixels at 72 dpi).
Complete a brief questionnaire answering the following questions:

What is your main reason for applying to the Art Summer Institute? What do you hope to learn?
What art experience do you have, if any?
How would you best describe the kind of art that you make now?
Provide the name, email address, and phone number of one previous art teacher.
Provide the name, email address, and phone number of a second teacher.
Applying for the Art Summer Institute can be done conveniently online with the following steps:
Prepare all "Application Requirements" prior to starting the registration process.
Access the Summer Institute Online Registration Form starting February 15 at 8am Pacific Standard Time (PST). Read all terms and conditions, then scroll to the bottom and select "Yes, Continue to Registration."
Provide responses to all required questions on both pages of the registration form and then "Submit".
Once your form is submitted, you will be directed to the Retrieve Registration page. Select "File Uploads" to upload application materials (see Application Requirements above for more information).
Allow up to two weeks for the program instructor(s) to review your application after submission. An email will be sent to you with the official decision.
If accepted to the program, follow the steps in your acceptance email to make payment of the $350 non-refundable registration fee* to reserve your space in the program.
A space in the program is not reserved until a valid payment of the $350 non-refundable registration fee* is made. If you are not prepared to pay after submitting the registration form, you may retrieve your registration at another time to make payment; however, this risks losing a space in the program if it reaches capacity prior to payment being submitted. An email with instructions to retrieve registration with your five-digit registration number will be sent within an hour after submitting your registration.
*The registration fee is required for each program and is not refundable under any circumstances including, but not limited to, drop for non-payment and withdrawal, even if you withdraw from the program before it begins.
If the program is full, you will not be prompted to make payment. If the program offers a waitlist and your application is accepted from the waitlist, you will be notified by email with instructions for how to submit payment. Please note if the payment is not submitted within 24 hours of receiving the email, you will be moved to the end of the waitlist.
If registering after May 1, full payment of the program fee and non-refundable registration fee will be required to reserve your space in the program. Additional fees, such as the document fee and IEI fees, will be assessed after enrollment.
For questions and assistance, please contact us at summerart@arts.ucla.edu.
UCLA Summer Sessions Summer Scholars Support
Qualified students attending grades 8th – 11th in Spring 2022 in the state of California may be eligible for Summer Scholars Support, a need- and merit-based scholarship offered by the UCLA Summer Sessions Office. A limited number of full and partial scholarships are available to support enrollment in SCIP/eSCIP, one Summer Course, or a Precollege Summer Institute.
Summer 2022 deadline to apply: April 1.
Program Dates:
Session A (In-Person):
July 5, 2022 – July 15, 2022
Session B (Virtual):
July 18, 2022 – July 29, 2022
The schedule and syllabus are subject to change. Enrolled students will be given updated materials closer to the program start date.
The program fee includes the unit fees for the UCLA coursework offered as part of the program and thus varies by UC student status. In addition to the program fee, students are assessed other campus and administrative fees during the summer. This is a summary of fees that commonly apply to the selected student type.
Actual tuition and fees are subject to change by the University of California. Visit the fees, payment, and financial aid section for important disclaimer, as well as more details on fees, payment instructions, and information on delinquency, refunds, and financial aid.
**OPTIONAL HOUSING FEE** = $1,404
Students living in on-campus housing will be charged an additional housing fee.
VIRTUAL PROGRAM FEES:
The program fee listed in the selection are for the In-Person version only. The following are the program fees for the Virtual version.
High School Student = $2,150
Incoming UCLA Student = $1,907
Incoming UC Student = $1,907
All other fees listed will remain the same for the Virtual version.
| | |
| --- | --- |
| Program Fee | $2,250 |
| Registration Fee | $350 |
| IEI Fee | $61 |
| Document Fee (for first-time Summer Sessions students) | $50 |
Students will receive 3 units of UC credit for Art 70 for each session they attend – students enrolled in both sessions A and B will receive a total of 6 units of UCLA credit.
If enrolling in both sessions, please note that some course content will overlap between sections offered in both Session A and Session B. For this reason, we recommend that students choose two different sections.
Yes! The Art Summer Institute offers undergraduate-level, intro studio art courses. Our courses are designed to accommodate students who are experienced artists, as well as those who are trying a medium for the first time. No experience with the medium is necessary. Our instructors are also skilled at responding to students working at a variety of levels with challenging assignments to help them explore and develop their work.
The Art Summer Institute is not a portfolio building program – we find that a concern towards building a portfolio can deter students from taking risks or being experimental and ambitious in their work. However, students in the Art Summer Institute can expect to make a significant number of works during the session, including many portfolio pieces, and will have access to a Department of Art admissions advising session. Students will also have ample opportunity to discuss their portfolios with their instructors throughout the program.
Students in Drawing, Painting, and Sculpture classes will order complete kits directly from Blick Art Materials in West LA. Kits include all of the tools and materials necessary for the class, and are priced at a significant discount. Materials kits can be ordered for delivery via FedEx, or picked up curbside by appointment for families living in Los Angeles.
Photography students have their own DSLR camera with manual mode, and a computer for editing their images. Students who don't have Adobe Photoshop will be provided with a software license for the duration of the institute.
Video and Performance Art students must have a smartphone (or other digital video recording device), and a computer for editing their work. Students who don't have the Adobe software suite will be provided with a software license for the duration of the institute.
Photo students must have their own digital SLR camera with manual mode, memory card, and access to a computer for editing their images. Students who don't have Adobe Photoshop will be provided with a software license for the duration of the institute.
Still have questions? Check out the general Summer Institutes FAQ.