Design Innovation Summer Institute – Lighting and Sound
Express ideas creatively through light and sound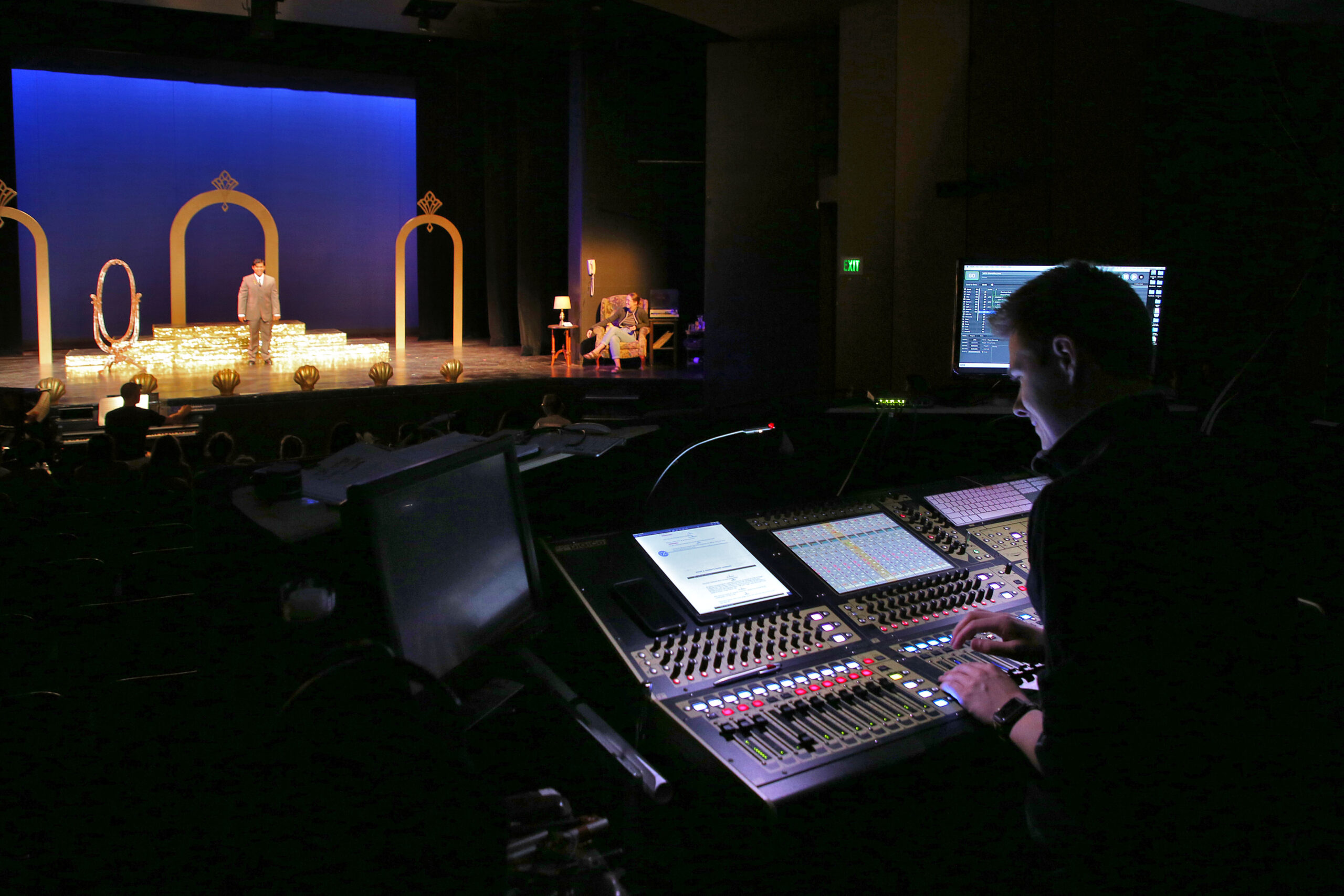 Explore the art of light and sound for the theater
The Lighting and Sound Summer Institute is a two-week, UC credit-bearing intensive for students interested in lighting and sound for theater. This program provides opportunities to work with our faculty in classes such as Introduction to Lighting Intensity, Form, and Direction, Electrics Programming, and Drafting for Theater.
Students will learn the technical components of breaking down a script and the art of collaboration while gaining hands-on experience in curating research, communicating ideas, and expressing creative intent. This program is designed for a student at any level who seeks the additional discipline and training required for participation in an educational theater setting and a career in the entertainment industry.
Participation in this institute is open to pre-college students.
Design Innovation Summer Institute – Lighting and Sound Program Overview
Program Dates: July 15 – July 29, 2023
Program Type: Admission based /In-person
Program Eligibility: 9th-12th grade in Spring 2023 & Ages 15-18
UCLA Coursework: Theater 72; 3 units
Application deadline: June 1, 2023
Enrollment deadline: June 15, 2023
Program schedule and syllabus are subject to change.
The program fee includes the unit fees for the UCLA coursework offered as part of the program and thus varies by UC student status. In addition to the program fee, students are assessed other campus and administrative fees during the summer. This is a summary of fees that commonly apply to the selected student type.
Actual tuition and fees are subject to change by the University of California. Visit the fees, payment, and financial aid section for important disclaimer, as well as more details on fees, payment instructions, and information on delinquency, refunds, and financial aid.
Document Fee (for first-time Summer Sessions students)
$50.00
Total Estimated Fees:
$4,285.00
* Fees only apply for certain student types
Meet your instructors
Gabriel Rodriguez
Instructor
Gabriel Rodriguez works as a Lighting Designer, Moving Light Programmer, Educator, and Mentor for both educational and regional theatre. He is currently working towards an MFA in Design for Theater and Entertainment at UCLA.
Previous credits include The Box at the Fox Riverside, Center Theatre Group, Williamstown Theatre Festival, The Lewis Family Playhouse, Ruskin Group Theatre, The Pasadena Playhouse, Disney Cruise Line, Atlantic Theater Company, IRT Theater, Hudson Guild Theatre, Manhattan Theatre Club, The Public Theater / New York Shakespeare Festival, Ma-Yi Theater Company, 59E59 Theaters, The Geffen Playhouse, Shotgun Players, UC Riverside Theatre, Film, & Digital Production, Azuza Pacific University of Theater Arts, Pepperdine University of Theatre Arts, NYU Tisch School of the Arts, and UCLA Theater, Film, and Television. www.designbygabe.com/
Jonathan Burke
Instructor
Jonathan Burke is a Los Angeles-based sound designer and mixing engineer for theater, live sound and opera. His work has been heard across the country, off-Broadway and in regional theaters. Locally, Burke is the resident sound designer for 5 Star Theatricals and has designed shows for Walt Disney Concert Hall, Geffen Playhouse, Rubicon Theatre Company and many others. He has mixed for both L.A. Opera and L.A. Philharmonic, and has worked on additional projects at the Dorothy Chandler Pavilion, Mark Taper Forum and Hollywood Bowl. Most recently he designed and mixed The Tempest, a joint production with L.A. Phil and The Old Globe at Walt Disney Concert Hall.
Burke grew up in Cambridge, England, and lived in Hong Kong before moving to the United States. Prior to moving to Los Angeles, he was the resident sound designer for two seasons at Pittsburgh's City Theater Company.
Burke studied at the Hong Kong Academy for Performing Arts, holds a B.A. from the University of Pittsburgh and an M.F.A. from California Institute of the Arts. He is a member of USA 829 where he also serves on the Sound Design exam committee.
Design Innovation Summer Institute – Lighting and Sound FAQ
We welcome students of all levels; however, students should have a strong interest and a desire to learn lighting and sound design for theater.
Still have questions? Check out the general Summer Institutes FAQ.