Design Innovation Summer Institute – Scenic
Bring stories to life through design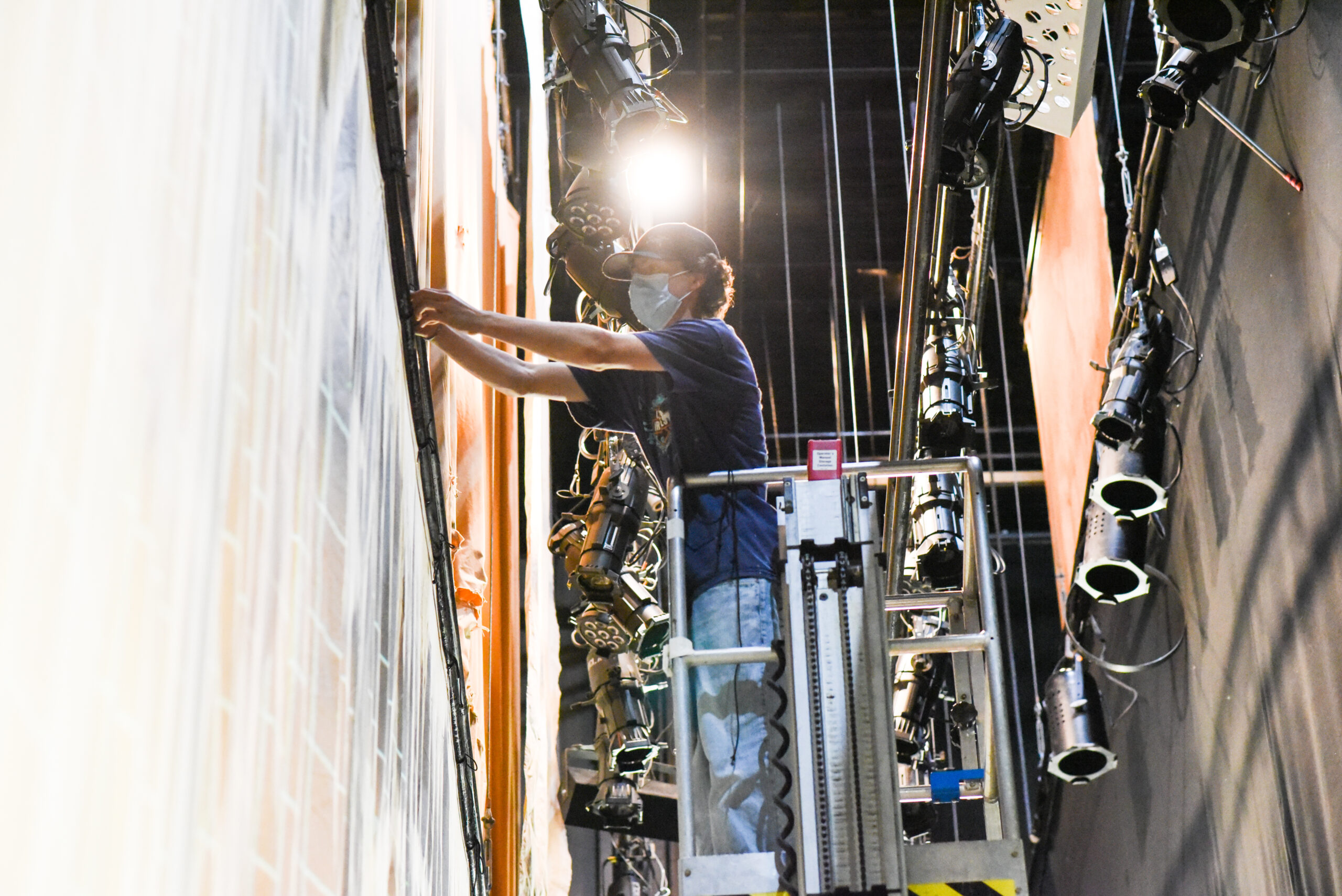 A unique opportunity to examine the process of scenic design through script and drawing.
The Design Summer Institute in Scenic Design is a two-week, UC credit-bearing intensive for students interested in scenic design for theater, film, and television. This program provides opportunities to work with our distinguished faculty in classes such as Introduction to Scenic Design and Scale Drafting, Production Design for Theater, Film and Television, and Storyboarding. Students will learn the design process for scenic design for theater and be introduced to production design. The combination of these courses will allow students to use the training to discover how we can tell stories through visual research, sketches, and model design.
Students will learn the technical components of breaking down a script and the art of collaboration with directors while gaining hands-on experience such as model-building, perspective drawing, and scale measurement as means of realizing a design. Beyond the classroom, students will attend guest workshops that will cover portfolio and career preparation.
The program is designed for artists and students who seek additional discipline and training required for participation in a university theater program or a career in the entertainment industry. Participation in this institute is open to pre-college students.
Design Innovation Summer Institute – Scenic Program Overview
Program Dates: July 1 – July 15, 2023
Program Type: Admission based / In-person
Program Eligibility: 9th-12th grade in Spring 2023 & Ages 15-18
UCLA Coursework: Theater 72; 3 units
Application deadline: June 1, 2023
Enrollment deadline: June 15, 2023
Program schedule and syllabus are subject to change.
The program fee includes the unit fees for the UCLA coursework offered as part of the program and thus varies by UC student status. In addition to the program fee, students are assessed other campus and administrative fees during the summer. This is a summary of fees that commonly apply to the selected student type.
Actual tuition and fees are subject to change by the University of California. Visit the fees, payment, and financial aid section for important disclaimer, as well as more details on fees, payment instructions, and information on delinquency, refunds, and financial aid.
Document Fee (for first-time Summer Sessions students)
$50.00
Total Estimated Fees:
$4,325.00
* Fees only apply for certain student types
Meet your instructors
Eli Sherlock is a freelance designer currently based in Los Angeles working in theater, film, television and entertainment media. Prior to LA, he designed out of Minneapolis, working with companies such as Theater Latté Da, Park Square Theatre, History Theatre, Artistry Theater, Yellow Tree Theatre, Walking Shadow Theatre Company, Torch Theater, The Public Theater of Minnesota, and Theatre in the Round.
He was recognized for "Outstanding Scenic Design" at the 2018 Minnesota Theater Awards for his design of Assassins with Theater Latté Da. His design at the University of Michigan for Almost, Maine was awarded the 2013 KCACTF Region III Scenic Design Award, and won Second Place for Excellence in Scenic Design at the National Festival. He has interned in the studio of Broadway scenic designer Derek McLane, at The Children's Theatre Company, Seven Devils Playwriting Conference, and Cirque du Soleil's KÁ in Las Vegas. Eli holds an MFA in scenic and production design from UCLA, and a BFA in Theater Design and Production from The University of Michigan.
Myung Hee Cho is a set and costume designer for theater, opera, and dance. Her current projects include For Colored Girls Who Considered Suicide / When the Rainbow Is Enuf at Booth Theater on Broadway; Richard III and As You Like It for Shakespeare in the Park at The Delacorte Theater. Her recent projects include set design for The Body of the World at Manhattan Theater Club and ART; Aubergine & Sheepdog at SCR; Black Super Hero Magic Mama at Geffen Playhouse; set and costumes for Golden Fairytale Fanfare, the opening show at the new Shanghai Disney Resort; The Thieving Magpie at Glimmerglass Opera; The Marriage of Figaro at Washington National Opera and the set design for Trojan Women, a new Korean opera at the National Theater of Korea, Theater an der Wien in Vienna, and Muziekgebouw aan 't IJ, Holland Festival, Amsterdam.
Cho has designed many premieres including the musical Stuck Elevator at American Conservatory Theater; the Off-Broadway production and North American national tour of WIT; The Public Theater production and North American national tour of Lackawanna Blues; Black Odyssey at Denver Center Theater; Emotional Creature by Eve Ensler at The Linney Theatre in New York, Berkeley Repertory Theatre and The Market Theatre, Johannesburg; Extraordinary Chambers at Geffen Playhouse; 36 Views at the Berkeley Repertory Theater and The Public; Awaking for Singapore Theatre Festival; The National Broadway Company, TheaterWorks, Singapore; Yellow Face for Mark Taper Forum and The Public Theater; System Wonderland and The Piano Teacher at South Coast Repertory; Citizen 13559 at the Kennedy Center; The Golden Mickeys for Disney Creative Entertainment/Hong Kong; Open Window for Pasadena Playhouse and Deaf West Theatre; and Flight and Distant Shore at Center Theatre Group/Kirk Douglas Theatre. Other selected credits include Miss Julie at Geffen Playhouse; The Magic Flute at the Canadian Opera Company; The Good Person of Szechuan at the Landestheater Linz, in Linz, Austria; and Le nozze di Figaro at the Chicago Opera Theater.
Cho is Professor of Stage Design at UCLA. In 1996, Cho received a Princess Grace Award and was an artist-in-residence at The Public Theater/NYSF. She is a graduate of Cooper Union and Yale School of Drama.
Design Innovation Summer Institute – Scenic FAQ
We welcome students of all levels; however, students should have a strong interest and a desire to learn scenic design.
Laptop
Required Text: Music of choice
Mlima's Tale, by Lynn Nottage. (published by TCG in September 2021.)
Still have questions? Check out the general Summer Institutes FAQ.