Film and Television Summer Institute – Traditional Animation
Aspiring animators learn to write and draw their animated movies – no drawing experience required, just limitless imagination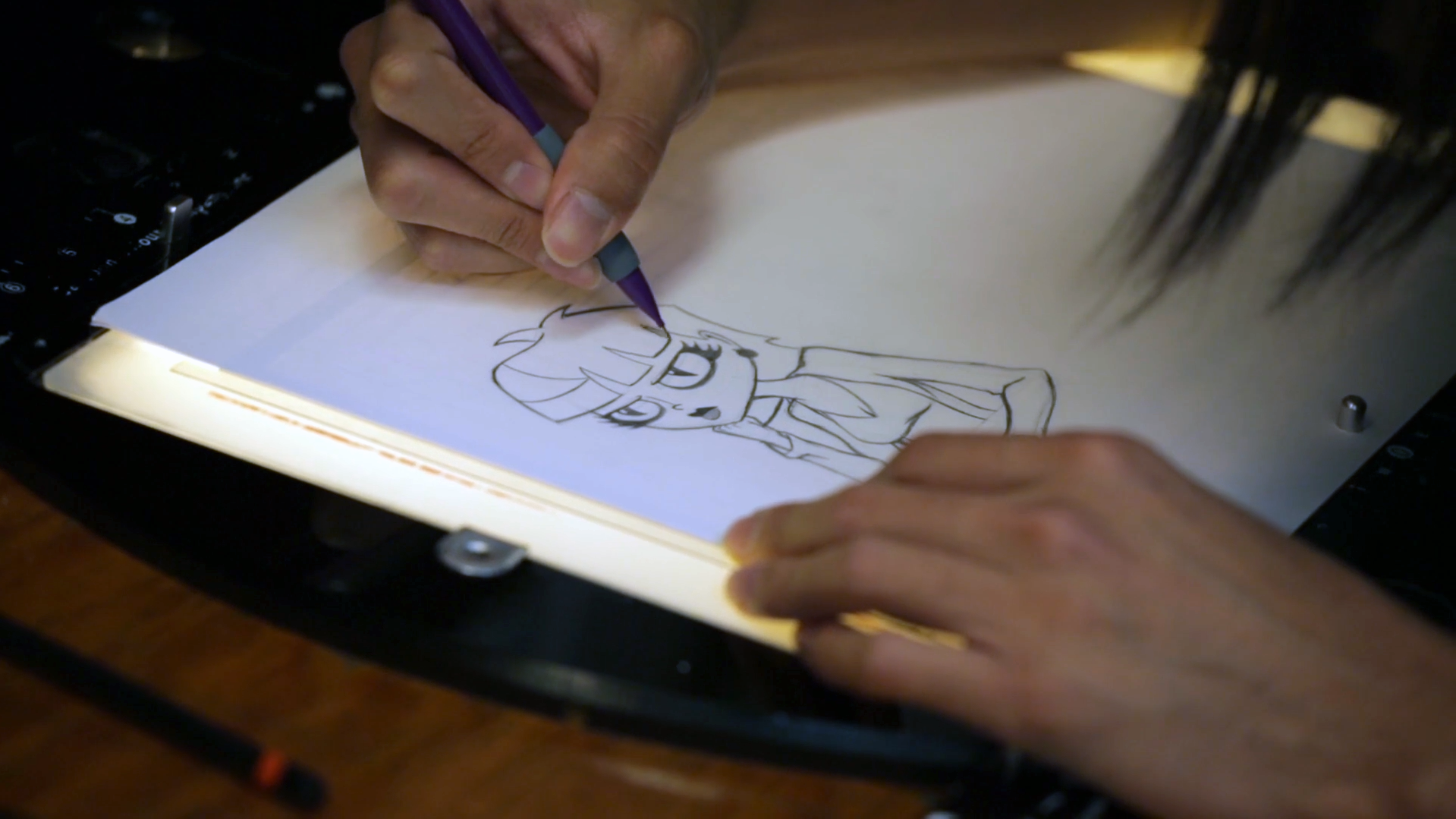 Aspiring animators learn to write and draw their animated movies – no drawing experience required, just limitless imagination
Make your own animated film and meet Hollywood's most accomplished professionals at the world-famous UCLA Animation Workshop. The Traditional Animation track teaches students how to write, storyboard, and draw their own animation film. No drawing experience is required, just limitless imagination!
The Traditional Animation Summer Institute will be offered as an online program with synchronous course meetings, practical exercises, and guest speakers. Students will learn traditional hand-drawn animation methods using a Wacom tablet/mouse, and utilize Pencil2D and Adobe Premiere to complete their animated projects.
Under the supervision of UCLA faculty, students will complete a series of exercises and learn the animation process from storyboard to post-production. Throughout the course, students will learn about the history of animation as well as contemporary industry practices, and prominent guests from the industry will visit the classroom to share their experiences and answer student questions about their career and working in Hollywood today. Each student will create an animated short film with sound and these final projects will be screened at the conclusion of the program – friends and family are welcome!
Film and Television Summer Institute – Traditional Animation Program Overview
Students will participate online in an entirely virtual format, with the flexibility to attend from anywhere with internet access.
NOTE: All course meeting times are in Pacific Daylight Time (PDT). If completing the program in a different time zone, please make sure to account for the time difference. The program schedule is subject to change. 
Participants of the Traditional Animation track will receive UCLA credit for the following courses:
Film and Television 104 – Film and Television Symposium (1 unit)
Film and Television 179 – Digital Film and Television Production (2 units)
Film and Television 180A – Animation Fundamentals (5 units)
Film and Television 180B – Writing for Animation (4 units)
In this six-week long track college students and aspiring animators learn to write and draw their animated movies. No drawing experience required, just limitless imagination.

Symposium
In the exclusive Summer Institute Animation Symposium, students meet and listen to some of Hollywood's most accomplished professionals. High-wattage guests have included Meg LeFauve (writer, Inside Out); Jared Bush (writer/director, Zootopia, Moana); Raymond Persi (writer/director/animator, The Simpsons); high-level executives, visual development artists, and artists from the biggest animation creators like, Marvel Animation, Sony Pictures Animation, Illumination, Warner Animation, Adult Swim; and many others.

Closing Ceremony & NetworkingThe Film and Television Summer Institute culminates with a virtual final project screening, closing night ceremony, and a networking mixer for students of our program. Friends and family are welcome!
Eligibility
This track is open to highly motivated high school students enrolled in 9th – 12th grade in Spring 2022, college students, and aspiring filmmakers, including international students.
Admission
The program has application requirements for admission. Eligible applicants who submit all requirements successfully and timely, will be reviewed and notified via email of an admission decision within 3 weeks. See Application Requirements below for more details. Early application is strongly encouraged.
Applicants are required to provide essays answering the following during the online registration process:
Why would you like to participate in the program and what do you expect to gain from the experience? (150-200 words)
What prior experience, if any, do you have in animation? Include both academic coursework and extracurricular activities. Previous experience in animation is not a requirement. (150-200 words)
Applying for the Film and Television Summer Institute – Traditional Animation Summer Institute can be done conveniently online with the following steps:
Prepare all "Application Requirements" prior to starting the registration form.
Access the Summer Institute Online Registration Form starting February 15 at 8am Pacific Standard Time (PST). Read all terms and conditions, then scroll to the bottom and select "Yes, Continue to Registration."
Provide responses to all required questions on both pages of the registration form and then "Submit".
Allow up to two weeks for the program instructor(s) to review your application after submission. An email will be sent to you with the official decision.
If accepted to the program, follow the steps in your acceptance email to make payment of the non-refundable registration fee* ($150 for UCLA and UC Students, $350 for Non-UC Students) to reserve your space in the program.
A space in the program is not reserved until a valid payment of the non-refundable registration fee* is made. If you are not prepared to pay after submitting the registration form, you may retrieve your registration at another time to make payment; however, this risks losing a space in the program if it reaches capacity prior to payment being submitted. An email with instructions to retrieve registration with your five-digit registration number will be sent within an hour after submitting your registration.
*The registration fee is required for each program and is not refundable under any circumstances including, but not limited to, drop for non-payment and withdrawal, even if you withdraw from the program before it begins.
If the program is full, you will not be prompted to make payment. If the program offers a waitlist and your application is accepted from the waitlist, you will be notified by email with instructions for how to submit payment. Please note if the payment is not submitted within 24 hours of receiving the email, you will be moved to the end of the waitlist.
If registering after May 1, full payment of the program fee and non-refundable registration fee will be required to reserve your space in the program. Additional fees, such as the document fee and IEI fees, will be assessed after enrollment.
For questions and assistance, please contact us at info@summer.ucla.edu.
Please have the following supplies for your Summer Institute:
A computer equipped with the following:

Microphone (built-in to your computer or USB plug-in or wireless Bluetooth) o webcam (one which is built-in to your computer or one that connects to your computer via USB).
Minimum 500GB Storage Capacity
Internet connection – broadband wired or wireless (3G or 4G/LTE). Minimum bandwidth is 600kbps (up/down) and recommended is 1.5 Mbps (up/down).
Students will need access to an Adobe Premiere license for the duration of the program.

Wacom Intuos Creative Pen / Tablet (Small, Black)
Logitech M100 Mouse
Additional supplies:

Sketchbook – at least 6 x 8 inches
Printer paper (10 sheets)
Pens – any type the student is comfortable drawing with or interested in experimenting with. (Ballpoint, ink, watercolor, sharpie, india ink, etc.)
Pencils – no. 2 or any other type (graphite, charcoal, watercolor, etc.)
Erasers – (optional) rubber eraser
Program Dates:
June 21, 2022 – July 28, 2022
The schedule and syllabus are subject to change. Enrolled students will be given updated materials closer to the program start date.
The program fee includes the unit fees for the UCLA coursework offered as part of the program and thus varies by UC student status. In addition to the program fee, students are assessed other campus and administrative fees during the summer. This is a summary of fees that commonly apply to the selected student type.
Actual tuition and fees are subject to change by the University of California. Visit the fees, payment, and financial aid section for important disclaimer, as well as more details on fees, payment instructions, and information on delinquency, refunds, and financial aid.
NOTE: The following is the program fee for international students.
Visiting International Student = $5,235
Additional charges such as registration, IEI, and document fees will be assessed.
| | |
| --- | --- |
| Program Fee | $5,235 |
| Registration Fee | $350 |
| IEI Fee | $61 |
| Document Fee (for first-time Summer Sessions students) | $50 |
Meet your instructors
Doug Ward
Instructor, FILM TV 180A – Introduction to Animation
Doug Ward has been the Academic Administrator and an adjunct faculty member for the UCLA Animation Workshop since 1997. He has also taught animation as a visiting professor at Loyola Marymount University. Doug has also worked as a Character Layout Artist and Animation Timer for Fox's, King of the Hill. He also spent six years in the interactive industry, as an animator, director, writer, and producer. Among his credits are, The Wacky World of Miniature Golf, an interactive game he created, co-wrote, directed, and animated for Phillips Electronics, narrated by Eugene Levy. He has won numerous awards for his independent animated films and is currently working on his 23rd episode of The Barry Bird Show, his original, YouTube series.
Lourdes Stephanie Mercado
Instructor, FILM TV 180B – Writing for Animation
Lourdes Stephanie Mercado has been working in the animation industry since 2019 on works such as Alien X-Mas, Marcel the Shell with Shoes On, and Santa Inc. Mercado's work ranges from Puppet fabrication and Story Artist to an Illustrator.
Mercado's current personal project is an ongoing webcomic called To The Stars. During her time at grad school, she made two films, Rata Voladora and Petals, with both films winning The Matt Groening Fellowship. The first film was animated by paper and the second was a paper cut-out film inspired by Lotte Reiniger.
Mercado received her B.A. in Media Arts and Animation from The Art Institute of Hollywood and her M.F.A. in Animation from UCLA School of Theater, Film, and Television.
Evan English
Instructor, FILM TV 179 – Digital Film and Television Production
Evan English is an artist, musician and art historian from Athens, GA. He entered UCLA in 2012, where he studied art history and film for his BA. In 2016, he was admitted to the UCLA Animation Workshop for film production, and began teaching in the Dept. of Art History. In 2017, he was selected for the Matt Groening Fellowship for the production of his film Shaolin Made Simple. He completed his master's thesis and graduated from the Animation Workshop in 2019. Evan's professional animation clients include Fair Shake Press and Mushka Productions, where he worked on the production of short films. He is currently producing storyboards and animation for Yohannes Studios in Los Angeles. He is excited to return to teaching at UCLA.
Alexandra Rosenberg
Instructor, FILM TV 104 – Film and Television Symposium
Alexandra is a Production Manager for Limited Event Series at Netflix Animation. She's previously worked for Illumination Entertainment, Walt Disney Animation Studios, and Disney Television Animation and has extensive experience across both television and feature animation production. Select Credits include: Zootopia, Ralph Breaks the Internet: Wreck it Ralph 2, Rapunzel's Tangled Adventure, and Sing 2. Alex has a BA from Sarah Lawrence College and an MFA in Producing from UCLA's School of Theater, Film, and Television. She lives in Los Angeles with her husband, toddler daughter, dog, and two rabbits.
Film and Television Summer Institute – Traditional Animation FAQ
Qualified students may sign up for more than one program as long as the dates do not overlap. For example, a student may take Traditional Animation and then TV Writing.
Applicants from all backgrounds are encouraged to apply. Traditional Animation is intended for both beginning and intermediate levels.
Students will need to check with their academic counselor to see if the coursework included in the program will count towards their graduation requirements or if credit will transfer to their home institution. For UCLA students, courses may fulfill a major or minor requirement, or count as upper-division course credit.
No, students from all different majors are welcome to apply.
Students with outside commitments, such as an internship, that conflict with the program dates are not eligible to enroll. We would strongly encourage these students to apply for the Summer Institute another year when they have the time to focus on this intensive immersion experience.
Students will need a laptop or desktop computer with a working webcam and microphone as well as a reliable internet connection.
Still have questions? Check out the general Summer Institutes FAQ.