Film and Television Summer Institute – Traditional Animation
Aspiring animators learn to write and draw their animated movies – no drawing experience required, just limitless imagination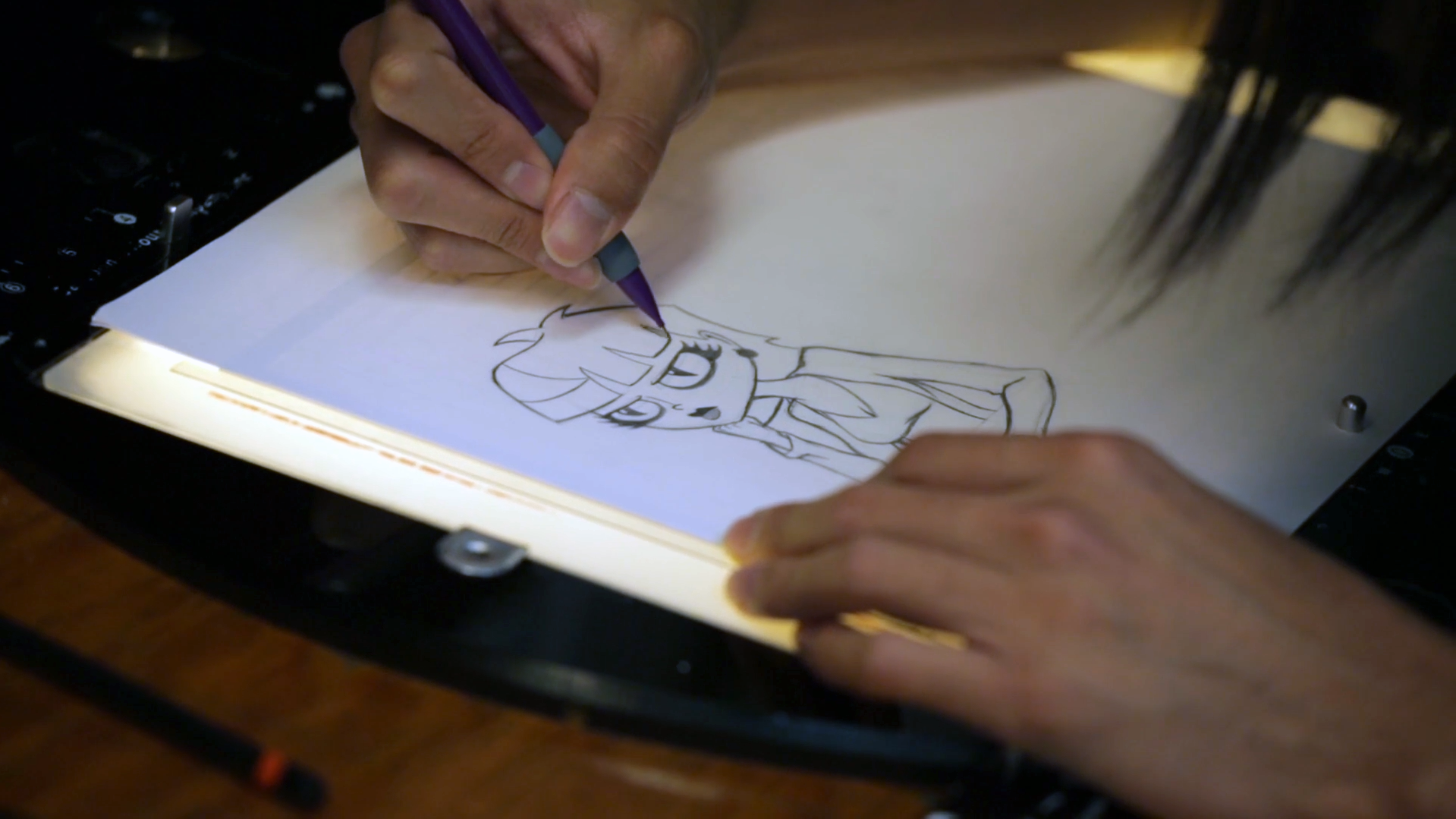 Aspiring animators learn to write and draw their animated movies – no drawing experience required, just limitless imagination
Make your own animated film and meet Hollywood's most accomplished professionals at the world-famous UCLA Animation Workshop. The Traditional Animation track teaches students how to write, storyboard, and draw their own animation film. No drawing experience is required, just limitless imagination!
The Traditional Animation Summer Institute will be offered as an online program with synchronous course meetings, practical exercises, and guest speakers. Students will learn traditional hand-drawn animation methods using a Wacom tablet/mouse, and utilize Pencil2D and Adobe Premiere to complete their animated projects.
Under the supervision of UCLA faculty, students will complete a series of exercises and learn the animation process from storyboard to post-production. Throughout the course, students will learn about the history of animation as well as contemporary industry practices, and prominent guests from the industry will visit the classroom to share their experiences and answer student questions about their career and working in Hollywood today. Each student will create an animated short film with sound and these final projects will be screened at the conclusion of the program – friends and family are welcome!
Film and Television Summer Institute – Traditional Animation Program
In this six-week long track college students and aspiring animators learn to write and draw their animated movies. No drawing experience required, just limitless imagination.

Symposium
In the exclusive Summer Institute Animation Symposium, students meet and listen to some of Hollywood's most accomplished professionals. High-wattage guests have included Meg LeFauve (writer, Inside Out); Jared Bush (writer/director, Zootopia, Moana); Raymond Persi (writer/director/animator, The Simpsons); high-level executives, visual development artists, and artists from the biggest animation creators like, Marvel Animation, Sony Pictures Animation, Illumination, Warner Animation, Adult Swim; and many others.

Closing Ceremony & NetworkingThe Film and Television Summer Institute culminates with a virtual final project screening, closing night ceremony, and a networking mixer for students of our program. Friends and family are welcome!
The program has application requirements for admission. Eligible applicants who submit all requirements successfully and timely, will be reviewed and notified via email of an admission decision within 3 weeks. See Application Requirements below for more details. Early application is strongly encouraged.
Applicants are required to provide an essay answering the following during the online registration process:
Why would you like to participate in the program and what do you expect to gain from the experience? (150-200 words)
International students may enroll in the Film and Television Summer Institute – Traditional Animation. International students enrolling in this program do not qualify for F-1 visas.
Online Courses: International students who enroll in courses and programs that are offered exclusively online are expected to participate from where they are without traveling to UCLA.
More information for international students attending Summer Sessions can be found here.
Film and Television Summer Institute – Traditional Animation Program will be conducted virtually (online). All meeting times will take place in Pacific Daylight Time (PDT), unless otherwise noted on program schedule and syllabus. Participants must log-in to virtual sessions at the times indicated on the program schedule.
Program Dates: June 26, 2023 – August 4, 2023
Program Type: Admission based / Virtual
Program Eligibility: 9th-12th grade in Spring 2023, college students, and aspiring filmmakers, including international students
UCLA Coursework: FILM TV 104, 179, 180A, 180B; 12 units
Application deadline: June 15, 2023
Enrollment deadline: June 23, 2023
The schedule and syllabus are subject to change.
The program fee includes the unit fees for the UCLA coursework offered as part of the program and thus varies by UC student status. In addition to the program fee, students are assessed other campus and administrative fees during the summer. This is a summary of fees that commonly apply to the selected student type.
Actual tuition and fees are subject to change by the University of California. Visit the fees, payment, and financial aid section for important disclaimer, as well as more details on fees, payment instructions, and information on delinquency, refunds, and financial aid.
Document Fee (for first-time Summer Sessions students)
$50.00
Total Estimated Fees:
$5,841.00
* Fees only apply for certain student types
Meet your instructors
Instructors for the UCLA Film and Television Summer Institutes are UCLA Department of Film, Television and Digital Media faculty.
Jay Shipman
Jay Shipman is a returning summer institute instructor and a 2018 MFA graduate of UCLA's Animation Workshop. Jay's student film, The Lineman, screened at several festivals and was chosen as a semifinalist for the Student Academy Awards. Since graduation, Jay has worked in production, puppet fabrication, and animation on various stop-motion projects throughout the industry. Productions include Alien Xmas, Crossing Swords Season 2, Marcel the Shell with Shoes On, and Mickey Saves Christmas. Jay is currently an assistant animator at Stoopid Buddy Stoodios.
Film and Television Summer Institute – Traditional Animation FAQ
Qualified students may sign up for more than one program as long as the dates do not overlap. For example, a student may take Traditional Animation and then TV Writing.
Applicants from all backgrounds are encouraged to apply. Traditional Animation is intended for both beginning and intermediate levels.
Please have the following supplies for your Summer Institute:
A computer equipped with the following:

Microphone (built-in to your computer or USB plug-in or wireless Bluetooth) o webcam (one which is built-in to your computer or one that connects to your computer via USB).
Minimum 500GB Storage Capacity
Internet connection – broadband wired or wireless (3G or 4G/LTE). Minimum bandwidth is 600kbps (up/down) and recommended is 1.5 Mbps (up/down).
Students will need access to an Adobe Premiere license for the duration of the program.

Wacom Intuos Creative Pen / Tablet (Small, Black)
Logitech M100 Mouse
Additional supplies:

Sketchbook – at least 6 x 8 inches
Printer paper (10 sheets)
Pens – any type the student is comfortable drawing with or interested in experimenting with. (Ballpoint, ink, watercolor, sharpie, india ink, etc.)
Pencils – no. 2 or any other type (graphite, charcoal, watercolor, etc.)
Erasers – (optional) rubber eraser
Students will need a laptop or desktop computer with a working webcam and microphone as well as a reliable internet connection.
Students will need to check with their academic counselor to see if the coursework included in the program will count towards their graduation requirements or if credit will transfer to their home institution. For UCLA students, courses may fulfill a major or minor requirement, or count as upper-division course credit.
No, students from all different majors are welcome to apply.
Students with outside commitments, such as an internship, that conflict with the program dates are not eligible to enroll. We would strongly encourage these students to apply for the Summer Institute another year when they have the time to focus on this intensive immersion experience.
Still have questions? Check out the general Summer Institutes FAQ.