Game Lab Summer Institute
Develop analog
and digital games
that reflect your
creative voice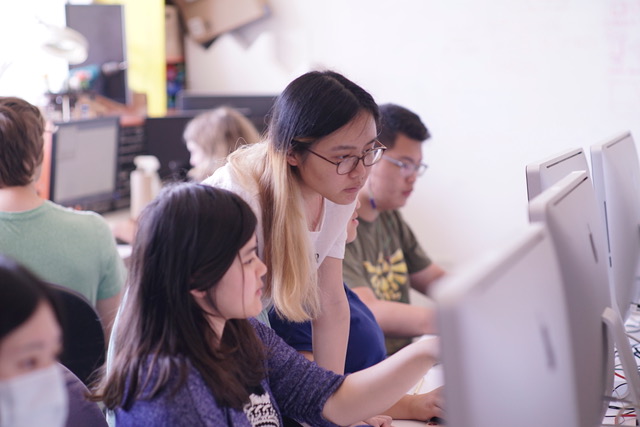 Learn the fundamentals of compelling game design in our in-person or virtual programs
In-person Program
Virtual Program
As of 4/12/2023, The UCLA Game Lab Precollege Summer Institute Session B (In-Person) is closed to new applicants. Students interested in applying for a 2023 summer institute in game design are encouraged to apply to the virtual version of the program. 
The UCLA Game Lab Summer Institute introduces high school students to game-making as a form of artistic practice, teaching them the techniques and tools that will help them develop analog and digital games that reflect their own creative voice and vision. We now offer two versions of our institute–an in-person, residential experience, as well as a virtual/online program. These programs are identical in terms of curriculum design, lesson objectives, and hands-on, faculty guidance and support. No previous game-making skills are required, but students with an interest in games and in the visual arts, in particular, will find our institute especially stimulating and rewarding. Students in the program develop a solid aesthetic and technical foundation in various aspects of game design–but just as importantly, they begin learning how to express their own, personal ideas through game-making and game art.
Taught by alumni of the internationally renowned UCLA Game Lab, the two-week program leads students through four, hands-on courses in game development. These workflow-oriented classes focus on:
Learning the fundamentals of game design
Creating compelling game characters
Building game worlds
Programming/coding games
By the end of the two weeks, students will have created complete games or game assets in each of the four classes. Students leave the program with game art they can include in their college application portfolios.
The institute also provides students with a rare opportunity to receive invaluable feedback that will prove useful to academic and career considerations in the gaming field and earn four units of pass/no pass UC credit.
Game Lab Summer Institute Program
Session A:
July 10 – July 21, 2023
Open enrollment/ Virtual
Program Eligibility: 9th-12th grade in Spring 2023 & Ages 14-17
Session B:
July 23 – August 5, 2023
Open enrollment/ In-person
Program Eligibility: 9th-12th grade in Spring 2023 & Ages 15-17
UCLA Coursework: Design Media Arts 3; 4 units
Enrollment deadline:
Session A – July 1, 2023
Session B – June 15, 2023
The schedule and syllabus are subject to change.
The program fee includes the unit fees for the UCLA coursework offered as part of the program and thus varies by UC student status. In addition to the program fee, students are assessed other campus and administrative fees during the summer. This is a summary of fees that commonly apply to the selected student type.
Actual tuition and fees are subject to change by the University of California. Visit the fees, payment, and financial aid section for important disclaimer, as well as more details on fees, payment instructions, and information on delinquency, refunds, and financial aid.
VIRTUAL PROGRAM FEES:
The program fee listed in the selection are for the In-Person version only. The following are the program fees for the Virtual version.
High School Student = $2,390
Incoming UCLA Student = $2,066
Incoming UC Student = $2,066
All other fees listed will remain the same for the Virtual version.
Document Fee (for first-time Summer Sessions students)
$50.00
Total Estimated Fees:
$4,535.00
* Fees only apply for certain student types
Meet your instructors
All faculty and teaching assistants are practicing game design artists and educators affiliated with the UCLA Game Lab, with extensive experience and expertise in their respective course subjects. Each course will be led by a faculty instructor and teaching assistant, with additional staff to provide support.
Game Lab Summer Institute FAQ
Despite the online modality for the virtual Session A, the curriculum and educational goals of the program remain the same: to deliver a comprehensive, four-course introduction to game making as an artistic practice. These courses will be taught by the same instructors and teaching assistants, and students will be working on mostly the same projects they would complete in an in-person program.
To facilitate a virtual classroom experience, the program will combine live, instructor-led online class sessions with live lab sessions with teaching assistants on a daily basis. All instructor-led class sessions also will be recorded and posted each day for students who cannot access the live classroom. All of this will be augmented by supplemental resources made available to students through a classroom web portal for each of the four courses. Students will receive a digital welcome packet prior to the summer institute, which will lay out all the details and procedures for online instruction.
We strongly encourage students with an interest in art and games to consider enrolling in the program. A familiarity with using computer applications and some exposure to computer code is useful but not required. Students are not expected to have a formal background in any of the subjects we teach at the Game Lab Summer Institute.
Students are certainly welcome to use the projects they make in the Game Lab Summer Institute in their own art portfolios and college applications. More broadly, however, we view the program experience as a foundational opportunity–not only to learn some of the techniques and tools for making games, but also to cultivate a passion for developing as a game artist beyond our program.
Typically, students create a physical, tabletop game based on their own ideas and experiences, and they develop game art assets such as characters and environments that could be found in a video game. The themes, aesthetics, and generic content of the games are up to the student to decide.
As a rule, we seek to expand students' ideas of what games can be about, steering them towards non-traditional or personal subjects and away from the more typical game genres and images (such as fantasy and war).
This program gives students an idea of the work and expertise that go into game creation. Students are exposed to the full pipeline of game creation, both digital and physical. However, our program does not go into detail about specific types of careers in the field of game design, instead focusing on the act of independent game creation.
For students enrolled in the virtual program (Session A), all class instruction and student work will need to be facilitated through student-acquired hardware. The exact specifications are listed below. In most cases, these requirements are already met by most desktop or laptop computers students already have. Students will be provided access to Adobe Creative Cloud. Instructions to access Adobe Creative Cloud will be available prior to the program start date. Please email the UCLA Game Lab Summer Institute if you have any technical questions at summer.institute@games.ucla.edu.
Desktop/laptop recommended specifications:
CPU: Multicore Intel/AMD processor with 64-bit support
GPU: 2GB of GPU VRAM
Microsoft® Windows® 10 / macOS v10.13
RAM 16GB recommended
20 GB of available hard-disk space; Additional disk space for disk cache (10 GB recommended)
Software:
Adobe Creative Cloud (included): Instructions will be provided in June
Unity (free)
The Game Lab Summer Institute typically concludes each year with a gallery-styled exhibition of all student work developed during the program. However, as an online program this summer, the exhibition likely will be moved to a website where students and parents will be able to see all completed projects created during the program. Also, after the institute has ended, digital files of all student work will continue to be available online for downloading.
The courses are built around daily lesson plans and work assignments–so students should expect to submit or update their work each day to an online form or folder. However, if students miss online class sessions (either live or recorded), or fall behind for any reason, instructors and teaching assistants may ask students to put in some extra time to catch up with overall course progress. Falling too far behind and delinquent assignments may result in a Not Pass grade.
Still have questions? Check out the general Summer Institutes FAQ.