Big Data for Justice Summer Institute
Combine urban, social, computational, statistical and humanist perspectives to investigating criminal justice.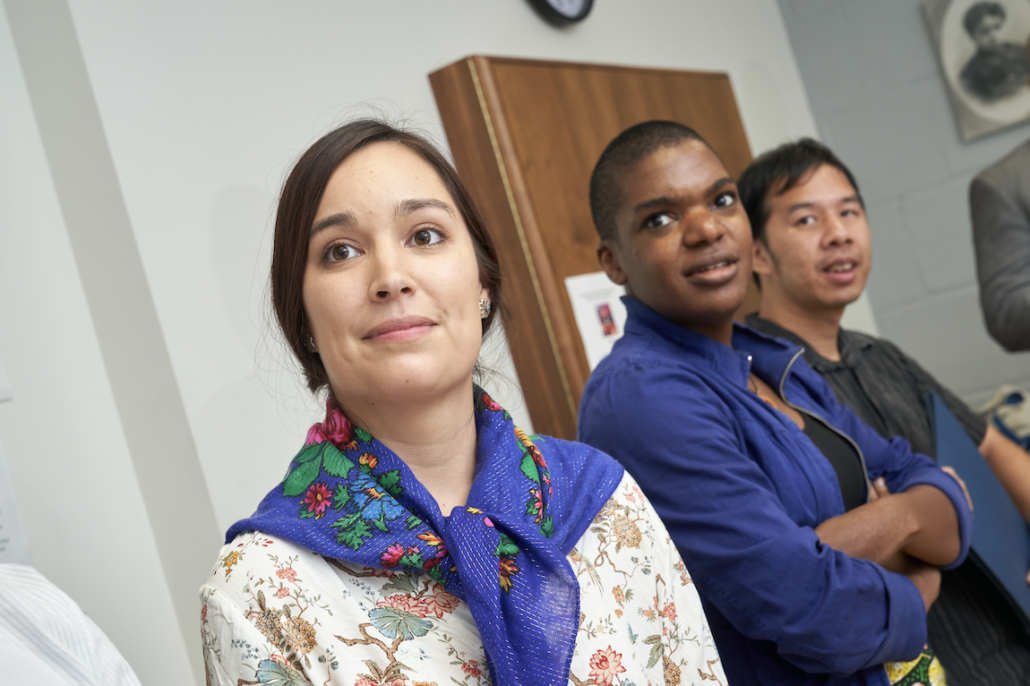 Critique, analyze, visualize and map big data using Tableau, GIS methods, and other digital technologies.
The Big Data for Justice Summer Institute is an innovative four-week program designed to develop student's abilities to critique, analyze, visualize and map big data using Tableau, GIS methods, and other digital technologies. The course emphasizes project-based learning and consists of a series of skill-building workshops and educational seminars as well as fieldwork and lab/studio time focused on issues around criminal justice in Los Angeles. Students will collaborate with community partners to conduct analyses consistent with current on-the-ground advocacy work using data on arrests by the Los Angeles Police Department.
Student teams will generate final reports s that visualize data in the form of graphs, charts, maps, and other types of figures as well as a robust write-up explaining the results of the analyses.
The goal of the Institute is for students to complete the four-week program with the following newly acquired knowledge and skills:
Learn to use and critically assess a suite of digital tools, spatial and quantitative datasets, and mapping/visualization/data analysis software technologies for studying criminal justice in Los Angeles.
Combine urban, social, computational, statistical and humanist perspectives to investigate data related to criminal justice.
Understand how the history of Los Angeles is intimately and unevenly linked with race, policing, and power; learn how this is manifest in built spaces, urban infrastructures, and communities.
Learn transferable technology skills through collaborative, project-based research, while engaging in multidisciplinary inquiry.
Learn to work in research teams in order to conceptualize, design, carry out, and deliver persuasive arguments through writing, data analysis, mapping, and data visualization.
Engage community partners.
This program is sponsored by UCLA CityLab, UCLA Center for Community Engagement, UCLA Digital and Urban Humanities Programs, and the UCLA Bunche Center for African American Studies.
Big Data For Justice Summer Institute Program Overview
Students will participate in person at UCLA, experiencing all that our campus has to offer during their summer program.
To participate in the Big Data for Justice Summer Institute, students must meet the following qualifications:
Currently have a high school diploma (or equivalent)
Students who do not meet the minimum program requirements should not apply and are encouraged to explore other opportunities.
Participants of the Big Data for Justice Summer Institute will receive 6 units of UCLA credit for the following course(s):
Digital Humanities 151 – Advanced Topics in Urban Humanities (4 units)
Digital Humanities 199 – Directed Research in Digital Humanities (2 units)
Advanced Topics in Urban Humanities (DH 151) examines urbanism and spatial equity in the context of Los Angeles through spatial technologies such as Geographic Information Systems (GIS), Tableau, ESRI Storymaps, Google Earth, CartoDB, statistical methods, digital databases, and interactive web platforms that can be deployed to research and document urban experiences. Students will gain a familiarization with digital tools used to study urban issues as they relate to criminal justice in Los Angeles.
Directed Research in Digital Humanities (DH 199) is a project-based, laboratory course that is offered in conjunction with DH 151, as part of the Big Data for Justice in L.A Summer Institute.
The two courses are offered in conjunction with one another as a seminar and laboratory. Together, these courses explore creative techniques to study, intervene, and speculate on critical concepts related to race and criminal justice in the context of Los Angeles.
The Big Data for Justice Summer Institute is by instructor consent only. To participate, you must apply and receive acceptance into the program.
As part of the application process, you will be asked to complete the following:
Short essay answering the following: Please describe why you want to take this course and how it relates to your personal or academic interests. 500 words or less.
If applicable – please upload a copy of your current transcript or study list
Resume
Students will be accepted into the program on a rolling basis.  The application deadline is May 20th, 2022 and all final decisions will be made on a rolling basis until that date.
NOTE: Students should compose the essay before beginning the online registration process. There will be text fields on the online registration form of which the response text can be copied.
Applying for the Big Data for Justice Summer Institute can be done conveniently online with the following steps:
Prepare all "Application Requirements" prior to starting the registration process.
Access the Summer Institute Online Registration Form starting February 15 at 8am Pacific Standard Time (PST). Read all terms and conditions, then scroll to the bottom and select "Yes, Continue to Registration."
Provide responses to all required questions on both pages of the registration form and then "Submit".
Once your form is submitted, you will be directed to the Retrieve Registration page. Select "File Uploads" to upload application materials (see Application Requirements above for more information).
Allow up to two weeks for the program instructor(s) to review your application after submission. An email will be sent to you with the official decision.
If accepted to the program, follow the steps in your acceptance email to make payment of the non-refundable registration fee* ($150 for UCLA and UC Students, $350 for Non-UC Students) to reserve your space in the program.
A space in the program is not reserved until a valid payment of the non-refundable registration fee* is made. If you are not prepared to pay after submitting the registration form, you may retrieve your registration at another time to make payment; however, this risks losing a space in the program if it reaches capacity prior to payment being submitted. An email with instructions to retrieve registration with your five-digit registration number will be sent within an hour after submitting your registration.
*The registration fee is required for each program and is not refundable under any circumstances including, but not limited to, drop for non-payment and withdrawal, even if you withdraw from the program before it begins.
If the program is full, you will not be prompted to make payment. If the program offers a waitlist and your application is accepted from the waitlist, you will be notified by email with instructions for how to submit payment. Please note if the payment is not submitted within 24 hours of receiving the email, you will be moved to the end of the waitlist.
If registering after May 1, full payment of the program fee and non-refundable registration fee will be required to reserve your space in the program. Additional fees, such as the document fee and IEI fees, will be assessed after enrollment.
For questions and assistance, please contact us at info@summer.ucla.edu.
Program Dates:
July 5, 2022 – July 29, 2022
The schedule and syllabus are subject to change. Enrolled students will be given updated materials closer to the program start date.
The program fee includes the unit fees for the UCLA coursework offered as part of the program and thus varies by UC student status. In addition to the program fee, students are assessed other campus and administrative fees during the summer. This is a summary of fees that commonly apply to the selected student type.
Actual tuition and fees are subject to change by the University of California. Visit the fees, payment, and financial aid section for important disclaimer, as well as more details on fees, payment instructions, and information on delinquency, refunds, and financial aid.
| | |
| --- | --- |
| Program Fee | $2,334 |
| Ackerman Student Union Fee | $13.20 |
| Ackerman / Kerckhoff Seismic Fee | $22.80 |
| Wooden Center Fee | $7.20 |
| SPARC Fee | $22.80 |
| Undergraduate Student Association Fee | $48.03 |
| PLEDGE Fee | $19.42 |
| IEI Fee | $61 |
| Document Fee (incoming UCLA students only) | $50 |
Big Data for Justice Summer Institute FAQ
Students that enroll in the Big Data for Justice Summer Institute will:
Learn how to critically assess, analyze, visualize, and map data;
Gain introductory skills in GIS and Tableau;
Understand core principles in urban humanities, black studies, criminal justice, and community research; and
Gain experience working collaboratively with community partners.
No specific background or experience is necessary although some experience working with data will be helpful. Interested applicants should come with a demonstrated desire to learn new skills.
There will be aspects of a student's final portfolio that can be presented in public, however, some of the research conducted will be in partnership with the community and students will need to get the permission of the community partners to present certain findings in any public forum.
Yes, students who took a similarly listed course in the past can still take this institute for credit.
Still have questions? Check out the general Summer Institutes FAQ.
Meet your instructors
Munia Bhaumik
Co-Lead Instructor/Academic Administrator
Munia Bhaumik is the Program Director of Mellon Social Justice Curricular Initiatives and a scholar of comparative literature, politics, and law. An alumna of UCLA, where she received her M.A. in Urban Planning, her research and teaching engages racial and gender inequities as well as the multiple social factors impacting whose lives count before the law. Thus, in her research, she rethinks citizenship and democracy theory from the perspective of vulnerability, considering how marginalized non-citizen refugees, migrant workers, incarcerated persons, and undocumented detainees are critical social actors. Dr. Bhaumik received her PhD in Comparative Literature from the University of California, Berkeley before joining the faculty at Emory University in Atlanta where she engaged with new immigrant and African-American community voting rights campaigns. Based on her research on noncitizens as well as poetry, she was awarded the prestigious Stanford Humanities and Cornell Society for the Humanities faculty fellowships. Prior to returning to UCLA as a Master's student, Dr. Bhaumik also spent a decade as a primarily Spanish-speaking labor/community organizer and translator with some of the leading progressive organizations in Los Angeles. Her academic book, In Liberty's Shadow: The Noncitizen in American Letters and Law, is equally motivated by close literary and theoretical readings of seminal texts defining American democratic culture, as well as the social movements for citizenship, language, queer, migrant, worker, and Black equal rights mobilized by the communities-of-color of this (post)metropolis.
Danielle Dupuy
Co-Lead Instructor/Academic Administrator
Danielle Dupuy is the Director of Research and Programs at the Bunche Center for African American Studies at UCLA and Executive Director of Million Dollar Hoods. Based at UCLA, Million Dollar Hood is a signature collaborative research project mobilizing critical data to map the fiscal and human impact of incarcerated lives in Los Angeles. Prior to coming to Los Angeles, Danielle worked for 7 years in Chicago, initially as a social epidemiologist at the Sinai Urban Health Institute and later as the Associate Director of the Metropolitan Breast Cancer Task Force. During that time, she worked on issues related to racial disparities and social equity in the fields of maternal and child health, breast cancer, urban agriculture, violence, and policing. Danielle obtained her PhD in Community Health Sciences from UCLA with a minor in Law to focus on incarceration and its effect on the well-being of black communities.
Kelly Lytle Hernandez
Participating Faculty
Kelly Lytle Hernandez is Professor of History, African American Studies, and Urban Planning at UCLA where she holds The Thomas E. Lifka Endowed Chair in History and is the director of the Ralph J. Bunche Center for African American Studies at UCLA. One of the nation's leading experts on race, immigration, and mass incarceration, Professor Lytle Hernandez is the author of the award-winning books, Migra! A History of the U.S. Border Patrol (University of California Press, 2010), and City of Inmates: Conquest, Rebellion, and the Rise of Human Caging in Los Angeles (University of North Carolina Press, 2017).  Currently, Professor Lytle Hernandez is completing a new book on the magonista movement, which helped to spark the outbreak of the 1910 Mexican Revolution, and she is the Principal Investigator for Million Dollar Hoods, a university-based, community-drive research project that maps the fiscal and human cost of mass incarceration in Los Angeles. For her leadership of Million Dollar Hoods, Professor Lytle Hernandez has won numerous awards, including the 2018 Local Hero Award from KCET/PBS, a 2018 Freedom Now! Award from the Los Angeles Community Action Network, and the 2019 Catalyst Award from the South L.A. parent/student advocacy organization, CADRE. For her historical and contemporary work, Professor Lytle Hernandez has been named a MacArthur "Genius" Fellow and a distinguished lecturer for the Organization of American Historians. She is also an elected member of the Society of American Historians and the Pulitzer Prize Board.
Eric Lee is a Senior Data Analyst for the Ralph J. Bunche Center and the Million Dollar Hoods Project. He graduated from Columbia University with a Masters in Public Health in Epidemiology. He has worked for Mount Sinai Hospital in the Geriatrics Department and the New York Department of Health and Mental Hygiene (DOHMH) in the Mental Health Division. During his tenure at DOHMH, he was involved in projects analyzing mental health disparities for those incarcerated at Rikers Island. This project as well as his involvement in a "Race to Justice" initiative sparked in furthering his interest to understanding societal factors that lead to health disparities.
Nina Monet Reynoso
Program Coordinator
Nina Monet Reynoso currently works as a program coordinator at the Million Dollar Hoods Project and is a PhD candidate for UCLA's Social Sciences and Comparative Education program. She was a 2020-2021 Rev. James Lawson Jr. UCLA Teaching Fellow and has taught in subjects across Black studies, labor studies, and education. Her research interests include the critical juncture between the neoliberal interventions of schools and the military industrial complex.
Mariah Tso
GIS Specialist
Mariah Tso is a GIS Specialist for the Ralph J. Bunche Center and the Million Dollar Hoods Project. Mariah received her master's degree in geographic information systems from the University of Redlands and her bachelor's in environment, economics, and politics from Scripps College. Her research interests include critical cartography, indigenous methodologies, and interdisciplinary storytelling.
Todd Presner
Associated Faculty
Todd Presner is Chair of UCLA's Department of European Languages and Transcultural Studies, Professor of Comparative Literature at UCLA, Founder and Director of HyperCities: Thick Mapping in the Digital Humanities and Core Faculty of Urban Humanities Initiative at UCLA. He is also the Sady and Ludwig Kahn Director of the Center for Jewish Studies; founding faculty of the Digital Humanities Program; and co-faculty PI with Juliet Williams, Darnell Hunt, and David Schaberg of the "Social Justice Curriculum" (2021-2026).
Dr. Presner is the author or co-author of four books: Mobile Modernity: Germans, Jews, Trains (Columbia University Press, 2007); Muscular Judaism: The Jewish Body and the Politics of Regeneration (Routledge, 2007); Digital Humanities (MIT Press, 2012), co-authored with Anne Burdick, Johanna Drucker, Peter Lunenfeld, and Jeffrey Schnapp; and HyperCities: Thick Mapping in the Digital Humanities (Harvard University Press, 2014), with David Shepard and Yoh Kawano. Currently, he is writing a book titled Ethics of the Algorithm: Computational Approaches to Holocaust History and Memory. This project employs a wide-range of computational methods – from natural language processing to machine learning – to pose new questions of Holocaust history and memory, asking what it means for algorithmic methods of analysis to be ethical and how they can complement humanistic interpretations and values.