Design Media Arts Summer Institute
Create a portfolio-ready body of work in a cutting-edge design department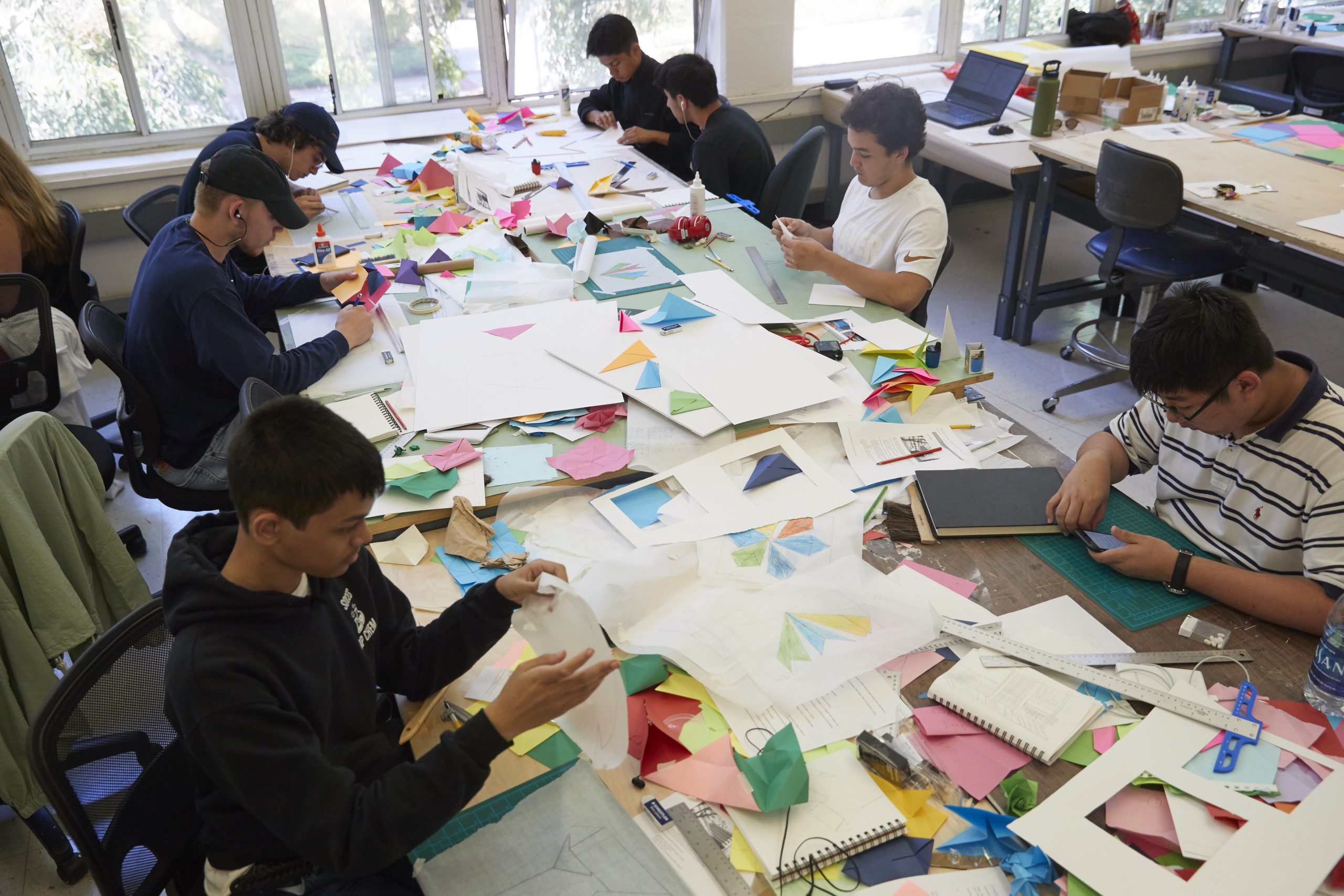 Apply design practices and your own innovative thinking to multimedia projects
The Department of Design Media Arts (DMA) at UCLA is one of the nation's top design departments offering a comprehensive, multidisciplinary education in media creation, which fosters individual exploration and innovative thinking. Geared specifically for high school students, the department offers the DMA Summer Institute, a two-week program with morning and afternoon classes introducing design practices in the contexts of print, net, worlds, and video. The program is taught by professionally trained and well-experienced instructors using the most current software and technology. It culminates in a final exhibition and the creation of a portfolio-ready body of work that students may include in their college applications in related fields. It also provides students with a rare opportunity to sample college life in a cutting-edge design department, while earning four units of pass/no pass UC credit.
For questions about the program, please contact dmainfo@arts.ucla.edu
Design Media Arts Summer Institute Program Overview
Students will participate in person at UCLA, experiencing all that our campus has to offer during their program.
For participants of the Design Media Arts Summer Institute, living in on-campus housing is mandatory. The total cost for housing, which includes room, board (two meals per day), student supervision, and evening and weekend activities, is an additional $1,521.
For more information on UCLA housing precollege programs, please see the Housing for Minors page.
Participants of the Design Media Arts Summer Institute will receive UCLA credit for the following course(s):
Design Media Arts 5 – Introduction to Design | Media Arts (4 Units)
During the two-week program, students explore a variety of media examining different practices and design methods applied to the domains of print, net, worlds, and video. Broadly addressing a common theme, all four classes contribute to the creation of an integrated, multi-media exhibition at the end of the residency. Each class is taught by an instructor and program assistant; class size is limited to a maximum of 20 students.
All four classes below will relate to and influence each other, and they will contribute to the creation of an integrated, final, multi-media project.
Print
Students explore graphic design as image-making coupled with basic typography through a series of fun and fast-paced assignments and exercises. All projects encapsulate a yearly theme while addressing form, composition, hierarchy, and creativity. Students develop a design process and critical visual vocabulary through experimentation and group critiques.
NET
This course focuses on the internet as a medium for creative expression and artistic intervention. Through examples and small exercises based on a given theme, students study the web in the tradition of art and activism. Using techniques like collage, appropriation, and strategies of artistic self-expression, students analyze these forms for their aesthetic and social potentials. References to relevant artworks are provided, both in and outside the field of Net-based art.
WORLD
Electronic games offer an exciting mode of interactive storytelling. Virtual spaces and intangible systems can strike complex moods. In this course, students learn the basics of how games are developed and explore "Worldbuilding" as a form of visual narrative, playfulness, and immersive participatory experience. Students use Unity4D game engine to build and dismantle 3-Dimensional games.
VIDEO
Video is a powerful medium capable of capturing, parsing, and imagining environments and stories. In this course, students learn the exciting properties of time-based media and ways to enable their creative potential. Exploring the technical and experimental approaches to cinematography, animation, and sound, students gain a basic understanding of video-making and the strategies to create unique perceptual events.
To participate in the Design Media Arts Summer Institute, students must meet the following qualifications:
15 years of age or older as of June 20, 2022
Enrolled in grades 9 – 12 during Spring 2022
Students who do not meet the eligibility requirements will not be considered and are encouraged to explore other summer opportunities.
Registration for the Design Media Arts Summer Institute can be done conveniently online with the following steps:
Access the Summer Institute Online Registration Form starting February 15 at 8am Pacific Standard Time (PST). Read all terms and conditions, then scroll to the bottom and select "Yes, Continue to Registration."
Provide responses to all required questions on both pages of the registration form and then "Submit".
Once your form is submitted, you will be redirected to the retrieve registration page, where you can select "Pay Now" to proceed with payment of the $350 non-refundable registration fee*. Continue with the payment instructions to reserve your space in the program.
A space in the program is not reserved until a valid payment of the $350 non-refundable registration fee* is made. If you are not prepared to pay after submitting the registration form, you may retrieve your registration at another time to make payment; however, this risks losing a space in the program if it reaches capacity prior to payment being submitted. An email with instructions to retrieve registration with your five-digit registration number will be sent within an hour after submitting your registration.
*The registration fee is required for each program and is not refundable under any circumstances including, but not limited to, drop for non-payment and withdrawal, even if you withdraw from the program before it begins.
If the program is full, you will not be prompted to make payment. If the program offers a waitlist and your application is accepted from the waitlist, you will be notified by email with instructions for how to submit payment. Please note if the payment is not submitted within 24 hours of receiving the email, you will be moved to the end of the waitlist.
If registering after May 1, full payment of the program fee and non-refundable registration fee will be required to reserve your space in the program. Additional fees, such as the document fee and IEI fees, will be assessed after enrollment.
For questions and assistance, please contact us at info@summer.ucla.edu.
UCLA Summer Sessions Summer Scholars Support
Qualified students attending grades 8th – 11th in Spring 2022 in the state of California may be eligible for Summer Scholars Support, a need- and merit-based scholarship offered by the UCLA Summer Sessions Office. A limited number of full and partial scholarships are available to support enrollment in SCIP/eSCIP, one Summer Course, or a Precollege Summer Institute.
Summer 2022 deadline to apply: April 1.
UCLA Design Media Arts Scholarship
DMA SCHOLARSHIP AWARD
The UCLA Department of Design Media Arts offers full or partial, need-based scholarships. The award is not intended to cover travel costs and may not cover textbooks or other course materials. The final award amount will reflect the fees of the DMA Summer Institute in which the applicant is enrolled.
IMPORTANT DATES
February 15: DMA Scholarship Application is available
April 1: DMA Scholarship Application is due by 5 p.m.
April 26: Award announcements are emailed at 5 p.m.
May 1: Students who have been awarded support must confirm acceptance by replying to the award announcement email.
ELIGIBILITY
To apply for the DMA Scholarship, you must meet the following minimum eligibility criteria:
You are currently attending a high school in the state of California;

Enrolled in grades 10th – 12th during Spring 2022
15 years of age or older prior to June 24, 2022

You have not received a DMA Scholarship in the past;
You will be a continuing high school student in Fall 2022 (seniors graduating in 2022 are not eligible);
You have a family annual adjusted gross income of $100,00 or less

APPLICATION REQUIREMENTS
Submit the DMA Scholarship Application online. The application requires:
Student Information
School Information
Parent/Guardian Information
Essay Question 1: Every person has a creative side, and it can be expressed in many ways: problem solving, original and innovative thinking, and artistically, to name a few. Describe how you express your creative side.
Essay Question 2 (optional): Please describe any additional information that you have not had the opportunity to share, including financial hardships or obstacles that have impacted you. What steps have you taken to overcome it, and how has it affected your academic achievement?
Students will need to upload the following to the DMA Scholarship Application online:
*Federal Income Tax Form (1040) of your parent/s or legal guardian/s
*W-2 Tax Form (if eligible)
Letter of recommendation from a teacher or school counselor commenting on your ability to successfully complete a rigorous creative program. Please allow your recommender at least 2 weeks to write a complete letter of support before uploading the letter to the application.
*Before uploading your tax information, please redact social security numbers on the documents.
For questions, please contact us at dmainfo@arts.ucla.edu.
Program Dates:
July 10, 2022 – July 23, 2022
The schedule and syllabus are subject to change. Enrolled students will be given updated materials closer to the program start date.
The program fee includes the unit fees for the UCLA coursework offered as part of the program and thus varies by UC student status. In addition to the program fee, students are assessed other campus and administrative fees during the summer. This is a summary of fees that commonly apply to the selected student type.
Actual tuition and fees are subject to change by the University of California. Visit the fees, payment, and financial aid section for important disclaimer, as well as more details on fees, payment instructions, and information on delinquency, refunds, and financial aid.
**MANDATORY HOUSING FEE** = $1,521
Students living in on-campus housing will be charged an additional housing fee.
| | |
| --- | --- |
| Program Fee | $2,160 |
| Registration Fee | $350 |
| IEI Fee | $61 |
| Document Fee (for first-time Summer Sessions students) | $50 |
Meet Your Instructors
The DMA Summer Institute curriculum is based on materials covered in the department's undergraduate curriculum. Instructors for the DMA Summer Institute are graduate students and alumni of the department's prestigious MFA program.
Please visit UCLA Department of Design Media Arts for more information about the DMA undergraduate and graduate programs.
Design Media Arts Summer Institute FAQ
Students are not required to have a background in design. Some students may already have experience in design media arts, but beginners are welcome to apply.
Students typically work on their own projects which will be valuable for those who will need a portfolio for college applications.
The program includes a Portfolio Night where a discussion will be held regarding portfolios for college applications.
Students will be asked to create new projects but they are welcome to bring old or ongoing projects to get feedback during Portfolio Night.
WHAT MATERIALS DO STUDENTS NEED?
We recommend students bring a USB flash drive with at least 32 GB storage capacity to save their projects. Students should label their flash drive with their name in case it is misplaced during the program.
Notebook, pen, and pencils
ARE STUDENTS REQUIRED TO HAVE ACCESS TO A LAPTOP?
The program will provide computers and softwares for students to use. Students will not be required to bring laptops.
Still have questions? Check out the general Summer Institutes FAQ.