Design Media Arts Summer Institute
Create a portfolio-ready body of work in a cutting-edge design department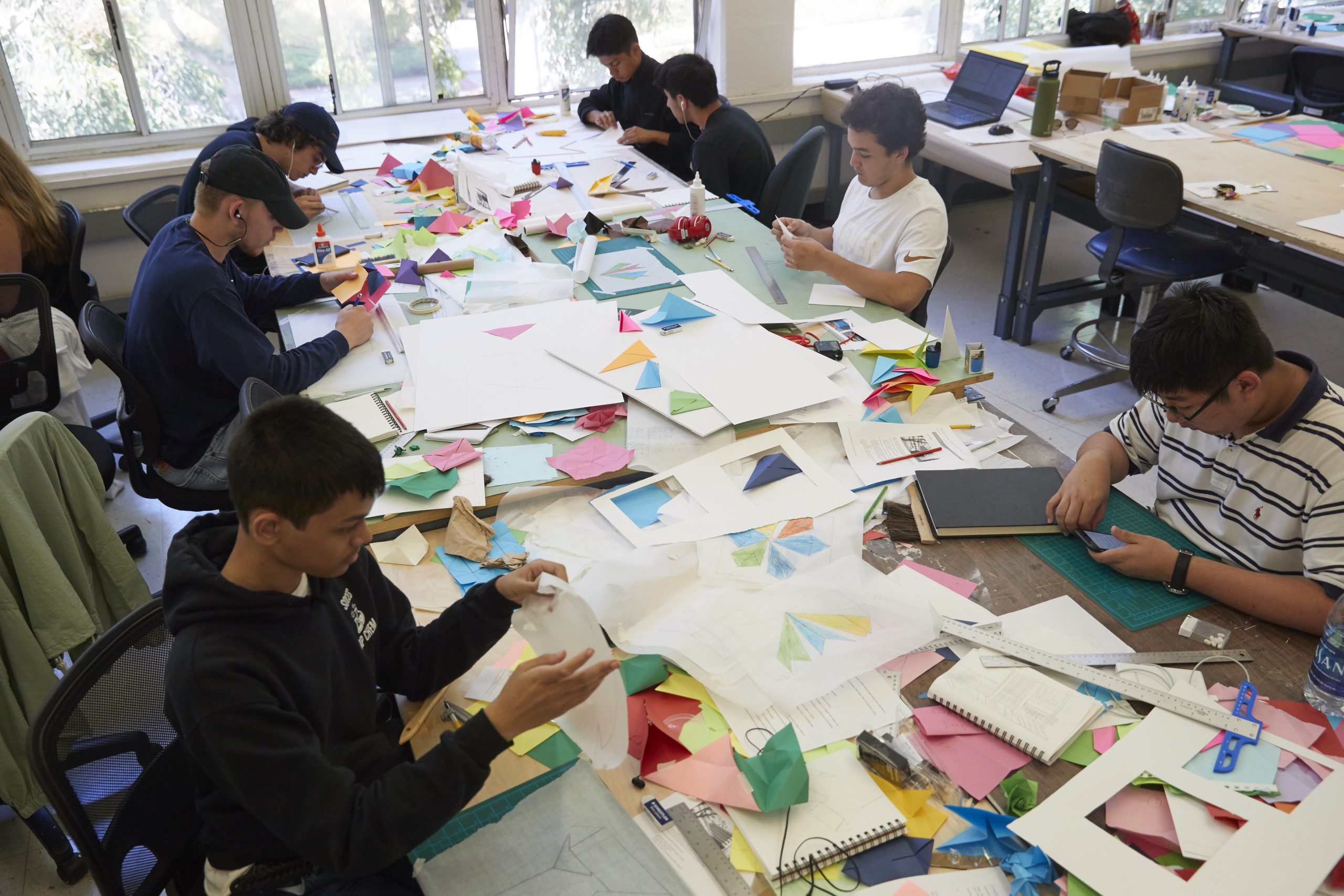 Apply design practices and your own innovative thinking to multimedia projects
As of 4/12/2023, The UCLA Design Media Arts Summer Institute is closed to new applicants. Students interested in applying for a 2023 summer institute in art are encouraged to apply to the virtual versions of the UCLA Art Summer Institute program. 
The Department of Design Media Arts (DMA) at UCLA is one of the nation's top design departments offering a comprehensive, multidisciplinary education in media creation, which fosters individual exploration and innovative thinking. Geared specifically for high school students, the department offers the DMA Summer Institute, a two-week program with morning and afternoon classes introducing design practices in the contexts of graphic design (Print), net art (Net), immersive 3D worldbuilding (Worlds), and motion design (Motion). The program is taught by professionally trained and well-experienced instructors using the most current software and technology. It culminates in a final exhibition and the creation of a portfolio-ready body of work that students may include in their college applications in related fields. It also provides students with a rare opportunity to sample college life in a cutting-edge design department, while earning four units of pass/no pass UC credit.
For questions about the program, please contact dmainfo@arts.ucla.edu
Design Media Arts Summer Institute Program
Program Dates:
July 9 – July 22, 2023
Program Type:
Open Enrollment / In-person
Program Eligibility: 9th-12th grade in Spring 2023 & 15 years of age or older as of June 25, 2023
UCLA Coursework: DESMA 5; 4 units
Enrollment deadline: June 15, 2023
The schedule and syllabus are subject to change.
The program fee includes the unit fees for the UCLA coursework offered as part of the program and thus varies by UC student status. In addition to the program fee, students are assessed other campus and administrative fees during the summer. This is a summary of fees that commonly apply to the selected student type.
Actual tuition and fees are subject to change by the University of California. Visit the fees, payment, and financial aid section for important disclaimer, as well as more details on fees, payment instructions, and information on delinquency, refunds, and financial aid.
Document Fee (for first-time Summer Sessions students)
$50.00
Total Estimated Fees:
$4,395.00
* Fees only apply for certain student types
Meet Your Instructors
The DMA Summer Institute curriculum is based on materials covered in the department's undergraduate curriculum. Instructors for the DMA Summer Institute are graduate students and alumni of the department's prestigious MFA program.
Please visit UCLA Department of Design Media Arts for more information about the DMA undergraduate and graduate programs.
Design Media Arts Summer Institute FAQ
Students are not required to have a background in design. Some students may already have experience in design media arts, but beginners are welcome to apply.
Students typically work on their own projects which will be valuable for those who will need a portfolio for college applications.
The program includes a Portfolio Night where a discussion will be held regarding portfolios for college applications.
Students will be asked to create new projects but they are welcome to bring old or ongoing projects to get feedback during Portfolio Night.
WHAT MATERIALS DO STUDENTS NEED?
We recommend students bring a USB flash drive with at least 200 GB storage capacity to save their projects. Students should label their flash drive with their name in case it is misplaced during the program.
Notebook, pen, and pencils
ARE STUDENTS REQUIRED TO HAVE ACCESS TO A LAPTOP?
The program will provide computers and softwares for students to use. Students will not be required to bring laptops.
Still have questions? Check out the general Summer Institutes FAQ.