Film and Television Summer Institute – Creative Producing
College students study the role of the creative producer or executive while engaging in entertainment industry internships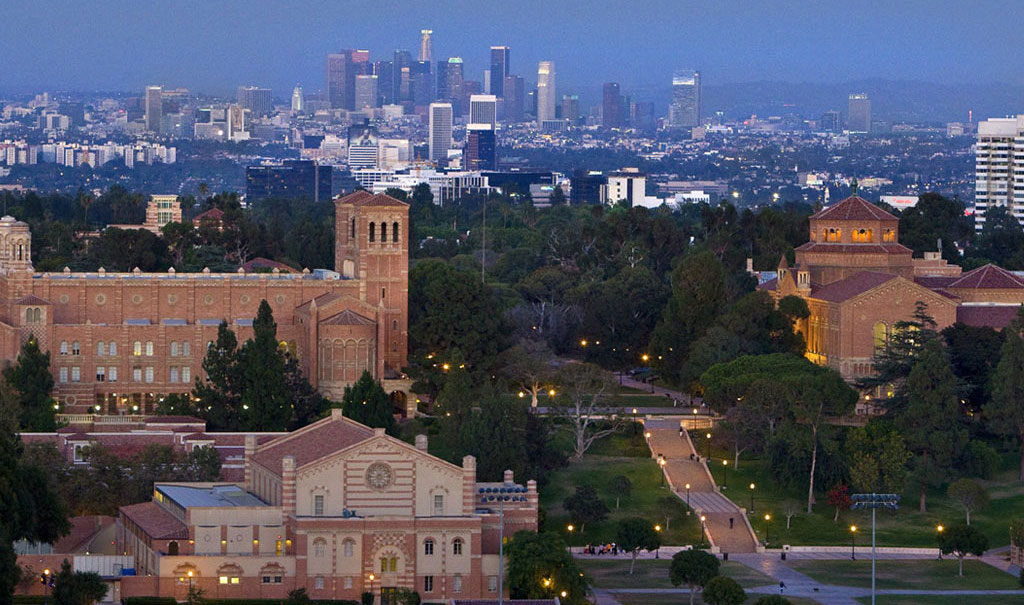 Study the contemporary film industry while building relationships with industry professionals
Creative Producing lets college students study the role of the creative producer or executive while participating in entertainment industry internships with companies located in Los Angeles. In class, students study the history of the Hollywood studio system and gain a critical perspective of the contemporary industry. In their internships, students apply those skills "on the ground" and build important relationships with industry professionals. In this way, the Creative Producing track is the perfect combination of theory and practice and contributes to a well-rounded liberal arts education that will benefit a wide range of majors from the humanities.
Film and Television Summer Institute – Creative Producing Overview
Students will participate in person at UCLA, experiencing all that our campus has to offer during their summer program.
The Film and Television Summer Institute – Creative Producing awards credit for the following UCLA coursework:
Film and Television 104 – Film and Television Symposium(1 unit)
Film and Television 183A – Introduction to Producing (4 units)
Film and Television 182 – Power, Identity, and Justice in the Film Industry (4)
Film and Television 195 – Professional Internship (2 units)
Symposium
In the exclusive Summer Institute Symposium, students from Creative Producing meet and listen to some of Hollywood's most accomplished professionals. High-wattage guests have included Eric Heisserer (writer, Arrival); Steven Canals (creator and EP of Pose on FX); Jeff King (Executive Producer of The Umbrella Academy on Netflix); Agents from CAA, ICM, Paradigm, and UTA; Simon Kinberg (Writer/Producer, Deadpool, X-Men: Apocalypse, The Martian); Zak Penn (Writer, Ready Player One); and many others.
Guest speakers will also visit the FTV 183A virtual classroom. Past guests have included executives, coordinators, and more from companies like Sony, Paramount and Paramount TV, ABC Studios, and Netflix; agents and managers from top companies, and the professionals behind such shows as Modern Family, Marvel's The Runaways, and more.
Internships
Creative Producing students pursue internships at entertainment companies during the day. Once students are enrolled in the Creative Producing Summer Institute, they will receive an introductory email from the Summer Institute Internship Coordinator. Our coordinator will work closely with each student, helping them to prepare their cover letter, resume, and interview techniques as well as guide them in the internship search process. While our coordinator may have leads for certain internship opportunities, the onus is ultimately on the student to secure an internship.
In the past, Summer Institute students have interned at companies such as NBCUniversal, United Talent Agency (UTA), MGM, Sony Pictures Studios, Mandalay Entertainment, Nickelodeon Animation Studios, Wonderland Sound & Vision (Lethal Weapon TV Series, Supernatural), Comedy Central, Chernin Entertainment (Hidden Figures), DeLine Pictures (Ready Player One) and many others. Students are responsible for applying for their internships, and our internship coordinator advises and assists students throughout the process. However, because summer is a very competitive season for internships, early registration is required to ensure sufficient lead- time for the application process.
Hollywood and the Industry
During the weekly Summer Institute Mixer, students network with alumni and students from other UCLA Film and Television Summer Institute tracks. As part of the Summer Institute, students tour a major Hollywood studio. A networking mixer for students and alumni takes place on the last night of the program and the film projects from the film production and animation tracks are shown.
Students will also participate in a Professional Development workshop on Pitching and the Industry, receiving an inside scoop from a seasoned industry professional on how projects are pitched and sold in Hollywood.
Eligibility
To participate in the Film and Television Summer Institute – Creative Producing track, you must meet the following eligibility requirements:
Current undergraduate student enrolled at a U.S. college or university
Rising junior or senior in Fall 2022 (Note: Junior standing for UCLA is equal to 90 quarter units or above.)
Due to visa restrictions, international students are not eligible.
Admission
Eligible applicants who successfully submit all requirements will be reviewed and notified via email of an admission decision within two weeks. See Application Requirements below for details. Early application is strongly encouraged.
Applicants are required to provide the following during the online registration process:
A personal statement explaining what qualifications you have that makes you a good candidate for a film/TV internship (200 words or less)
The Creative Producing track is by instructor consent only. To participate, you must apply and receive acceptance into the program. Students will be notified within two weeks of an acceptance decision.
Applying for the Film and Television Summer Institute – Creative Producing can be done conveniently online with the following steps:
Prepare all "Application Requirements" prior to starting the registration form.
Access the Summer Institute Online Registration Form starting February 15 at 8am Pacific Standard Time (PST). Read all terms and conditions, then scroll to the bottom and select "Yes, Continue to Registration."
Provide responses to all required questions on both pages of the registration form and then "Submit".
Allow up to two weeks for the program instructor(s) to review your application after submission. An email will be sent to you with the official decision.
If accepted to the program, follow the steps in your acceptance email to make payment of the non-refundable registration fee* ($150 for UCLA and UC Students, $350 for Non-UC Students) to reserve your space in the program.
A space in the program is not reserved until a valid payment of the non-refundable registration fee* is made. If you are not prepared to pay after submitting the registration form, you may retrieve your registration at another time to make payment; however, this risks losing a space in the program if it reaches capacity prior to payment being submitted. An email with instructions to retrieve registration with your five-digit registration number will be sent within an hour after submitting your registration.
*The registration fee is required for each program and is not refundable under any circumstances including, but not limited to, drop for non-payment and withdrawal, even if you withdraw from the program before it begins.
If the program is full, you will not be prompted to make payment. If the program offers a waitlist and your application is accepted from the waitlist, you will be notified by email with instructions for how to submit payment. Please note if the payment is not submitted within 24 hours of receiving the email, you will be moved to the end of the waitlist.
If registering after May 1, full payment of the program fee and non-refundable registration fee will be required to reserve your space in the program. Additional fees, such as the document fee and IEI fees, will be assessed after enrollment.
For questions and assistance, please contact us at info@summer.ucla.edu.
Program Dates:
June 21, 2022 – July 29, 2022
The schedule and syllabus are subject to change. Enrolled students will be given updated materials closer to the program start date.
The program fee includes the unit fees for the UCLA coursework offered as part of the program and thus varies by UC student status. In addition to the program fee, students are assessed other campus and administrative fees during the summer. This is a summary of fees that commonly apply to the selected student type.
Actual tuition and fees are subject to change by the University of California. Visit the fees, payment, and financial aid section for important disclaimer, as well as more details on fees, payment instructions, and information on delinquency, refunds, and financial aid.
| | |
| --- | --- |
| Program Fee | $4,129 |
| Ackerman Student Union Fee | $13.20 |
| Ackerman / Kerckhoff Seismic Fee | $22.80 |
| Wooden Center Fee | $7.20 |
| SPARC Fee | $22.80 |
| Undergraduate Student Association Fee | $48.03 |
| PLEDGE Fee | $19.42 |
| IEI Fee | $61 |
| Document Fee (incoming UCLA students only) | $50 |
Meet your instructors
Alex Franklin
Instructor, FILM TV 183A – Introduction to Producing
Alex Franklin is a lecturer in the Department of Film, Television and Digital Media where he teaches graduate-level courses about the development and production of feature films and television projects. He also teaches several courses for the Undergraduate Honors Collegium and the Department of Global Studies at the UCLA International Institute. His courses include "Hollywood and Cultural Diversity in America," "Hollywood and Global Responsibility" and "Hollywood and America's Global Image." In these classes, students explore Hollywood's portrayals and representations of different countries, races and groups, and their impact on our culture. In 2018, Franklin was awarded the Eugen Weber Honors Program Distinguished Teaching Award for his work with the Honors Program at UCLA. He began his entertainment industry career in Hollywood at New Line Cinema where he assisted senior VP of production Richard Saperstein on the feature film Frequency and on the Denzel Washington film John Q. He then moved with Saperstein to Artisan Entertainment where he became a creative executive. At Artisan, he worked with Kevin Feige and the Marvel team developing numerous titles including The Punisher. He subsequently moved to Lionsgate Films where he worked with noted genre producer Peter Block on numerous horror and genre titles including the Saw franchise. After Lionsgate, Franklin worked at Dimension Films on the reboot of the Halloween franchise with director Rob Zombie, and on the Scary Movie franchise, which fulfilled a lifelong dream of working with director David Zucker (Airplane,T he Naked Gun). His last film as a development executive was Youth in Revolt, directed by Miguel Arteta. Currently, Franklin works at Zero Gravity Management overseeing their production department. Franklin is a graduate of Harvard University and has an M.F.A. from the USC Peter Stark Producing Program.
Bryan Wuest
Instructor, FILM TV 182 – Power, Identity, and Justice in the Film Industry
Bryan Wuest holds a PhD in Cinema and Media Studies from the University of California, Los Angeles. He researches and teaches film analysis, queer media, digital media, media industry studies, genre, media and politics, and film history, and his work has appeared in Film History, Journal of Film and Video, and the edited collection Queer Youth and Media Cultures.
Film and Television Summer Institute – Creative Producing FAQ
Qualified students may sign up for more than one Film and Television program as long as the dates do not overlap.
Applicants from all backgrounds are encouraged to apply. The Creative Producing program is intended for beginning and intermediate levels.
Students will need to check with their academic counselor to see if the coursework included in the program will count towards their graduation requirements or if credit will transfer to their home institution. For UCLA students, courses may fulfill a major or minor requirement, or count as upper-division course credit.
No, students from all different majors are welcome.
Students will receive separate grades upon completion for each course in this program. Grading types are as follows:
FILM TV 104 and 183A: Letter Grading
FILM TV 195: Pass/No Pass (or Satisfactory/Unsatisfactory if you have a Bachelor's degree)
FILM TV 182: Letter Grading – However, if you would like to change your grade type to Pass/No Pass (or Satisfactory/Unsatisfactory if you have a Bachelor's degree), please contact your instructor.
See University Credit, Grades and Transcripts for more information about academic credit.
Still have questions? Check out the general Summer Institutes FAQ.