Nanoscale Microscopy Lab Summer Institute
Build your foundational knowledge of microscopy techniques in nanoscience research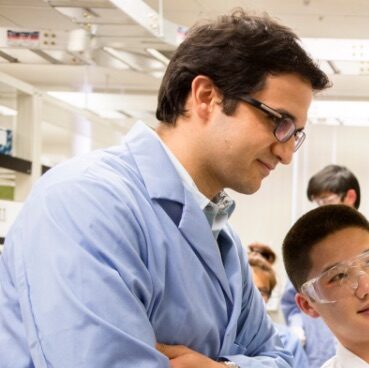 Develop skills in hands-on nanoscience experimentation and scientific communication
Nanoscale Microscopy Lab is a one-week, hands-on, science learning opportunity for high school students on scientific imaging, a topic that is typically only accessible in an advanced college level course. Specifically, students will be able to explore three key microscopy techniques for nanoscience research: fluorescence microscopy, scanning probe microscopy, and electron microscopy. This one-week summer course offers an exploratory introduction to this important scientific skill for students as early as 10th grade at the high school level.
For participating students who intend to become science majors in college, this course will provide a foundational knowledge to a key element in the scientific method of observation. For participating students who might not pursue a science career, the course offers a glimpse on how scientists study the invisible world of atoms and molecules, which enable the water repelling clothes they wear to the smart phones they use.
Nanoscale Microscopy Lab Summer Institute Program Overview
Students will participate in person at UCLA, experiencing all that our campus has to offer during their summer program.
For participants in the Nanoscale Microscopy Summer Institute, living in on-campus housing is optional. Students who wish to live in UCLA residence halls alongside other program participants may sign up for housing at the time of registration. The total cost for housing, which includes room, board (two meals per day), student supervision, and evening and weekend activities, is an additional $702.
For more information on UCLA housing precollege programs, please see the Housing for Minors page.
Participants of the Nanoscale Microscopy Lab Summer Institute will receive UCLA credit for the following course(s):
Microbiology, Immunology, and Molecular Genetics 15 – Nanoscale Microscopy Laboratory (2 units)
MIMG 15, Nanoscale Microscopy Lab is an exploratory introduction to three key microscopy techniques for nanoscience research: fluorescence microscopy, scanning probe microscopy, and electron microscopy. Nanoscience is an umbrella term that encompasses a diverse, interdisciplinary branch of modern science research, including molecular sciences, biotechnology, material science, chemistry, biochemistry, and various fields of engineering.
Microscopy has been an indispensable tool in the advancement of nanoscience. This course aims to give an overview of the most important modalities of microscopy that are commonly used in nanoscale research. The course will begin with an introduction of the common principles of microscopy and then cover light and confocal microscopy, which itself has had a long and fascinating history. We will then move on to electron microscopy, cryo electron microscopy and tomography, and scanning probe microscopy. The course will include laboratory time for sample preparation techniques and measurements at the instruments. It will also consider few examples highlighting advanced research applications.
Students are required to make a final presentation on a team project.
Eligibility
To apply for the Nanoscale Microscopy Lab Summer Institute, you must meet the following qualifications:
14 years of age or older prior to June 20, 2022
Enrolled in grades 9th – 12th during Spring 2022
Students who do not meet the minimum program requirements should not apply and should consider other summer opportunities.
Admission
The program has application requirements for admission. Applicants who successfully submit all requirements will be reviewed and notified via email of an admission decision within 3 weeks. See Application Requirements below for more details. Early application is strongly encouraged.
The Nanoscale Microscopy Lab Summer Institute is by instructor consent only. To participate, you must apply and receive acceptance into the program.
As part of the application process, you will be asked to complete the following:
Short essay responses to the following prompts:

List relevant courses or experience you have in the sciences.
In 250 words or less, please explain how an understanding of microscopy can help you in your future studies or career plan?
In 150 words or less, what do you know about nanoscience or the atomic/molecular scale?
Students will be notified within 2 weeks of an acceptance decision.
NOTE: Students should compose the essay before beginning the online registration process. There will be text fields on the online registration form of which the response text can be copied.
Applying for the Nanoscale Microscopy Lab Summer Institute can be done conveniently online with the following steps:
Prepare all "Application Requirements" prior to starting the registration form.
Access the Summer Institute Online Registration Form starting February 15 at 8am Pacific Standard Time (PST). Read all terms and conditions, then scroll to the bottom and select "Yes, Continue to Registration."
Provide responses to all required questions on both pages of the registration form and then "Submit".
Allow up to two weeks for the program instructor(s) to review your application after submission. An email will be sent to you with the official decision.
If accepted to the program, follow the steps in your acceptance email to make payment of the $350 non-refundable registration fee* to reserve your space in the program.
A space in the program is not reserved until a valid payment of the $350 non-refundable registration fee* is made. If you are not prepared to pay after submitting the registration form, you may retrieve your registration at another time to make payment; however, this risks losing a space in the program if it reaches capacity prior to payment being submitted. An email with instructions to retrieve registration with your five-digit registration number will be sent within an hour after submitting your registration.
*The registration fee is required for each program and is not refundable under any circumstances including, but not limited to, drop for non-payment and withdrawal, even if you withdraw from the program before it begins.
If the program is full, you will not be prompted to make payment. If the program offers a waitlist and your application is accepted from the waitlist, you will be notified by email with instructions for how to submit payment. Please note if the payment is not submitted within 24 hours of receiving the email, you will be moved to the end of the waitlist.
If registering after May 1, full payment of the program fee and non-refundable registration fee will be required to reserve your space in the program. Additional fees, such as the document fee and IEI fees, will be assessed after enrollment.
For questions and assistance, please contact us at info@summer.ucla.edu.
UCLA Summer Sessions Summer Scholars Support
Qualified students attending grades 8th – 11th in Spring 2022 in the state of California may be eligible for Summer Scholars Support, a need- and merit-based scholarship offered by the UCLA Summer Sessions Office. A limited number of full and partial scholarships are available to support enrollment in SCIP/eSCIP, one Summer Course, or a Precollege Summer Institute.
Summer 2022 deadline to apply: April 1.
Program Dates:
June 27, 2022 – July 1, 2022
The schedule and syllabus are subject to change. Enrolled students will be given updated materials closer to the program start date.
The program fee includes the unit fees for the UCLA coursework offered as part of the program and thus varies by UC student status. In addition to the program fee, students are assessed other campus and administrative fees during the summer. This is a summary of fees that commonly apply to the selected student type.
Actual tuition and fees are subject to change by the University of California. Visit the fees, payment, and financial aid section for important disclaimer, as well as more details on fees, payment instructions, and information on delinquency, refunds, and financial aid.
**OPTIONAL HOUSING FEE** = $702
Students living in on-campus housing will be charged an additional housing fee.
| | |
| --- | --- |
| Program Fee | $1,160 |
| Registration Fee | $350 |
| IEI Fee | $61 |
| Document Fee (for first-time Summer Sessions students) | $50 |
Meet Your Instructors
Professor Hong Zhou is a faculty at the Microbiology, Immunology & Molecular Genetics Department of UCLA. Dr. Zhou is also the Director of the Electron Imaging Center for NanoMachines. Professor Zhou's lab focuses on 3D structural studies of biological complexes using cryo-electron microscopy (cryoEM) and cryo-electron tomography (cryoET). These emerging methods are particularly suitable for structure determination of large molecular complexes, viruses, cellular machineries and bacterial cells. Recent efforts have focuses on developing and applying advanced cryoEM and cryoET techniques to visualize the dynamic processes of microbial infections and to decipher the mechanisms of fundamental biological processes. Dr. Zhou's group is at the forefront in pushing the envelope of cryoEM reconstruction to atomic resolution. Dr. Zhou was a Pew Scholar in the Biomedical Sciences, received numerous awards, including the Basil O'Connor Scholar Award, the Established Investigator Award of American Heart Association, the Burton award, and the KH Kuo Award of Distinguished Scientist.
Laurent A. Bentolila
Dr. Laurent A. Bentolila is a biochemist and a molecular geneticist who joined the Department of Chemistry and Biochemistry in 2002. He currently serves as the Scientific Director of both the Advanced Light Microscopy/Spectroscopy Laboratory and the Macro-Scale Imaging Laboratory at CNSI. Dr. Bentolila earned his B.S. in Biochemistry and M.S. in Genetics from Paris-XI University, Orsay and Ph.D. in Molecular Genetics and Immunology from the Pasteur Institute, Paris. He was a European Molecular Biology Organization Postdoctoral fellow at the University of California, Berkeley where he worked on the recombination and expression of antigen receptor genes in lymphocytes. Dr. Bentolila is an elected member of the CNSI Executive Committee and Education Committee. He is actively teaching in Biological Microscopy (MIMG 105) and Introduction to Molecular Imaging (M248). Since becoming Scientific Director of the Advanced Light Microscopy/Spectroscopy Laboratory at CNSI, Dr. Bentolila has developed and assembled a unique collection of custom-made and commercial light microscopy tools for the application of novel spectroscopic methods and advanced microscopy techniques used for the study of macromolecules, cellular dynamics and nano-scale characterization of biomaterials.
Adam Z. Stieg
Dr. Adam Z. Stieg currently serves as the Scientific Director of the Nano and Pico Characterization Core Facility at CNSI as well Director of the Sci|Art NanoLab Institute. Dr. Stieg earned his B.S. with honors in Chemistry from Drew University and both his M.S. and Ph.D. in Inorganic and Physical Chemistry from UCLA. He is a member of the CNSI Executive and Education Committees. As a scientist and educator, Dr. Stieg continues to focus on the development of integrated approaches to study material systems at the interface of traditional boundaries. Through the implementation of original experimental techniques, with a specialized focus in multi-environment, high-performance scanning probe microscopes, his research seeks to bridge the gap between our current understanding of nanomaterials and their fundamental properties with how these systems tend toward complexity at increased scales of space and time. Numerous ongoing, collaborative efforts involve the study of molecular machines, nanoparticles for targeted drug delivery, inorganic carbon-based materials, directed stem cell differentiation and the pursuit of physically intelligent systems through neuromorphic computation. His research activities are augmented by active collaboration with artists and designers on various projects, installations, and public exhibitions that directly inform the scientific process and provide motivation to develop new educational content that conveys the need for creativity in innovation.
Nanoscale Microscopy Lab Summer Institute FAQ
Nanoscale microscopy is the practice of using microscopes and different techniques to study nanoscale objects.
Most work will be done in class but students will have some assignments outside of class.
We expect students to have a strong background in chemistry and biology (honors/AP chemistry experience preferred).
Incoming high school freshman can apply but should have a strong background in science to be considered.
Yes, students should bring laptops.
Still have questions? Check out the general Summer Institutes FAQ.