Sci | Art Lab + Studio Summer Institute
Combine the scientific method and artistic processes to imagine the impossible.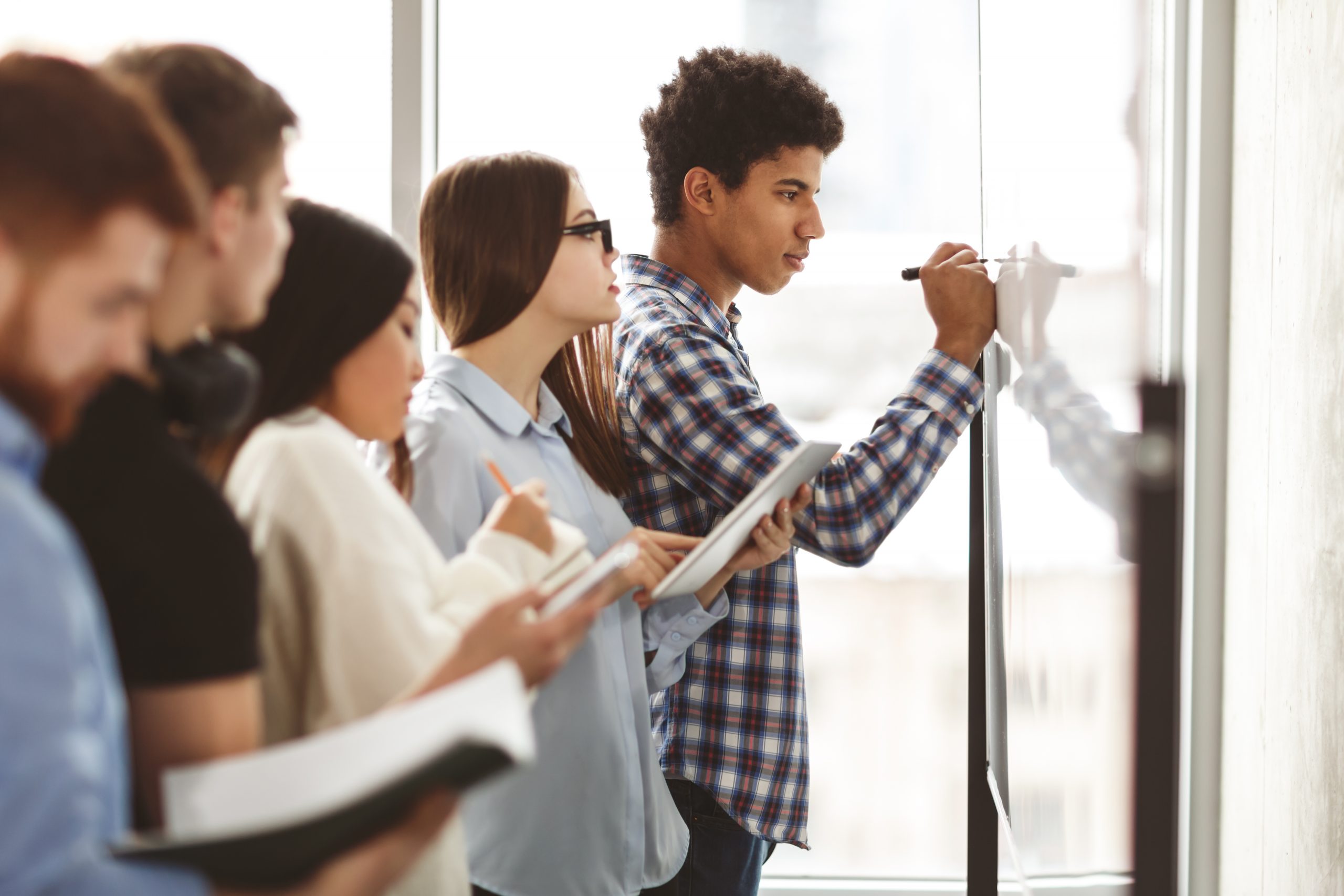 Make connections between scientific research, popular culture, and contemporary arts
In the highly competitive Sci|Art Studio + Lab, students are immersed in science and art practices to simultaneously develop and sharpen analytical and creative skills. This program prepares students for interdisciplinary thinking before they begin their undergraduate education.
During this intensive two-week program, students make connections between cutting-edge scientific research, popular culture, and contemporary arts. Through historical retrospectives, surveys of current art-science collaborations, and science fiction movie screenings, students are exposed to the interface of science, art, and culture with a focus on multidisciplinary collaborations.
Sci|Art Lab + Studio Summer Institute Program Overview
Students may enroll in one of two versions of the Sci | Art Summer Institute:
Session A: Students will participate in person at UCLA, experiencing all that our campus has to offer during their summer program.
Session B: Students will participate online in an entirely virtual format, with the flexibility to attend from anywhere with internet access.
NOTE: All course meeting times are in Pacific Daylight Time (PDT). If completing the program virtually in a different time zone, please make sure to account for the time difference. The program schedule is subject to change.
For participants in the Sci Art Lab + Studio Summer Institute, living in on-campus housing is optional. Students who wish to live in UCLA residence halls alongside other program participants may sign up for housing at the time of registration. The total cost for housing, which includes room, board (two meals per day), student supervision, and evening and weekend activities, is an additional $1,521.
For more information on UCLA housing precollege programs, please see the Housing for Minors page.
The Sci|Art Lab+Studio Summer Institute awards UCLA credit for the following coursework:
Design Media Arts 6 – Art/Science and Technology Studio/Laboratory (4 units)
The Sci|Art Lab+Studio Summer Institute exposes high school students to the scientific method and artistic processes as complementary tools for rethinking traditional models of exploration and innovation by making connections between scientific research, popular culture, and contemporary arts.
The program will include lab visits, workshops facilitating hands-on experiments, and lectures with world-renowned artists and scientists. Through engagement, students will be exposed to the work of scientists and artists that explore new forms of creative expression, communication, and collaboration within this multi-disciplinary field.
To foster academic development, students will develop an original concept for a collaborative final project under the challenge of 'Imagine the Impossible'. Building off of course material and guided by the assistance and skill of the base SciArt Team, student groups will create and deliver a multimedia presentation to share their work and ideas during the program's closing ceremony.
Eligibility
To apply for the Sci|Art Lab + Studio Summer Institute, students must be:
14 years of age or older as of June 20, 2022
Enrolled in grades 8 – 12 during Spring 2022
Students who do not meet the eligibility requirements will not be considered and are encouraged to explore other opportunities.
Admission
The program has application requirements for admission. Eligible applicants who successfully submit all requirements will be reviewed and notified via email of an admission decision within 3 weeks. See Application Requirements below for details. Early application is strongly encouraged.
Applicants are required to provide the following during the online registration process:
One 500-word essay from

one

of the following prompts:

Choose a favorite sci-fi movie or book and tell us what ideas you find exciting within it.
If you plan to pursue the sciences as a major in college, tell us about your art or music interests.
If you plan to pursue the arts as a major in college, tell us about your interest in science and technology.
Option letter of recommendation from a teacher or counselor. Letters of recommendation can be submitted via email to artscicenter@gmail.com after online registration is complete.
Applying for the Sci|Art Lab + Studio Summer Institute can be done conveniently online with the following steps:
Prepare all "Application Requirements" prior to starting the registration form.
Access the Summer Institute Online Registration Form starting February 15 at 8am Pacific Standard Time (PST). Read all terms and conditions, then scroll to the bottom and select "Yes, Continue to Registration."
Provide responses to all required questions on both pages of the registration form and then "Submit".
Allow up to two weeks for the program instructor(s) to review your application after submission. An email will be sent to you with the official decision.
If accepted to the program, follow the steps in your acceptance email to make payment of the $350 non-refundable registration fee* to reserve your space in the program.
A space in the program is not reserved until a valid payment of the $350 non-refundable registration fee* is made. If you are not prepared to pay after submitting the registration form, you may retrieve your registration at another time to make payment; however, this risks losing a space in the program if it reaches capacity prior to payment being submitted. An email with instructions to retrieve registration with your five-digit registration number will be sent within an hour after submitting your registration.
*The registration fee is required for each program and is not refundable under any circumstances including, but not limited to, drop for non-payment and withdrawal, even if you withdraw from the program before it begins.
If the program is full, you will not be prompted to make payment. If the program offers a waitlist and your application is accepted from the waitlist, you will be notified by email with instructions for how to submit payment. Please note if the payment is not submitted within 24 hours of receiving the email, you will be moved to the end of the waitlist.
If registering after May 1, full payment of the program fee and non-refundable registration fee will be required to reserve your space in the program. Additional fees, such as the document fee and IEI fees, will be assessed after enrollment.
For questions and assistance, please contact us at info@summer.ucla.edu.
UCLA Summer Sessions Summer Scholars Support
Qualified students attending grades 8th – 11th in Spring 2022 in the state of California may be eligible for Summer Scholars Support, a need- and merit-based scholarship offered by the UCLA Summer Sessions Office. A limited number of full and partial scholarships are available to support enrollment in SCIP/eSCIP, one Summer Course, or a Precollege Summer Institute.
Summer 2022 deadline to apply: April 1.
Program Dates:
Session A (In-Person):
June 27, 2022 – July 8, 2022
Session B (Virtual):
July 11, 2022 – July 22, 2022
The schedule and syllabus are subject to change. Enrolled students will be given updated materials closer to the program start date.
The program fee includes the unit fees for the UCLA coursework offered as part of the program and thus varies by UC student status. In addition to the program fee, students are assessed other campus and administrative fees during the summer. This is a summary of fees that commonly apply to the selected student type.
Actual tuition and fees are subject to change by the University of California. Visit the fees, payment, and financial aid section for important disclaimer, as well as more details on fees, payment instructions, and information on delinquency, refunds, and financial aid.
**OPTIONAL HOUSING FEE** = $1,521
Students living in on-campus housing will be charged an additional housing fee.
VIRTUAL PROGRAM FEES:
The program fee listed in the selection are for the In-Person version only. The following are the program fees for the Virtual version.
High School Student = $2,220
Incoming UCLA Student = $1,896
Incoming UC Student = $1,896
All other fees listed will remain the same for the Virtual version.
| | |
| --- | --- |
| Program Fee | $2,335 |
| Registration Fee | $350 |
| IEI Fee | $61 |
| Document Fee (for first-time Summer Sessions students) | $50 |
Meet your instructors
Victoria Vesna, Ph.D., founder and director of the SciArt Lab+Studio Summer Institute is a media artist and Professor at the UCLA Department of Design | Media Arts and Director of the Art|Sci center at the School of the Arts and California Nanosystems Institute (CNSI). She is currently a senior researcher at IMéRA – Institut Méditerranéen de Recherches Avancées in Marseille (2011-2013). Her work can be defined as experimental creative research that resides between disciplines and technologies. With her installations, she explores how communication technologies affect collective behavior and how perceptions of identity shift in relation to scientific innovation. Victoria has exhibited her work in over twenty solo exhibitions, more than seventy group shows, has been published in excess of twenty papers, and has given 100+ invited talks in the last decade.
She is the North American editor of AI & Society and in 2007 published an edited volume – Database Aesthetics: Art in the Age of Information Overflow, Minnesota Press, and most recently an edited volume entitled Context Providers: Conditions of Meaning in Media Arts. (co-edited with Christiane Paul and Margot Lovejoy). Intellect Press, 2011.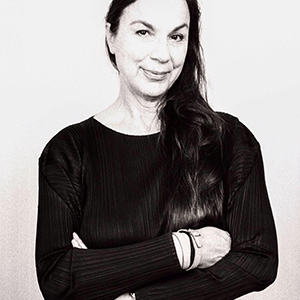 Claudia Jacques
Adjunct Associate Professor
Claudia Jacques is a Brazilian-American artist, designer, educator, and researcher who serves as Associate Director for the program. She holds an MFA in Computer Art (School of Visual Arts, NY) and is currently an advanced PhD candidate at the Planetary Collegium, University of Plymouth, UK. Under Professors Roy Ascott and Søren Brier, Jacques is researching space-time aesthetics in the user-information-interface relationship through the lens of Cybersemiotics. Intersecting art, technology, and science, she designs interactive hybrid art and information environments that explore perceptions of space-time and the digital-physical. She exhibits and presents both nationally and internationally.
Jacques has published in Leonardo, TEKs, Art & Engine, etc., and serves as Art+Web Editor for Cybernetics and Human Knowing journal. Jacques also participated with three other scholars in a 2014-17 NEH Collaborative Research Project based at Roosevelt University in Chicago. She has collaborated in various roles with UCLA's ArtSci Center since 2011. Jacques is an adjunct associate professor at CUNY Bronx Community College and at SUNY Westchester Community College teaching studio, digital and communication arts.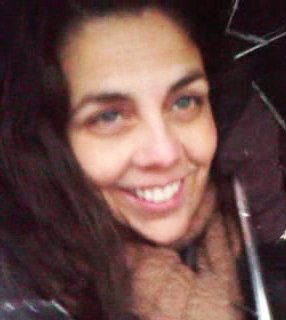 James K. Gimzewski
Professor
James K. Gimzewski is a Distinguished Professor of Chemistry and the Scientific Director of the Art|Sci Center at the University of California, Los Angeles serving as scientific director for the program. Prior to joining the UCLA faculty, he was a group leader at IBM Zurich Research Laboratory, where he researched in nanoscale science and technology for more than 18 years. Jim pioneered research on mechanical and electrical contacts with single atoms and molecules using scanning tunneling microscopy (STM).
Gimzewski's accomplishments include the first STM-based fabrication of molecular suprastructures at room temperature using mechanical forces to push molecules across surfaces, the discovery of single molecule rotors and the development of new micromechanical sensors based on nanotechnology, which explore ultimate limits of sensitivity and measurement. His most recent honors include the 2009 Fellow of The Royal Society, 2009 Carnegie Centenary Professorship from the Universities of Scotland, and 2008 Dr. Honoris Causa, Université de la Méditerranée, Aix-Marseille II, presented by the Ministry of Foreign Affairs, France. His achievements include over 250 publications in international journals, 400 invited talks and 20 patents.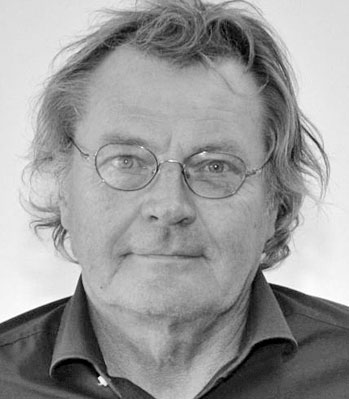 Dr. Adam Z. Stieg
Director Emeritus
Dr. Adam Z. Stieg served as Director for the Sci|Art Lab+Studio Summer Institute for over ten years and now as Director Emeritus serves as advisor for the program. As a scientist and educator at the California NanoSystems Institute (CNSI), his work focuses on developing integrated approaches to study material systems at the interface of traditional boundaries. Through the implementation of original experimental techniques, this research seeks to bridge the gap between our current understanding of nanomaterials and their fundamental properties with how these systems tend toward complexity at increased scales of space and time.
Dr. Stieg's research activities are augmented by active collaboration with artists and designers on various projects, installations, and public exhibitions that directly inform the scientific process and provide motivation to develop new educational content that conveys the need for creativity in innovation.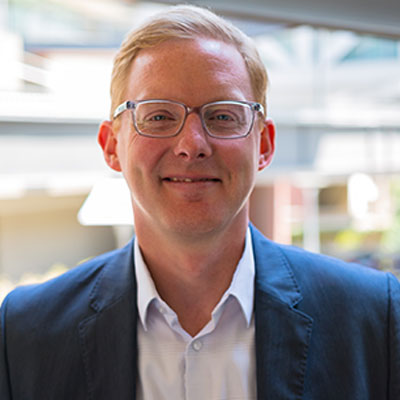 Sci|Art Lab + Studio Summer Institute FAQ
The Sci|Art Lab+Studio Summer Institute focuses on interdisciplinary collaborations, exploring the possibilities and implications of scientific and technological innovation through the application of creative methodologies. In this program, we consider how merging science and art cultures can expand the communication of knowledge, enrich approaches to science and technology, as well as foster and build community across disciplines. The advantage of adding an artistic approach to scientific thinking lies in arts ability to address challenges from a wider and more creative thought-process, inspiring alternative ways for dealing with and applying complexities.
Through historical retrospective, cutting-edge lab visits, guest lectures, field trips, surveys of current art-science collaborations, science fiction movie screenings, and a final project consisting of both science and art research, students are exposed and immersed in the interface of science, art, and culture.
Although helpful, students don't need specific background or have taken classes in either art or science previously. We encourage students to have the curiosity and willingness to embrace scientific method and artistic process as complimentary tools for rethinking traditional models of exploration as well as innovation that makes connections between cutting edge scientific research, popular culture, and contemporary arts.
Yes, for the final project, students will work collaboratively in small groups under the challenge: "Imagine the Impossible". Students will focus on one aspect of the course work that they are interested in and work in small groups to expand upon and research their chosen topic. They are asked to develop ideas or methodologies for the application of this information, whether that be in an art project, product proposal, or media design. Instructors work closely with the students on the conceptual and technical development of their ideas. The final works are delivered in a multimedia presentation during our closing ceremony.
Still have questions? Check out the general Summer Institutes FAQ.