Acting and Performance Summer Institute
Prepare for a university theater program or career in the performing arts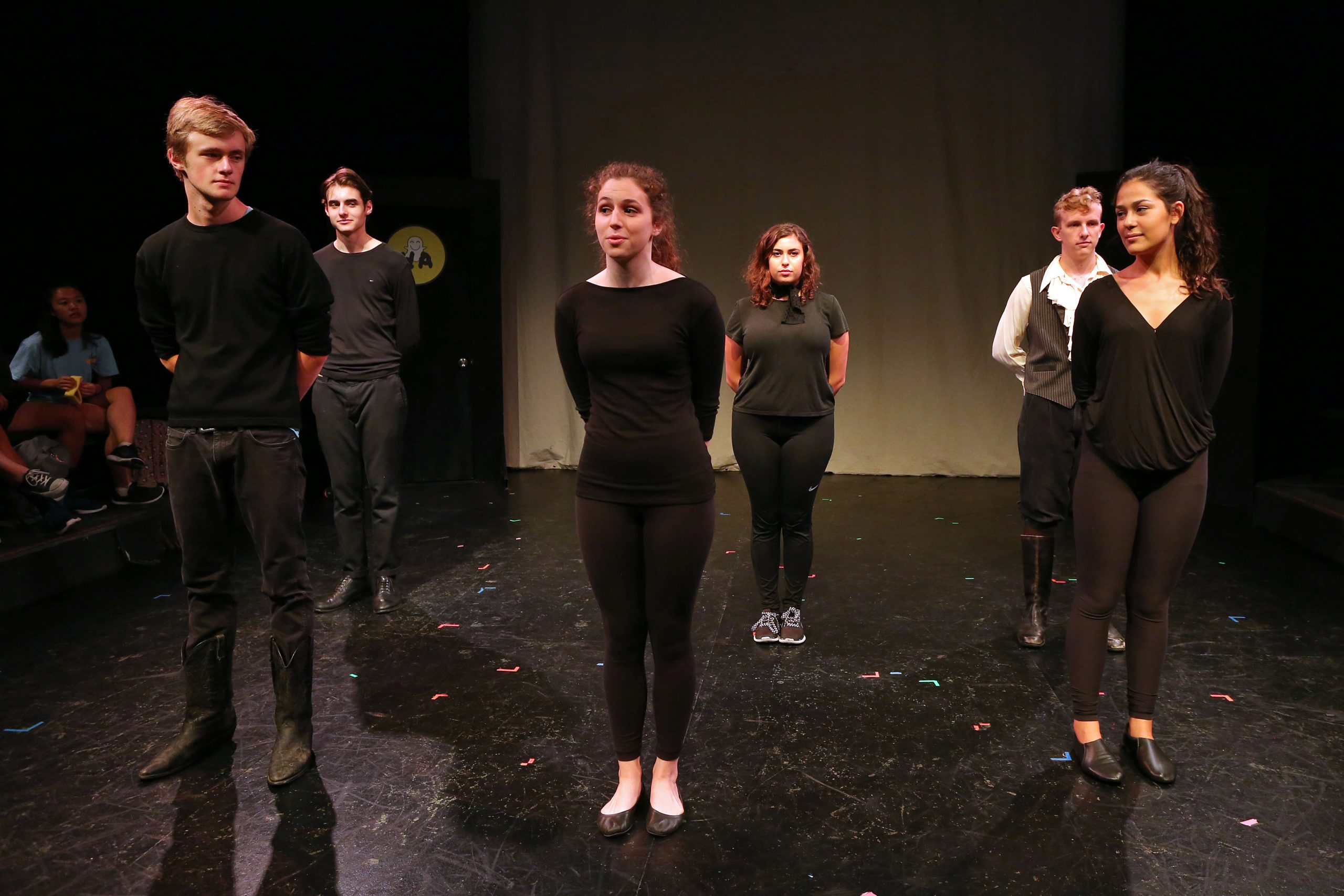 Hone your techniques and gain real-world experience in all aspects of the creative process of theater-making
The UCLA Acting and Performance Summer Institute is a three-week, intensive program for high school students in theater arts. The program encompasses performance training classes, movement-based techniques, and a final showcase where students create their own unique content through the devised theater process.
This program is designed for high school students with a commitment to the theater arts who seek the discipline and training required for participation in a university theater program or a career in the performing arts.
Acting and Performance Summer Institute Program Overview
Students will participate in person at UCLA, experiencing all that our campus has to offer during their summer program.
For participants of the Acting and Performance Summer Institute, living in on-campus housing is mandatory. The total cost for housing, which includes room, board (two meals per day), student supervision, and evening and weekend activities, is an additional $2,340.
For more information on UCLA housing precollege programs, please see the Housing for Minors page.
Participants of the Acting and Performance Summer Institute will receive UCLA credit for the following coursework:
Theater 50 – Theater Production (2 units)
Theater 72 – Theater Production and Practice (2 units)
Each morning begins promptly with tai-chi exercises, followed by acting and movement classes. Other classes may include but are not limited to: classical acting, combat, acting for the camera, and playwriting.
In the afternoon, the performance workshop provides students with practical experience in the rehearsal and performance process. Students are involved in all aspects of the creative process – conceptualizing, writing, and transforming ideas into dramatic action. There will be a final showcase for invited guests.
Eligibility
To apply for the Acting and Performance Summer Institute, students must be enrolled in:
Grades 8 – 12 during Spring 2022
Students who do not meet the eligibility requirements will not be considered and are encouraged to explore other summer opportunities.
Admission
The program has application requirements for admission. Applicants who successfully submit all requirements will be reviewed and notified via email of an admission decision within ~3 weeks. See Application Requirements below for more details. Early application is strongly encouraged.
Applicants are required to provide the following during the online registration process:
A 500-word essay responding to the following prompt: How do you plan to impact the world through your storytelling?
A letter of recommendation from a teacher, director, or someone similar that can attest to your theatrical ability, challenges, and areas for growth.
A resume. If you do not have a resume, please submit a brief description of your theatrical and/or artistic experience.
A video of a 1- 1½ minute monologue or improvised scene of your choosing. See Video Audition Guidelines below.
The essay will be prompted on the registration form; we recommend having your essay pre-written to copy/paste. Both the letter of recommendation and resume can be uploaded (.pdf) during the application process.
Note: All responses and links will not be accessible to edit in any form after submission of the application.
You will need to upload one file into a private link on either YouTube or Vimeo and include the password to your private link on the registration form. The link will be your audition, which consists of your slate and monologue.
Slate: Please provide your first and last name, the name of the play your piece is from, the character's name, and the playwright. There is no need to explain what is happening in the play. Feel free to say hello to us.
Monologue Length: 1- 1 ½ minutes is preferred
How to film your monologue: Frame it so that you are facing the camera for a medium to close upshot. Use your best judgment for what will work best for your monologue. If you will be moving during your monologue, a medium shot may be better. You may choose to speak into the camera or slightly off-camera.
Please remember to review your takes, see what works, and adjust as needed before submitting your audition. Trust the process and try not to be overly critical of yourself.
Audition against a blank wall or door.
Please do the monologue in one take.
If you would like to film your slate in a separate take and then edit the take of your monologue into one file, that is acceptable.
You may film your monologue from your phone or tablet. We are not worried about high production value. The most important thing is that we can see and hear you.
Do not do a scene with someone reading lines off-camera.
Do not send prior performances or tapings from plays. Record a new video according to the audition guidelines for the purposes of this application.
Do not put pressure on yourself to deliver the "perfect" audition. Do your personal best, be authentic, and don't forget to have fun!
Applying for the Acting and Performance Arts Summer Institute can be done conveniently online with the following steps:
Prepare all "Application Requirements" prior to starting the registration process.
Access the Summer Institute Online Registration Form starting February 15 at 8am Pacific Standard Time (PST). Read all terms and conditions, then scroll to the bottom and select "Yes, Continue to Registration."
Provide responses to all required questions on both pages of the registration form and then "Submit".
Once your form is submitted, you will be directed to the Retrieve Registration page. Select "File Uploads" to upload application materials (see Application Requirements above for more information).
Allow up to two weeks for the program instructor(s) to review your application after submission. An email will be sent to you with the official decision.
If accepted to the program, follow the steps in your acceptance email to make payment of the $350 non-refundable registration fee* to reserve your space in the program.
A space in the program is not reserved until a valid payment of the $350 non-refundable registration fee* is made. If you are not prepared to pay after submitting the registration form, you may retrieve your registration at another time to make payment; however, this risks losing a space in the program if it reaches capacity prior to payment being submitted. An email with instructions to retrieve registration with your five-digit registration number will be sent within an hour after submitting your registration.
*The registration fee is required for each program and is not refundable under any circumstances including, but not limited to, drop for non-payment and withdrawal, even if you withdraw from the program before it begins.
If the program is full, you will not be prompted to make payment. If the program offers a waitlist and your application is accepted from the waitlist, you will be notified by email with instructions for how to submit payment. Please note if the payment is not submitted within 24 hours of receiving the email, you will be moved to the end of the waitlist.
If registering after May 1, full payment of the program fee and non-refundable registration fee will be required to reserve your space in the program. Additional fees, such as the document fee and IEI fees, will be assessed after enrollment.
For questions and assistance, please contact us at info@summer.ucla.edu.
UCLA Summer Sessions Summer Scholars Support
Qualified students attending grades 8th – 11th in Spring 2022 in the state of California may be eligible for Summer Scholars Support, a need- and merit-based scholarship offered by the UCLA Summer Sessions Office. A limited number of full and partial scholarships are available to support enrollment in SCIP/eSCIP, one Summer Course, or a Precollege Summer Institute.
Summer 2022 deadline to apply: April 1.
The Nicholas Endowment Scholarship
The Nicholas Endowment TFT Summer Institute Scholarship is a need- and merit-based scholarship opportunity for underserved/underrepresented high school students enrolled in grades 9-12 who have been impacted by the outbreak of COVID-19 and would benefit significantly from a Summer Institute experience. Both partial and full scholarships are available for high school students enrolled in UCLA Theater Summer Institutes including Acting and Performance, Camera Acting and Musical Theater.
Eligibility:
To apply for the Nicholas Endowment TFT Summer Institute Scholarship, you must meet the following minimum eligibility criteria:
You will be a high school student in Fall 2022 (seniors graduating in 2022 are eligible)
You have not received any UCLA Summer Sessions support or scholarship in the past
You have a family annual adjusted gross income of $100,000 or less
You have been impacted by the COVID-19 outbreak
You are a high school student enrolled in one of the following UCLA Theater Summer Institutes: Acting and Performance, Camera Acting, Musical Theater, Voice-over and Camera Acting, Stage Management, Design Summer Institute-Costume, Live Performance and Media
The Nicholas Endowment Award will be awarded based on academic ability and financial need for those who have been impacted by the outbreak of COVID-19 and would benefit significantly from a Summer Institute experience.
Awards vary but will not exceed the total amount for a single Summer Institute. Awards are not intended to cover travel costs and may not cover accommodations or textbooks and other course materials.
This year, $25,000 is available to support selected high school students. Both partial and full scholarships will be awarded. The award amount will reflect the fees of the Summer Institute in which the applicant is enrolled.
If selected, scholarship recipients will create a short thank you video and contribute to a book of images and messages documenting their experience in the program for our generous donors.
Application Requirements:
All requirements below should be acquired and prepared prior to starting the online Nicholas Endowment TFT Summer Institute Scholarship form.
Unofficial transcript showing all grades from 9th to present and a cumulative GPA
Student resume
Personal statement (see below for specifications)
W-2 tax form (if eligible for one)
1040 tax form
Questions? Please email dadams@tft.ucla.edu.
Personal Statement:
Applicants must answer three essay prompts. Please answer the question below (Section 1) and then select two out of the six questions in Section 2 to answer. Each answer should be between 250–300 words.
Section 1 (must be answered):
How have you and/or your family been impacted by the COVID-19 outbreak?
Section 2 (Please choose two from the following questions):
Submit a creative writing piece set during the COVID-19 outbreak that focuses on a fictional character and includes an act of kindness or heroism. Feel free to use your imagination.
Explain your passion for the program you have applied to.
How do you hope to incorporate theater/musical theater/camera acting/voice-over/design/stage management/live performance and media into your academic or career goals after the program?
Describe how a specific play, musical, film or TV show has influenced you as a storyteller?
Tell us about a time you were challenged to do something out of your comfort zone. How did you face this challenge and what lesson(s) did you take away from the experience?
Personal Statements should be prepared ahead of application and saved in one singular Word or PDF document to upload into the online form.
How To Apply:
Register for a Pre-College Summer Institute starting Feb. 15, 2022. Payment of the nonrefundable deposit is required (with the exception of those applying for Deferred Deposit. For information Deferred Deposit, see "Deferred Deposit" below)
Prepare the Application Requirement paperwork and Personal Statement
Complete the Nicholas Endowment TFT Summer Institute Scholarship online application, which is available from April 2 through May 5 at 5:00 p.m. (Link will appear below when application is active).
Important Dates:
February 15: Registration for UCLA Theater Summer Institutes available
May 5: Nicholas Endowment Scholarship Application due by 5:00 p.m.
May 12: Award announcements are emailed at 5:00 p.m.
May 19: Students who have been awarded support must confirm acceptance by replying to the award announcement email.
Program Dates:
June 20, 2022 – July 9, 2022
The schedule and syllabus are subject to change. Enrolled students will be given updated materials closer to the program start date.
The program fee includes the unit fees for the UCLA coursework offered as part of the program and thus varies by UC student status. In addition to the program fee, students are assessed other campus and administrative fees during the summer. This is a summary of fees that commonly apply to the selected student type.
Actual tuition and fees are subject to change by the University of California. Visit the fees, payment, and financial aid section for important disclaimer, as well as more details on fees, payment instructions, and information on delinquency, refunds, and financial aid.
**MANDATORY HOUSING FEE** = $2,340
Students living in on-campus housing will be charged an additional housing fee.
| | |
| --- | --- |
| Program Fee | $4,120 |
| Registration Fee | $350 |
| IEI Fee | $61 |
| Document Fee (for first-time Summer Sessions students) | $50 |
Meet Your Instructors
Perry Daniel has taught acting and movement for many years. During the summer as the program's co-creative director, Daniel teaches and directs for the Acting and Performance Summer Institute (APSI). Previous APSI classes have included puppet design, mask technique, clowning, commedia dell arte, and improv comedy. Her primary focus is on creating original works through ensemble development and creative collaboration. She utilizes her background as a Pilates and Gyrotonic instructor to assist students in furthering their understanding of artistic exploration through physicality.
Daniel is also the program director and student supervisor for the UCLA School of Theater, Film and Television's Arts Bridge program, a national organization dedicated to providing arts education in LAUSD K-12 classrooms.
Her investment in performing arts, education, and outreach is evident in her diverse array of experiences. As an instructor, she has developed and taught movement-based acting courses in both New York and Los Angeles. She began her education outreach work in New York with The 52nd Street Project, a non-profit theater company committed to creative work with the youth in the Hell's Kitchen neighborhood. Her work with the Project led to a writing position with the production company Little Airplane for Nick Jr's The Wonder Pets. While in New York, Daniel trained with Under the Table Ensemble Theatre (founded by Dell' Arte International School of Physical Theatre alumni), participating in commedia and clown shows around the city. A supporter of Clowns Without Borders, she has toured with the South African chapter, providing humanitarian outreach and psychosocial relief through the art of playing.
As an extension of her commitment to arts outreach and education, Daniel wrote and directed Tall Tales for the Geffen Playhouse. The debut was followed by a two-month tour of LAUSD elementary schools.
Daniel received her BFA in theater from the University of Colorado, Boulder, and her MFA in acting from the UCLA School of Theater, Film, and Television. Her improv and sketch comedy training is courtesy of Upright Citizens Brigade (UCB), The People's Improv Theater, and Denver's Impulse Theater.
Among numerous stage and camera credits, favorite past roles include Arlecchino in Il Sogno d'Arlecchino, Valentina from Goldoni's The Housekeeper, and Cyllene in the Getty Villa's production of The Trackers. Daniel is also a member of the Los Angeles-based theater company Sacred Fools and an adjudicator for the Pantages Theater's Jerry Herman Awards.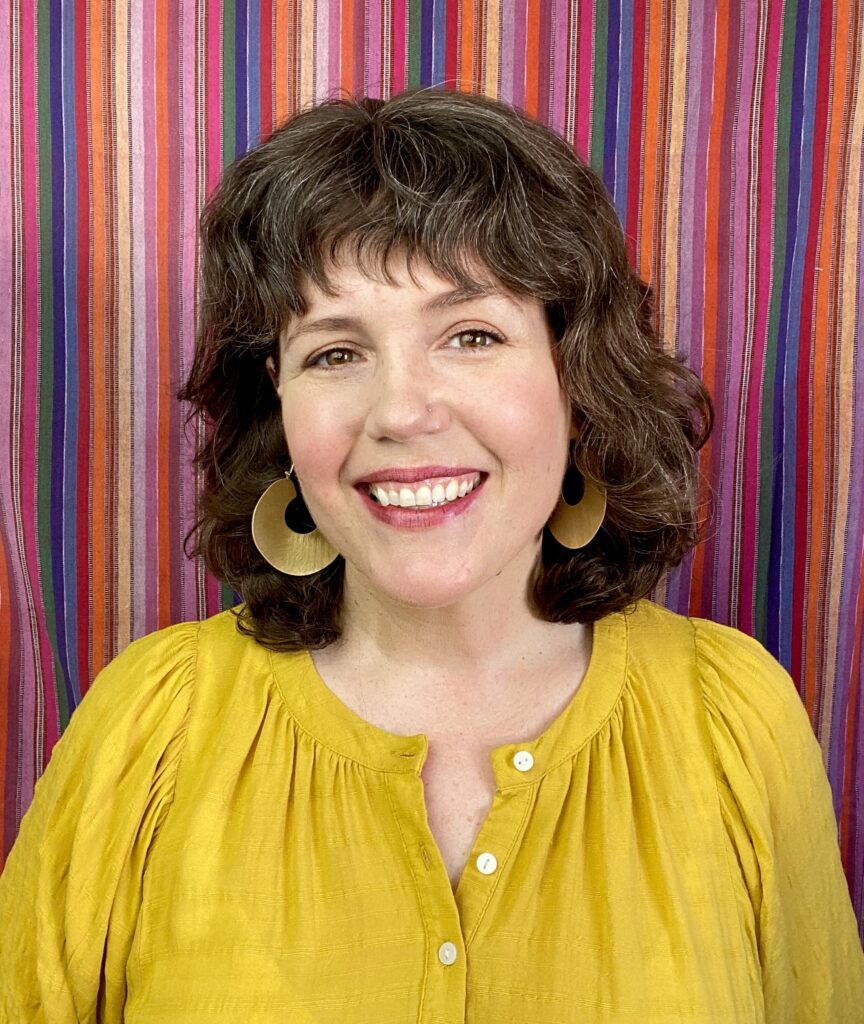 Vikas Adam is an award-winning actor, voiceover artist, director, producer, and writer. Adam has a BFA in Theater from Syracuse University and an MFA in Acting from UCLA. As an educator, he has taught acting, voice, and movement-based studies from elementary to undergraduate levels. He was the program director for Junior Players, Dallas' oldest non-profit youth arts organization. During his tenure, Adam worked closely with various school districts and recreation centers to implement free after-school visual and performing arts-based programming with working actors and artists.
Additionally, he annually co-produced PUPFest (a young playwright's festival) with Kitchen Dog Theater as well as the third show in the Shakespeare Dallas Summer season which included a critically acclaimed Bollywood version of A Midsummer Night's Dream which he also conceptualized, sound designed, and dramaturged.
As a teacher, Adam is constantly updating his curriculum and employs improvisation, movement, ensemble, and character-building exercises with an emphasis on 'thinking outside of the box' while building discipline and self-confidence.
Adam has narrated over 100 audiobooks by bestselling authors including Orson Scott Card, Manil Suri, M.M. Kaye, and C. Robert Cargill (screenwriter, Doctor Strange). He is the recipient of the prestigious Audie Award (the Oscars for Audiobooks) in Fantasy for his work on "Nice Dragons Finish Last". His favorite theatre roles include Alceste in The Misanthrope, Orlando in As You Like It, Malvolio in Twelfth Night, and Ariel in the Tempest. Adam is currently on the Producing Committee for The Santa Clarita Shakespeare Festival and on the Advisory Board for Junior Players.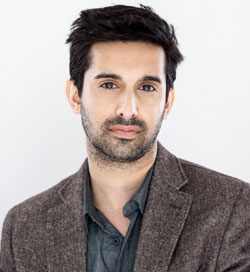 Acting and Performance Summer Institute FAQ
We welcome students of all backgrounds. However, it is necessary that participants have a sincere interest and commitment to learning within the theater.
Students should wear comfortable clothing as they will be participating in classes that have intense movement.
Yes, parents are encouraged to attend the final presentation.
Each student will be provided with a syllabus that includes a breakdown of the grading process and the impact of tardiness and absences on the first day of class.
Still have questions? Check out the general Summer Institutes FAQ.
If you have questions about the program schedule or syllabus, please contact Dolann Adams, Director of Special Programs with the UCLA Department of Theater.