Summer College Immersion Program
A real-world introduction to academic life at UCLA, the nation's #1 public university.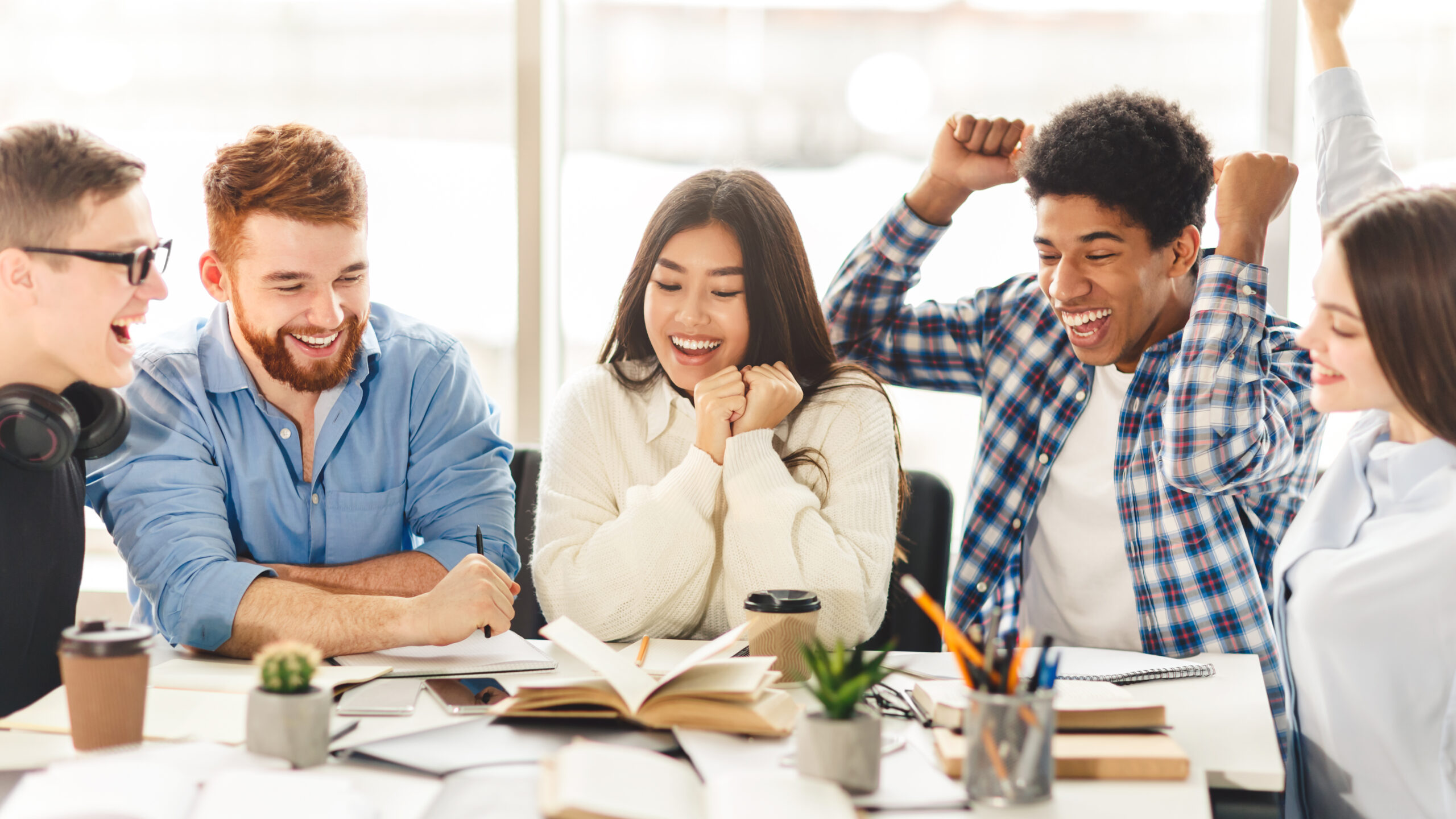 Gain the skills to succeed in university while earning college credit
The UCLA Summer College Immersion Program (SCIP) offers exceptional high school students the opportunity to experience a comprehensive introduction to college life while studying alongside UCLA undergraduates.
Designed to emulate the undergraduate experience, SCIP provides students access to a broad range of UCLA's academic expertise and resources through lectures, workshops, and seminars, as well as UCLA coursework. SCIP's co-curricular components are specifically curated to empower students to gain balance and thrive as they embark on their college journey.
Successful participants will earn college credit, a certificate of completion, and the skills to successfully manage college applications, academics, and university life.
Please visit the SCIP Bruin Guide for more information.
Summer College Immersion Program Overview
Program Dates:

June 26 – August 4 (6 weeks)

Program Type:

Admission based / In-person

Program Eligibility:

10th – 11th grade in Spring 2023 / 3.5+ GPA

Application Opens

January 3 (Early Action – encouraged) / February 15 (Official Application – required)

Application Deadline

April 1 (Students who require a visa) / May 1 (Domestic U.S. Students)

Decision Deadline

April 15 (Students who require a visa) / May 15 (Domestic U.S. Students)
The total amount assessed is calculated mainly based on how many units you are enrolled in, if you choose the residential plan, and if you are an international student subject to I-20 requirements.
The 2023 SCIP program fee is $1600*.
*Please note this does NOT include unit fees for courses, housing fees, or international student visa fees.
The 2023 SCIP Residential Plan is $4920. Please review the "Housing" section of this page for more information regarding the residential plan.
Once your course selection and enrollment is complete, proceed to payment by June 2. If you make any changes to your course enrollment, such as adding, dropping, or switching a course, after making a payment, be sure to check BruinBill to verify changes in your balance. All applicable fees are due no later than 5 p.m. (PDT), June 9.
In the event that changes to enrolled courses result in an additional balance after the payment deadline, payment is due immediately. Failure to make a full payment by the deadline may result in forfeiting your space in the program and enrolled courses. See Payment and Refund for policies and payment instructions.
Refund Policy
Canceling your SCIP registration does NOT automatically drop you from your course(s). If you wish to drop your course(s), please do so via MyUCLA prior to the applicable deadline below.
In the event of enrollment cancellation, the University is not responsible for any consequential loss or expenses incurred as a result. Certain fees are refundable only if students formally cancel their enrollment by the refund deadlines or if enrollment is canceled by the University.
Dropping all SCIP components including all enrolled or waitlisted courses means withdrawal from UCLA Summer Sessions. The registration fee is non-refundable regardless of the time of withdrawal. Students are financially liable for all fees associated with their enrollment activities after the refund deadline, i.e., fees for the canceled or added enrollment after the refund deadline.
Refund Deadlines
 

Refund Deadline

 

Refundable Fees

 

Withdrawal from UCLA Summer Sessions

 

June 21

All applicable fees except for the registration fee

 

Course Enrollment Cancellation while enrolled in the program

 

June 30 for impacted courses

 

July 7 for non-impacted courses 

Unit fees for the cancelled course

 
Eligible refunds will be disbursed in one of the following ways:
BruinDirect – the fastest way to receive a refund directly to their bank account; students may enroll via BruinBill
Credit card reimbursement – only to the credit card used for the original payment
Check – mailed to the mailing address on file if BruinDirect or credit card are not applicable
Qualified students attending a high school in the state of California may be eligible to apply for the Summer Scholars Support Program, a need-and merit-based scholarship offered by the UCLA Summer Sessions Office. For more information, visit the Summer Scholars Support page.
No other scholarship opportunities through UCLA Summer Sessions are available to visiting high school students, and UCLA Financial Aid is available only to UCLA students.
SCIP Courses
Students may choose one or two Approved SCIP Courses that do not conflict with the program's mandatory co-curriculars from 3:30-4:30pm on Monday, Wednesday, and Friday.
International students in SCIP who require a visa will need to be enrolled in two courses to meet the eligibility for an F-1 visa, required for study.
If accepted to the program, students will receive more information on the course enrollment process.
Co-Curricular Components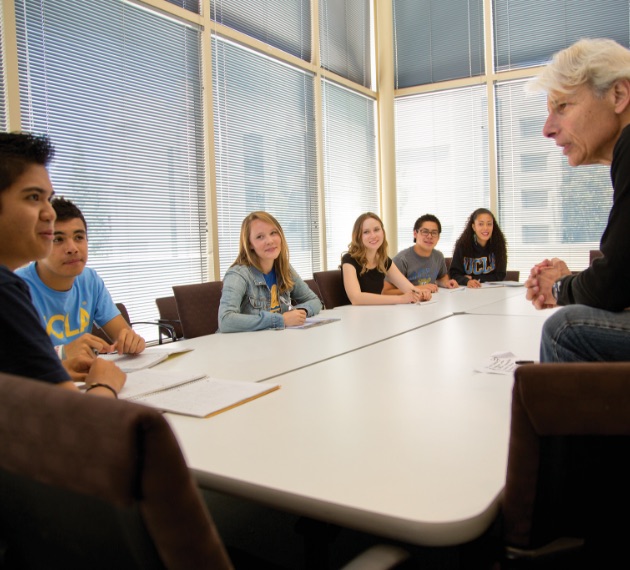 SCIP Co-Curriculars will help participants gain knowledge and skills that are necessary to navigate college admission and academic life. Students will be expected to join the mandatory, live presentations in person on Mondays, Wednesdays, and Fridays from 3:30-4:30pm (PST) in Physics and Astronomy 1425.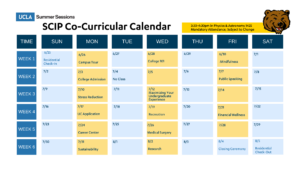 Hear directly from representatives from UCLA Undergraduate Admission and get answers to your questions on everything revolving around the UC Application. In addition to the student workshop, UCLA Admissions will offer an exclusive parent workshop, led by Gary Clark, Director of Undergraduate Admission at UCLA.
As a world-class research institution, UCLA provides students with the opportunity to develop practical research skills and conduct their own research beginning at the undergraduate level. This workshop, led by UCLA's Assistant Vice Provost for Undergraduate Research, Dr. Tama Hasson, will introduce you to techniques for successful collegiate research.
Learn helpful tips to navigate and maximize your college experience in this insightful workshop presented by a UC alum. Topics will include choosing a major, succeeding in your studies, and getting involved in campus life and some of the 1,000+ campus life and organizations UCLA offers.
What do you hope to achieve during your summer at UCLA? Learn how to make the most of your time at UCLA by applying that plan to your own undergraduate journey. UCLA's College Academic Counseling advisors will give exclusive academic advice on how to get the most out of your time on campus.
Leadership
Seminars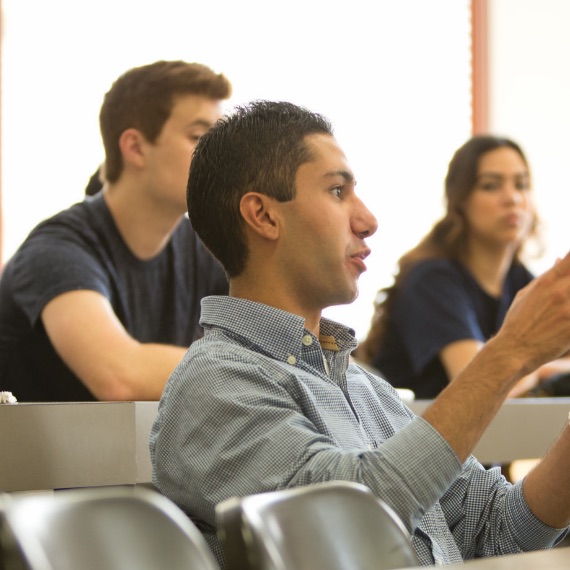 SCIP seminars are intended to build and foster leadership and resilience that are critical for student success.
Developing leadership skills is important to anyone who wants a successful career, but those skills are essential to getting the most out of college and high school as well.
True Bruin Steve Yu, current CFO and Assistant Dean at the UCLA School of Law, will guide SCIP participants through Networking a Public Speaking seminars.
The Basics of Mindfulness for Self-Care and Stress Management.
In a seminar presented by staff of the UCLA's Mindful Awareness Research Center, you will examine the science of mindfulness for mental and physical health, including reduced stress, improved attention, and greater mind-body awareness.
Community Engagement and Cohort Building Activities
SCIP community engagement and cohort building activities provide students opportunities to become more deeply involved in the UCLA community while creating lifelong bonds with their SCIP cohort. Cohort activities will support your success and help you make new friends from around the world.
Bruins uphold the five True Bruin Values at UCLA and onward: Responsibility, Accountability, Integrity, Service, and Excellence. SCIP students will have the chance to embody the True Bruin Value of Service and give back to the UCLA community by participating in a volunteer project in collaboration with the UCLA Volunteer Center.
SCIP students will have the opportunity to connect with UCLA undergraduate mentors, who can advise students based on their own experiences with academics and extra-curriculars at UCLA.
SCIP students come from many different backgrounds and locations all around the world. Throughout the six-week session, students can connect with other participants who share similar passions and interests through a series of activities designed to foster a meaningful cohort experience. In addition to the program orientation and closing ceremony, students will have the opportunity to participate in study groups, team presentations, breakout sessions, and more.
Lecture Series
SCIP lecture series includes curated lectures by UCLA's renowned faculty and experts to introduce students to a variety of exciting topics in the sciences and humanities beyond their enrolled courses.
SCIP lecture series speakers are updated yearly, and past speakers have included:
Dr. Todd Presner
Author, Chair of UCLA Digital Humanities Program, Associate Dean of Digital Innovation in the Division of Humanities at UCLA, Professor of Germanic Languages and Comparative Literature at UCLA
Dr. Jessica O'Connell
Chief of Vascular Surgery Service at the Los Angeles VA Hospital, Associate Clinical Professor of Surgery in the Division of Vascular Surgery at the UCLA David Geffen School of Medicine
A Day in the Life of a Vascular Surgeon 
Dr. Christopher Walthers
Former UCLA Project Scientist; Scientist at Orca Bio, a biotechnology company focusing on creating cell products for leukemia patients.
CRISPR Faster, Stronger: the Past and Future of Cell and Gene Therapy  
Attendance and Expectations
Students are expected to attend all required co-curricular components at the designated times from 3:30-4:30pm (PDT) on Mondays, Wednesdays, and Fridays. As a mature high school student, you should plan to arrive on time and stay for the entirety of the co-curricular out of respect for the speaker and for your benefit.
Active participation in the co-curriculars is a significant part of SCIP and will only enhance what you get out of this unique experience.
We highly encourage SCIP students to attend all co-curriculars, however, we understand that events arise that may not allow you to attend every co-curricular. Such events may include an emergency, illness, appointment, etc.
Students are allowed up to two excused absences. If you need to miss a co-curricular, you must submit an absence request form so we have a record of your attendance. Missing more than two co-curriculars may result in dismissal from the program.
If you will not be staying the residential hall overnight past the 11pm curfew check, please submit a Curfew Exception Request Form.
General Inquiries
The Summer College Immersion Program (SCIP) is a rigorous, six-week long academic experience designed for exceptionally high-achieving high school students about to begin their junior or senior years. The program provides participants not only the opportunity to study at UCLA and earn UC credit alongside UCLA undergraduate students, but also real-world knowledge to prepare them for college.
In addition to one or two UCLA courses of their choosing, students will have access to various academic resources and other services to support their success at UCLA and in their future academic careers. Among these include symposia and workshops on college-level research and writing, the effective use of libraries, as well as resilience training, stress management, and mindfulness components.
SCIP is a fully immersive six-week college experience that lasts the duration of a regular summer session term at UCLA. Students are able to select from roughly 100 different UCLA courses approved for high school students and will attend these courses alongside UCLA and visiting undergraduate students for an authentic college class experience.
In addition to academic courses, SCIP students will have exclusive access to co-curricular components designed to support students' college academic readiness, resilience and wellness, and ability to successfully navigate college life for a truly holistic experience.
SCIP is intended for students who have completed two years of high school with highly competitive academic credentials. Students that will have graduated from high school by the time the program begins are not eligible. We invite students from all around the world to apply as long as they are ready to commit to the program's schedule.
Enrollment in SCIP does not have any bearing on future admission to UCLA or any other University of California campus. With that being said, participating in a college-level program such as SCIP will prepare students for success in their future academic careers at any leading college or university around the world and may strengthen their college applications.
SCIP
Application
Students are encouraged to apply during Early Action from January 3 through February 14 (11:59pm PDT) to have their application reviewed sooner compared to those who wait to apply until the Application becomes available on February 15.
If you are accepted during Early Action, you will be required to submit your official Application with the same uploads starting February 15, but your application will be approved within 1-2 business days allowing earlier course enrollment.
If you do not apply during Early Action, you will follow the regular Application process starting February 15.
The Application Deadline for international students who need a visa is April 1 and the Application Deadline for domestic or eSCIP students is May 1.
Once you have submitted your SCIP registration form, available starting February 15, you will be prompted to upload your supporting documentation. Please note the required file formats for each upload, as not all file types are accepted by our registration system.
Once you have successfully uploaded all of your required application materials, you will receive a confirmation email outlining the next steps.
You will receive an email once your application has been successfully submitted. Please note that it is the student's responsibility to ensure that the application is filled out correctly and proper documents are being uploaded. The Summer Sessions Office will not contact students about errors on their application.
Admissions will be on a rolling basis, during which time decisions will be emailed within two weeks after an application is submitted.
The Decision Deadline is when students must decide if they wish to enroll in the program and pay the registration fee. The Decision Deadline for international students who require a visa to attend in person is April 15 and for domestic or eSCIP students it is May 15.
Yes. In lieu of an official transcript, homeschooled students must submit two letters of recommendation/character references from non-relatives who can attest in detail to their academic ability and potential for success in a college-level academic program.
Standardized test scores are not a part of the SCIP admissions requirements, with the exception of proof of English Proficiency if you are an international student whose high school is not primarily taught in English (see Application Requirements).
Please follow the steps in your acceptance email which includes the following steps:
Access your registration with the 5-digit registration number in your application confirmation email
Select Pay Now on the left hand side
Have your parent/guardian complete the Participant Agreement/Waiver
Submit payment of the non-refundable $350 registration fee
Grades
and Transcripts
Students outside the UC system should verify their school's credit-granting process. Transfer of credit is at the discretion of the receiving institution.
Students who apply to a University of California (UC) school should provide information on their participation in UCLA Summer Sessions during application.
No, but the courses you take will generate an official UCLA transcript. In rare cases, a high school will accept a course to fulfill a high school requirement. Check with your high school counselor about this possibility.
UCLA is on the quarter system and awards quarter units. To convert quarter units into semester units, multiply the quarter units by .66*. For example,
4 quarter units from UCLA transfers as approximately 2.67 semester units
5 quarter units from UCLA transfers as approximately 3.33 semester units
*This is an estimate and conversion may differ between schools. Be sure to verify with your home institution.
Students can order a transcript online through MyUCLA under the "Classes" tab and then "Grades and Transcripts" or by submitting a Transcript Request Form to the Registrar's Office.
If you have trouble logging in to your MyUCLA account, please contact the UCLA IT Support Center for MyUCLA assistance at 310-267-4357 or help@it.ucla.edu.
Campus Life
Yes, SCIP students will have access to many of UCLA's campus amenities, including recreation facilities, libraries, study areas, computer labs, and the Undergraduate Writing Center.
No, a BruinCard is highly recommended but not required.
A UCLA BruinCard is a student identification card used to confirm status and eligibility for services. Below are select features of the BruinCard:
Official University ID
Debit Card
Library Card
Gym Pass
Meal Card
Access Card for Residence Hall
Laundry Card
The BruinCard process can be started online by submitting a photo or completing the process in person at 123 Kerkhoff Hall. Please reach out to the BruinCard Center for more information.
Academics
The Study List on MyUCLA records all classes in which a student is enrolled for a term.
There is a Class Planner feature on the Study List that helps students plan classes for a term. Students are responsible for avoiding class conflicts or multiple same-day final examinations.
Students cannot receive credit for classes not shown on the Study List as this is the official enrollment tool. Please note the grading basis for each class as listed on the study list. The study list should be checked after all enrollment transactions.
Students will be responsible for preparing for all required materials for their enrolled courses. Check the class textbook information of each enrolled course; if not listed, please contact your instructor or the department.
Students are encouraged to plan for classroom materials such as notebooks, pens, etc. that they would use for any other class.
Laptops and mobile devices are not required for students to participate in SCIP, but they are encouraged. Students who are on campus may have access to UCLA computer labs and other computing resources at multiple locations across campus.
All SCIP students will get the opportunity to take UCLA courses that allow high school students along with UCLA and other college students.
To qualify for F-1 student visas, international students must enroll in two courses or in 6 units or more. All other students can enroll in one or two courses.
Email us at scip@summer.ucla.edu with the course you are interested in for our consideration. Please note that exceptions from the list of approved courses are not guaranteed and a petition process may be required.
Yes, every course will require homework and/or study time outside of class.
No. SCIP courses are regular ten-week courses compressed into six weeks, so missing any portion of the course will put you at a great disadvantage. It is crucial to attend all of the course meetings.
Please let your instructor or teaching assistant (TA) know that you are having difficulty with the material and they will be able to help you. Every instructor and TA is required to have at least one office hour every week. Utilize office hours to get the questions you have answered.
If you need to drop the course, be sure to follow all deadlines and procedures for doing so. Important: The deadlines to drop a course and the refund deadlines may not be the same.
Feel free to reach out to us at scip@summer.ucla.edu if you need assistance.
Let the instructor know well in advance and they will determine if other arrangements can be made. Please note that the instructor is not required to schedule an alternate exam time to accommodate your needs*.
A course may not be dropped or removed from your record if you take the final exam.
*In compliance with Section 92640 of the California Education Code, the University must accommodate requests for alternate examination dates for any test or examination at a time when that activity would not violate a student's religious creed. This requirement does not apply in the event that administering the test or examination at an alternate time would impose an undue hardship which could not reasonably be avoided.
Health and
Safety
Students must maintain sufficient health, accident, disability, and hospitalization insurance while traveling to and from the program, as well as throughout participation in the program. By registering in the program, you have certified that you have sufficient insurance coverage.
In the event that students are ambulatory and need minor medical attention during the program's activities on campus, they will seek medical attention at the UCLA Ashe Student Health & Wellness Center within normal university business hours. Treatment at the Ashe Center may result in additional fees for such services.
In other cases that require medical care or involve a medical emergency, paramedics may be called. UCLA and the Regents of the University of California shall not assume responsibility for any of the student's medical expenses. UCLA will make reasonable efforts to inform parents/guardians of those instances of which it is aware that medical attention was required.
Residential Housing
Plan
The dorm rooms include a bed, desk, closet, and trash bin. Bedding basics (sheets, blanket, and pillow) will also be provided.
Two meals, breakfast and dinner, are provided as part of the SCIP residential plan. Students are responsible for their own lunch. UCLA has several on-campus dining options for students of all dietary needs.
No meals are provided for students who opt for the non-residential option.
Roommates are pre-arranged based on gender and date of birth. Roommates may not be requested.
The safety of students is our top priority. Safety precautions include 24-hour front desk service, surveillance cameras, key access only, UCPD, and limited supervision including curfew enforcement.
High school students are expected to adhere to the participant agreement and Campus Regulations. For example, we have a zero-tolerance policy for alcohol, tobacco, and drugs.
Limited supervision throughout the program is provided by trained staff who will be housed in the residence hall with program participants.
Yes, students must be in assigned rooms by 11:00 p.m.