Film and Television Summer Institute – Film Production
Learn the aesthetics, techniques, and practices of filmmaking from story pitch to post-production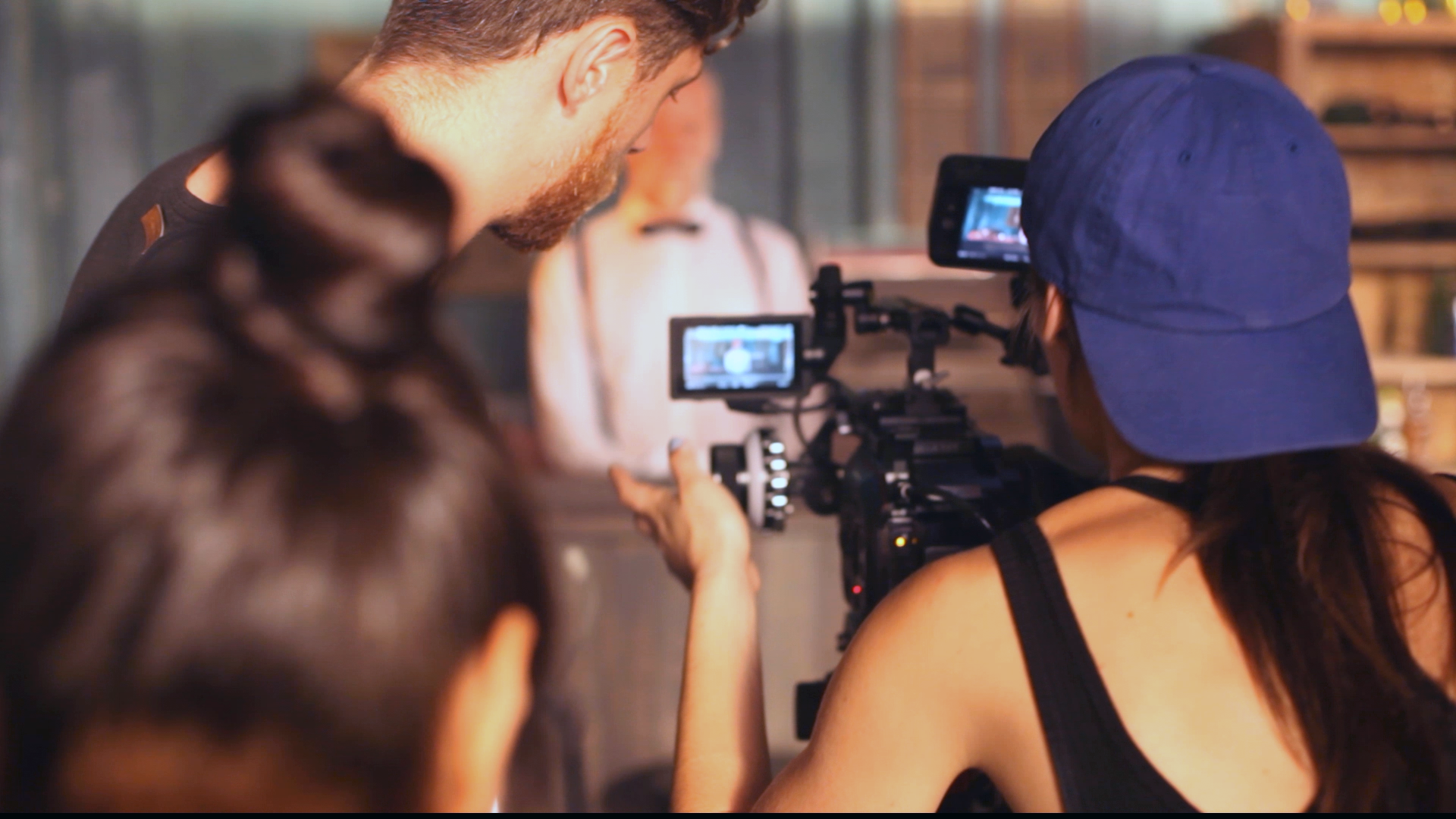 An intensive program that shapes the filmmakers of tomorrow in the heart of Los Angeles
The UCLA Film & Television Summer Institute – Film Production track gives students from across the country and around the globe an unparalleled opportunity to study filmmaking at one of the most prestigious film schools in the world.
This intensive immersion filmmaking workshop is intended for beginning and intermediate filmmakers of all ages (19+). Students work together on short film projects as they are introduced to the aesthetics, techniques and practices of filmmaking. Students work closely with each other under the direction of UCLA faculty to study directing, cinematography, editing, production and creative collaboration while using UCLA equipment and sound stages.
The UCLA Film & Television Summer Institute – Film Production track shapes the filmmakers of tomorrow right in the heart of Los Angeles, the entertainment capital of the world.
Film and Television Summer Institute – Film Production
In this six-week long program, college students and aspiring filmmakers will collaborate on short film projects as they learn the aesthetics, techniques and practice of filmmaking from beginning to end.  
Symposium
In the exclusive Summer Institute Symposium, students from Film Production meet and listen to some of Hollywood's most accomplished professionals. High-wattage guests have included Eric Heisserer (writer, "Arrival"); Steven Canals (creator and EP of "Pose" on FX); Jeff King (Executive Producer of "The Umbrella Academy" on Netflix"); Agents from CAA, ICM, Paradigm, and UTA; Simon Kinberg (Writer/Producer, "Deadpool," "X-Men: Apocalypse," "The Martian"); Zak Penn (Writer, "Ready Player One"); and many others.
Hollywood and the Industry  
During the weekly Summer Institute Mixer, Film Production students network with students from other UCLA Film and Television Summer Institutes. Students also tour a major Hollywood Studio. The Film and Television Summer Institute finishes with a closing night ceremony and a networking mixer for students and alumni of our program. Friends and family welcome!
Application deadline:
June 1, 2023 (Session A); July 20, 2023 (Session C)
Enrollment deadline:
June 15, 2023 (Session A); August 1, 2023 (Session C)
The Film Production track is by instructor consent only. To participate, you must apply and receive acceptance into the program.  Early application is strongly encouraged. Students will be notified within two weeks of an acceptance decision.
Applicants are required to provide the following during the online registration process:
A statement of purpose stating why you would like to participate in the program, and what you expect to gain from the experience. (200 words or less)
Submit a creative writing piece written in English that uses the words "change was in the air." (150 – 300 words)
Filmmaking requires creative collaboration at every stage – what qualities do you possess that make you a good collaborator? (300 words or less)
Students will receive separate grades upon completion for each course in this program. Grading types are as follows:
FILM TV 104 and 178: Letter Grading
FILM TV 122D and 122E: Letter Grading –However, if you would like to change your grade type to Pass/No Pass (or Satisfactory/Unsatisfactory if you have a Bachelor's degree), please contact your instructor.
See University Credit, Grades and Transcripts for more information about academic credit.
International students may enroll in the Film and Television Summer Institute – Film Production. International students enrolling in this program may qualify for an F-1 visa.
More information for international students attending Summer Sessions can be found here.
As of 6/15/2023, the Film and Television Summer Institute – Film Production (Session A) enrollment is closed.
As of 8/1/2023, the Film and Television Summer Institute – Film Production (Session C) enrollment is closed.
Session A:
June 26 – August 4, 2023
Admission based / In-person
Session C: 
August 7 – September 15, 2023
Admission based / In-person
Program Eligibility: High school diploma (or equivalent) & Age 18+
UCLA Coursework: Film TV 104, Film TV 122D, Film TV 122E, Film TV 178; 13 units
Application deadline: June 1, 2023 (Sess. A); July 20, 2023 (Sess. C)
Enrollment deadline: June 15, 2023 (Sess. A); August 1, 2023 (Sess. C)
Program schedule and syllabus are subject to change.
The program fee includes the unit fees for the UCLA coursework offered as part of the program and thus varies by UC student status. In addition to the program fee, students are assessed other campus and administrative fees during the summer. This is a summary of fees that commonly apply to the selected student type.
Actual tuition and fees are subject to change by the University of California. Visit the fees, payment, and financial aid section for important disclaimer, as well as more details on fees, payment instructions, and information on delinquency, refunds, and financial aid.
Ackerman Student Union Fee
$13.80
Ackerman / Kerckhoff Seismic Fee
$22.80
Undergraduate Student Association Fee
$49.86
Document Fee (incoming UCLA students only)
$50.00
Total Estimated Fees:
$5,616.12
* Fees only apply for certain student types
Meet your instructors
Instructors for the UCLA Film and Television Summer Institutes are UCLA Department of Film, Television and Digital Media faculty.
Kelly Pike
Kelly Pike is a film writer/director named on Austin Film Festival's 2021 "25 Screenwriters to Watch", a recipient of the Director's Guild of America (DGA) "Award of Outstanding Directorial Achievement", and a graduate of the AFI Directing Workshop for Women. With an established career as a sculptor, she first expanded her practice into filmmaking by working with documentarian, Albert Maysles, then went on to earn an M.F.A. in Film & Television from UCLA. She is now known for creating intimate, visually lyrical, character-driven dramas. Her films have screened at film festivals around the world, winning awards from the Emerging Filmmaker Showcase at the Cannes Film Festival, Austin Film Festival, Palm Springs International Film Festival, Savannah (SCAD) Film Festival, Bahamas Film Festival, and many more. They have also earned recognition from PBS, Vimeo, NATO, and the Caucus for Producers, Writers & Directors, the Puffin Foundation, and the Directors Guild of America. She is currently based in Los Angeles, CA. For more details, please visit: www.kellypikefilm.com
Melissa Finell
Melissa Finell is an award-winning director and screenwriter. SENSITIVITY TRAINING, her first feature film, had its world premiere at the LA Film Festival, where it was named a "Can't Miss" film by the Hollywood Reporter. Her script for SENSITIVITY TRAINING won an Alfred P. Sloan Foundation Production Grant and a Samuel Goldwyn Writing Award. The film went on to screen at numerous festivals worldwide including Woodstock, Frameline, and TIFF Inside Out. It was released by Random Media in partnership with The Orchard and is currently available on Prime and all major platforms.
Mel's short films have screened for festival audiences around the world. "Disaster Preparedness" was a Semi-Finalist for the Student Academy Awards and has been broadcast on PBS Stations across the country as part of KQED's "Film School Shorts" series. The film premiered at Palm Springs International ShortFest, where it was named an Audience Favorite and screened in the "Best of the Fest" program. The film also screened at Mill Valley, Cleveland, Frameline, and NewFest; it won the "Best Short Film" Jury Award at the Seattle Gay & Lesbian Film Festival and was selected for "Best of Fest" at Outfest.
Mel has written feature screenplays for Lionsgate, Gunpowder & Sky, CJ Entertainment, and Tyler Perry's 34th Street Films. Originally from New York, she received her B.A. in Gender Studies at Smith College and studied sketch comedy writing at the Upright Citizens Brigade Theater. Mel is a graduate of UCLA's MFA program in Film and Television Directing, a former Film Independent Project Involve Directing Fellow, and a Ryan Murphy Television Half Initiative mentee. She is a member of the Writers Guild of America West.
Lia Lenart
Lia believes that stories give us a structure to help us understand our experiences, values, identity and place in history. She is drawn towards complex stories that challenge stereotypes and avoid simple conclusions. Originally from Cambridge, MA, Lia graduated with honors from Harvard. As a Directing MFA at UCLA's School of Theater Film and Television, she was a UCLA TFT/Telluride FilmLAB Fellow, and received the Streisand Sony Fellowship and Jim Morrison Film Award. Her thesis, Cassandra, won the Women in Film Verna Fields Memorial Fellowship, Lynn Weston Fellowship in Film, Adrienne Shelley Award, and Caucus Foundation Grant. Her final year in the program, she was selected to direct one of three UCLA Theater-Film collaboration films. She is an Associate Editor on the upcoming feature doc "Would You Hide Me?" and an Instructor at Loyola Marymount University and UCLA Film School Summer Sessions.
Film and Television Summer Institute – Film Production FAQ
Qualified students may sign up for more than one track as long as the dates do not overlap.
Applicants from all backgrounds are encouraged to apply. The Film Production track is intended for beginning and intermediate levels.
Students will need to check with their academic counselor to see if the coursework included in the program will count towards their graduation requirements or if credit will transfer to their home institution. For UCLA students, courses may fulfill a major or minor requirement, or count as upper-division course credit.
No, students from all different majors are welcome.
External Hard Drive
You will need a 500gb (minimum) external hard drive to save your film work this summer. It should have the following specifications and connectivity:

7200rpm or SSD
USB 3.0 or Thunderbolt connection. USB 2.0 is supported, but not recommended, as it will be very slow for video editing

Examples of acceptable drives:

Samsung T5 Portable SSD – 500GB – USB 3.1 External SSD (MU-PA500B/AM)
G-Technology 1TB G-DRIVE ev RaW USB 3.0 Hard Drive with Rugged Bumper
Memory Card
Also, please bring one SDXC memory card with the following specifications:
· Minimum 64GB Storage Capacity
· Max Read Speed: 95 MB/s
· Minimum Write Speed: 60 MB/s
· Records Full HD, 3D, and 4K Video
· Built-in Write-Protect Switch

Example: SanDisk 64GB Extreme PRO SDXC UHS-I Memory Card
USB Flash Drive
•4GB or 8GB USB Flash Drive
Still have questions? Check out the general Summer Institutes FAQ.